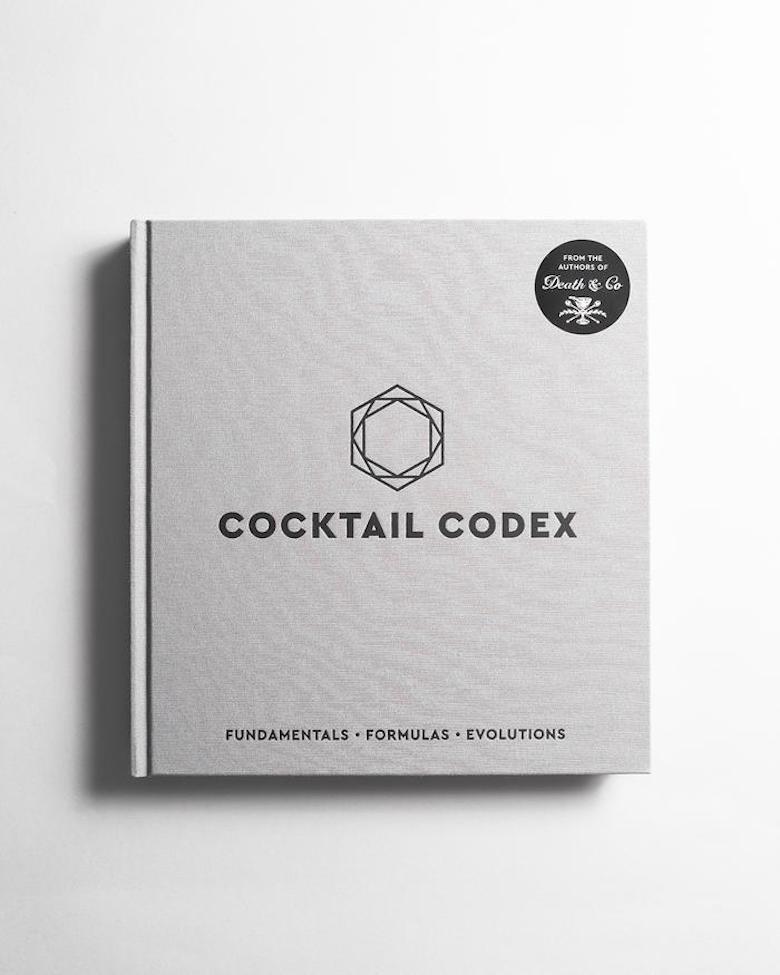 Shopping for a professional bartender is a seemingly impossible task—I should know (I live with one). Chances are they've already got 16 bar spoons, a good thousand wine keys (but only one that they actually like), and practically zero room left on their shelves for more vintage barware. Magically, though, there's always more space left to be made, as long as it's for the right item. Take, for example, the extremely science-y tasting glass by Norlan—if it's good enough for MoMA, it's good enough for your drinks professional—or a beautifully bound book for bartenders by bartenders, available for purchase at the authors' own bar. If you're creative enough, there are plenty of options, and we've even gotten a head start on the work for you. Check out our top New York bartender holiday gift picks for every budget.
Cocktail Candles – UncommonGoods
Who doesn't want their entire living space to smell deliciously of their favorite classic cocktail? Probably some people, but decorative candles are usually a safe bet for gift-giving. UncommonGoods, a Brooklyn-based purveyor of cool, random gifts, sells three excellently scented and aesthetically pleasing hand-poured candles inspired by three solid cocktails: French 75, Manhattan, and Negroni, together hitting a good range of go-to points on the palate spectrum. Plus, they come with their own corresponding recipes, so that's fun. At $28 each, these candles are a bit steep, but if you divide that up by the 80 hours of spirited burn, that's…a pretty good deal.
Whisky Glass – Norlan
If it's your holiday dream to take your beloved bartender for an art museum adventure followed by some light shopping wherein professional tasting glasses are purchased as a gift to them, we've got just the thing for you. The science and spirits geniuses behind Norlan have created a brilliant glass for optimal nosing and tasting, and it's available at the MoMA gift shop (which means discounts if you're a member).
Carry On Cocktail Kit – W&P
Allow us to introduce you to your new favorite stocking stuffer. Let's say your bartender happens to frequently be on the road (read: in the air) for work or pleasure, in which case they should probably have a handful of W&P's Carry On Cocktail Kits for those dreaded long hauls. These nifty little tins fit in a back pocket and are available in a plethora of different recipe variations—think Old Fashioned, Margarita, Hot Toddy, Champagne cocktail, and many more—each of which contains all the necessary modifiers and tools, plus a cute linen coaster. All that's left to add is the booze and a cup, both of which can of course be requested from a flight attendant. Not a traveler? W&P also has a line of excellent ice molds in silicone and steel, which also could fit in a stocking if you believe in yourself enough. New York stockists include Upstate Stock, Depanneur, Something Else on Smith, WantedDesign, and Haus of Hanz (or purchase online via the main site).
Cocktail Codex – Death & Co.
A guy walks into a bar and purchases an award-winning cocktail book. That's the tweet. At iconic East Village bar Death & Co., Cocktail Codex (penned by co-owners Alex Day, Nick Fauchald, and David Kaplan), drinks are the bread and butter as they've always been, but now you can also purchase your own copy of the bartender's bible alongside your vintage egg nog and either keep it for yourself or gift it to the cocktailian in your life––it's formulaic enough to help lay a foundation for a novice and advanced enough to keep a veteran intrigued and ready to build upon their existing knowledge. Plus, it looks nice on a shelf or coffee table.
Bar Cart – Peroni x Jonathan Adler
All right, big spenders: This is your moment. Peroni and famed New York designer Jonathan Adler have teamed up to create this architectural and very Italian masterpiece of a bar cart, illuminating any given home space with its bold blueness. Inspired by a "hot day on the Amalfi Coast," this limited edition cart is in high demand and won't ship until just after Christmas, so if you're in love with it, just be sure to manage its recipient's expectations. Pre-order in the Upper West Side store or online.
Pretty Much Anything – Cocktail Kingdom
Anyone who's anyone in the cocktail world knows that Cocktail Kingdom is the way to go when shopping for glassware, certain tools, rare books, and the like. With their iconic Leopold jiggers, custom collections by some of the industry's greats (think David Wondrich and the late Gaz Regan), a nice variety of roll-ups and bartender bags, and shelves upon shelves of historic volumes at their Flatiron-ish showroom, this place is a wonderland for bar supply shopping (as is their online store) and is guaranteed to have whatever you're looking for.
Wine Membership – Orange Glou
German-born and New York–based natural wine fanatic Doreen Winkler has probably tasted more orange wines than anyone you've ever known in your life, and she's officially started a membership program for fellow obsessees. If the bartender in your life has an affinity for wine (particularly of the funky, organic, biodynamic variety, et cetera), then this membership program should be right up their alley. Here's how it works: every month, Winkler herself will select three to six wines for each member to try; all shipments come with their own tasting notes, food pairing ideas, and vinification details. Select the three-month gift option, or check out the rest of the membership page options for gift inspo.
Beer, Merch, and a Brewery Tour – Coney Island Brewing Co.
No bartender's gift guide would be complete without something beer-related. This one happens to be steeped in adventure way out in Brooklyn's Coney Island neighborhood—perfect for those who like to incorporate a bit of experience into their gifts. Coney Island Brewing has become a bit of a local icon thanks to its cheeky and delicious brews, all wrapped up in fun branding that doesn't take itself too seriously. Pair a free site tour and a round or two on tap with any of the following gift options: a case of Mermaid Pilsner, a tee or hoodie (or fanny pack), or tickets to one of the brewery's upcoming events. It's a mix-and-match scenario that can be tailored to any budget.