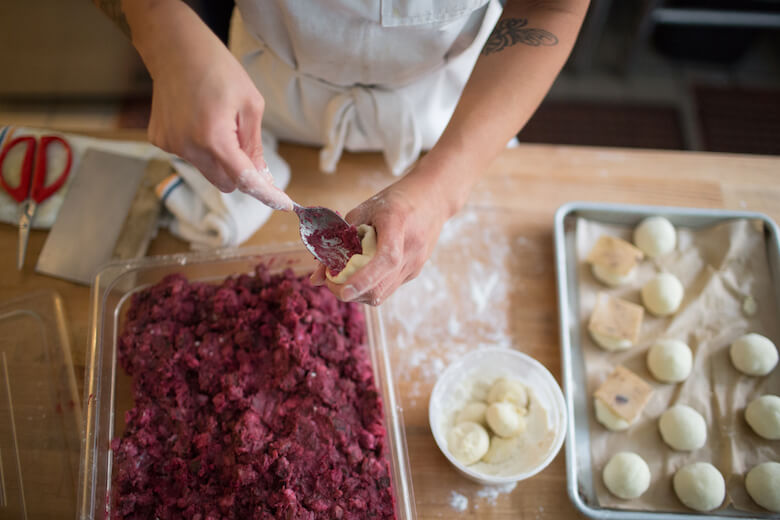 Mr. Jiu's is not your typical Chinese restaurant. Walking down the streets of San Francisco's Chinatown, you can't pass by the giant picture window with a view of the buzzing pastry kitchen without poking your head (and nose) inside. As I roll up, the sight of black squid ink dumplings being pinched and the restaurant's famous char siu pork buns getting filled with bright-red seasoned pork belly beckon me in. Inside, pastry chef Melissa Chou is reimagining the very image of what a Chinese pastry can be. She tells me, "I constantly google 'Chinese desserts,' in the hopes that I will find something new, but there really isn't much. That gives me a lot of freedom." This place would be nothing without precisely that freedom, an experimental ethos that drives both Melissa and executive chef Brandon Jew (aka Mr. Jiu).
The two met in the kitchen at nearby Quince, where the chef often teased Brandon by saying he would one day open a "Chitalian" restaurant. Drawing from his Chinese heritage and experience cooking in Bolognese kitchens, he pretty much went ahead and did just that—and it really, really works. But neither Brandon nor Melissa grew up cooking their ancestral cuisine. Brandon tells me, "When you immerse yourself into a cuisine, you're learning cultural traditions, why people have paired certain ingredients together for as long as they have. At some point, I just wanted to know those same things in my own culture. That curiosity propelled me to go to Shanghai." Mr. Jiu's is the result of a respect and fascination for traditional Chinese food but with a healthy distance. This relationship extends beyond the plate and into the dining room decor: The sleek, modern design interior is punctuated by the original lotus flower chandeliers that adorned the former Chinese banquet hall, rehabilitated and brought back to life. It's a touch that seems to say it all.
Back in the kitchen, we are here to learn how the famous Mr. Jiu's char siu is made. There is no denying that this is the best version of the dish in town, it's their top seller, "since forever," says pastry sous-chef Kelly Teramoto. Char siu is a traditional Cantonese dish of red glazed barbecued pork, most commonly served in pork buns or with egg noodles. But why is it red? And how do they achieve that addictive flavor? Brandon sets a jar of his secret sauce on the counter, giving it all away in an instant: Red rice inoculated with koji and fermented tofu. It's a product he picked up in Taiwan, but one he hopes to start to make in-house. This is where the sweet and salty flavor comes from, and most of the color, too, though sadly, the average char siu is augmented with red food dye. Not here though—Brandon adds beet to the mix, for a natural magenta hue.
With the char siu filling holding down the traditional end of the spectrum, Melissa would add a signature twist. She recalls a very special pork bun she ate in Hong Kong, one with a mysterious crunchy topping. It reminds her of the classic San Francisco "Dutch crunch," a sweet crispy layer found on the city's most coveted sandwich breads. A salad eater more than a sandwich eater, I had never heard of this technique for adding a layer of sweet and texture to crust, but a quick scan of the Internet reveals the reverence that this city has for this technique.
I watch as Melissa rolls rice flour paste wafer thin. She tucks some savory pork floss right into the Dutch crunch, adding flavor and additional color to the mix. She pops it in the freezer to set, slices it into squares, anointing the little buns with one square each.
In the heat of the oven, the topping melts and crystallizes. We slice one open, steam spills out of the doughy interior cavity, where that char siu is cooked to perfection.
SaveSave
SaveSave
SaveSave
SaveSave
SaveSave