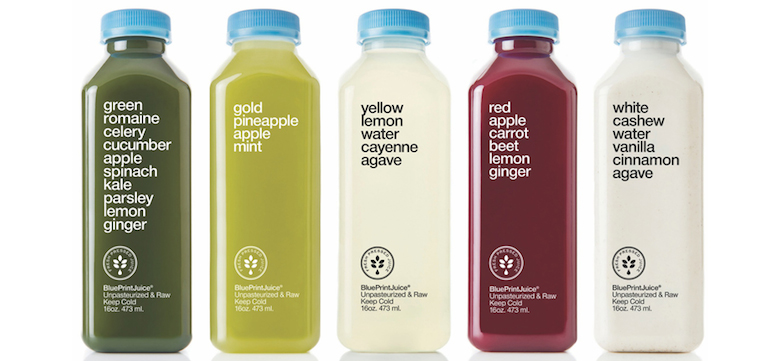 If your New Year's Resolution involves unpickling your liver, Zoe Sakoutis and Erica Huss propose a toast—or six. Namely the halfdozen svelte bottles that make up a day's detoxing when you're on their liquid-diet brainchild, the Blueprint Cleanse.
The pills and powders favored by most gym junkies would make a Michael Pollan acolyte shudder, but the ingredients liquefied daily at Blueprint's Long Island City facility are altogether virtuous: organic produce like beets and celery, sourced from local farms during the growing season. Sure, die-hard DIYers will fire up their own juice machine six times a day and feed it bushels of upstate carrots and heirloom romaine, but there's a growing body of people with, well, growing bodies, and this service, complete with daily doorman delivery, has won zealots for its ability to get you back into your jeans—not to mention banish cravings and, oh yeah, achieve enlightenment.
Skipping solid food for a spell is nothing new. The lemon-cayenne-maple Master Cleanse has been a slimming sensation since the '60s, and just about every belief system in history has revered occasional fasting to atone and renew. But Sakoutis and Huss have made cleansing chic for 21st century New Yorkers—and established a new business category, complete with multiple competitors. The blue bottles (which call to mind Bliss Spa, and target the same well-exfoliated audience) are a city sensation, with reports that everyone from Sarah Jessica Parker to Danny Meyer's PR team swears by the stuff.
And while cleanses had been a feature of body-conscious, new-age lifestyle (think raw vegan yogis) one gets the sense Blueprint is for near-alcoholics, not near-anorexics. Sure, the foxy founders are both vegetarians, but they met while working as bartenders together at the Hudson Hotel, and the brand's trademarked slogan—"Work hard. Play hard. Cleanse. Repeat."—feels more modified McInerney than Maharishi. In fact the company website says its foundation cleanse is for the "I'll have my martini with a side of steak, please" crowd. No wonder the juices sell for about $11 a pop—next to dinner at Maloney & Porcelli, that's a bargain.
Plus they taste kinda great. The pineapple-mint bottle was a little sweet for me but I guzzled the kale-kissed green option—little wonder Food & Wine named Blueprint "the cleanse for foodies." And call me crazy, but I had much more energy than I do when I down three times as many calories. Not that I'm in danger of binge-drinking Blueprint—don't look for me passed out next to empty bottles like some tabloid pop star who couldn't kick the cuke habit. Mostly because I can't afford it.
But if you fall off the wagon before your detox is done, there's a silver lining: The juices make killer drink mixers. Spike 'em with some gin or vodka and you've got yourself a delicious cocktail—my apologies to your liver.
Photo courtesy of Blueprint