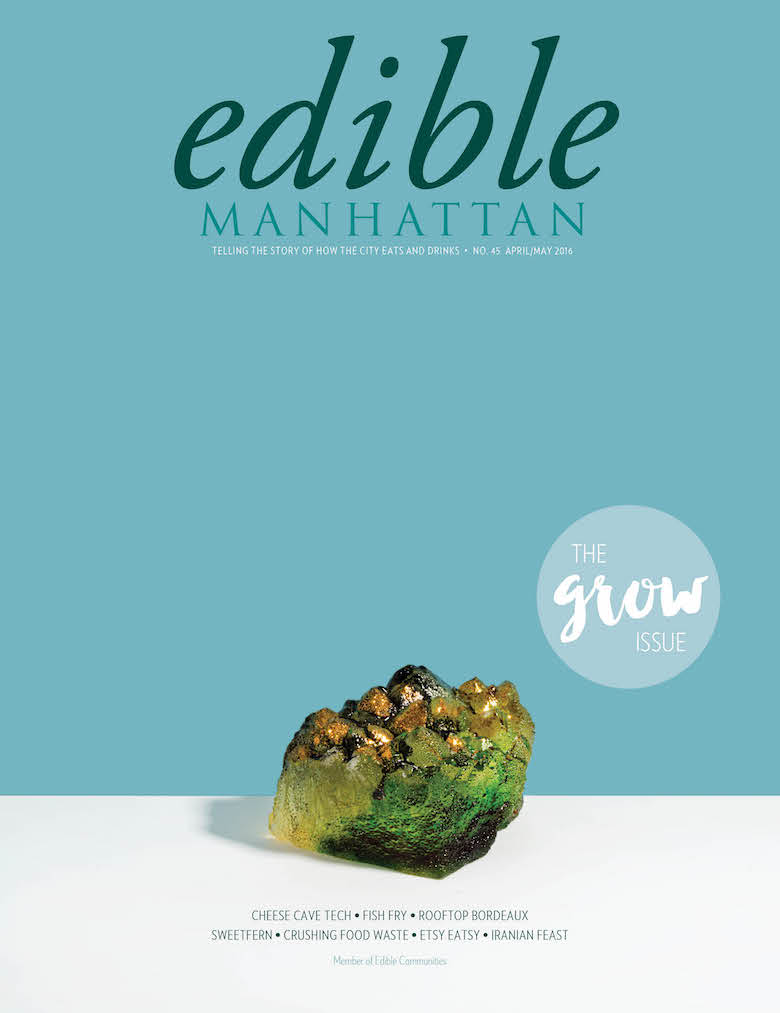 It's hard to find fault with this agave-sweet spring. I mean, surely this weather portends the planet's demise, but I wore a tank top in March! Grinning through my tears.
Impending doom aside, I've been feeling real nice, gliding around the city like a teenager in love. There's no denying it—Brooklyn hits its stride right around now. I can see the leaves filling in behind my house, blossoms at the Botanic Garden, there's even a bright little tulip box outside our office in Crown Heights. I signed up to split a CSA share with our digital editor, Lauren—growth is in the air.
Fitting, then, that this is our inaugural Grow-themed issue. We've got a story about two scrappy entrepreneurs growing wine grapes on a roof in the Navy Yards. And there's a nice piece from our resident forager, Marie Viljoen, on sweetfern—an elusive edible plant you can find growing here and there in our fair city.
In a feature I'm quite fond of, writer Azita Houshiar celebrates the ancient Persian holiday Norooz—in a Chelsea apartment. This holiday is an ode to spring, and all the rebirth, regeneration and growth that the season entails.
But what of other kinds of growth? We've got small business owners like Sweet Saba's Maayan Silberman, whose candies have quickly become a favored accessory at glam parties around the country. Or Adriane Stewart, who is rapidly building a cult following for her inventive, delicious ice cream operation. These businesses are growing fast.
We also have a range of other cool content, highlighting Baldor's insanely ambitious "zero food waste" initiative; an old-school pierogi operation—with new-school twists—in Gowanus; and an ingenious cheese storage invention that mimics a cave environment on your kitchen table.
It's a good issue (I'm certainly not biased); I invite you to dig in and spend some time with it. Take it outside! Magazines are portable.
Happy happy Spring,
Read the entire issue, with stories from Edible Brooklyn.