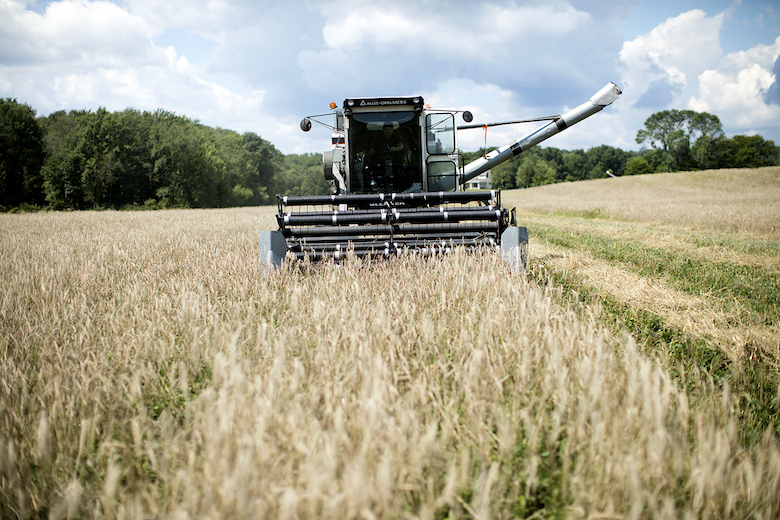 Farmers are incredibly busy people. They work non-stop at least seven months out of every year, raising animals for meat and dairy, planting and harvesting fruit and vegetables, and taking care of their land. Despite the intensive labor their work requires, they seldom make enough profit to, say, get legal advice on issues like zoning, food safety and distribution laws and other common issues they may face. They might not even know how or where to find a lawyer who can help; they are, after all, busy with the task of feeding the rest of us.
Enter the Natural Resource Defense Council (NRDC) and Pace Law School, one of the leading environmental law programs in New York. The two organizations have been delving deeper into the world of food legislation, and as Mark Izeman, NRDC's New York director, said bemusedly: "Lawyers aren't laughed out of those rooms anymore." The environmental law non-profit has been talking to farmers across New York State about what their needs are, and the answers were a resounding request for direct legal services to navigate things like raw milk, land laws, permitting and more.
As interest in food law swells at law schools across the country — from the Resnick program at UCLA (which New Yorker, former mayoral food policy advisor and Heritage Radio Network host Kim Kessler helps to lead) to Harvard's Food Law and Policy Clinic — more law students are clamouring for ways to improve the food system. Danielle Meyer, a first year law student at Pace, wants to reduce food waste through policies and litigation directed at the food industry. "These are the kinds of initiatives that should be coming from lawyers," she tells me. Her law school obviously agrees, and has partnered with the NRDC to help those in the food system who need it most. Their collaboration is four-fold: it includes an externship at the NRDC for one Pace student, a food-centric workshop series for both students and working lawyers; an annual lecture (held January 27 at the NRDC offices in New York); and most importantly, a food law clinic to serve farmers and other people across the food system.
"If you care about food systems change, there is a huge body of law you need to understand if you want to know how we got to where we are and how we can begin to go forward and make food more just and sustainable than it is," Margot Pollans, the director of Pace's new food law initiative.
"We want to take a food system that is currently destructive to our health, our environment and people's lives and make it regenerative and healthy," NRDC attorney Margaret Brown added. Ambitious? Definitely, and Pollans and Brown are the first to acknowledge the challenges food lawyers face, from powerful corporate lobbyists to an incredibly complex web of laws (see: the Farm Bill). But there were at least ten eager food law students, and plenty more lawyers and policy makers packed into a room to hear how they too could push for food justice in the courtroom and all levels of government.
"This partnership is wonderful and unique," says Kate Giessel, an attorney doing legal research for GrowNYC who grew up on her family's fourth generation farm. "Both these organizations harbor powerful tools and skills and resources, and the food movement is coming up with new questions all the time. It's a beautiful and nebulous area with a lot of issues that need this kind of support."
The food movement is full of unlikely partnerships and fusions — there was even a farmer-attorney in the audience (Jen Grossman, an NRDC attorney who raises hens in the Catskills). The NRDC-Pace initiative is the latest in a series of smart, surprising collaborations that we have a feeling will become much less surprising in the years to come.