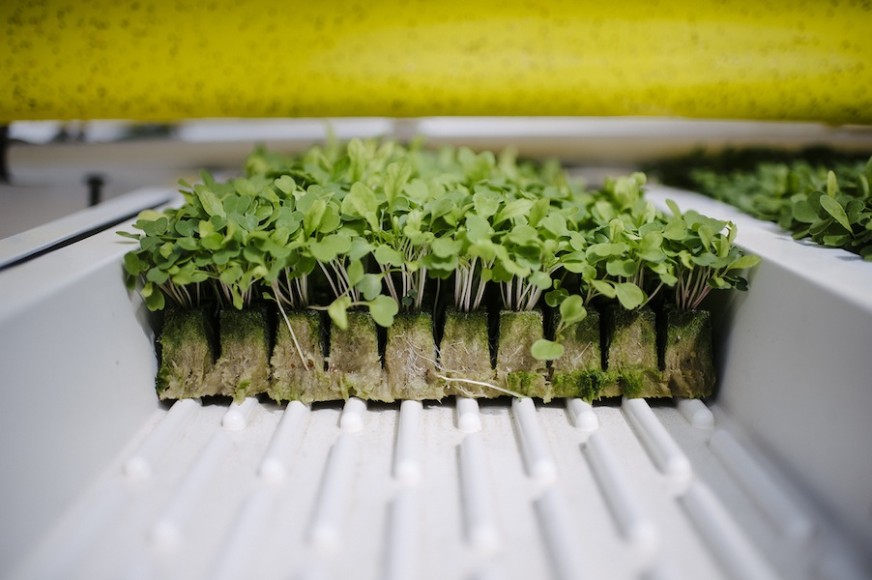 Since when did the season of fall food events get taken over by nerds? In North Brooklyn there was Northside Media's future-oriented, Questlove-approved Taste Talks. Bloomberg entered the fray with TechTable Summit featuring a room-packing chitchat between Danny Meyer and Steve Case on the theme of #hitechhitouch. The New York Times now-annual, high ticket, agribusiness-friendly Food for Tomorrow forum is in just a few weeks. Even The New Yorker's new Tech@Fest will likely touch on food in the era of Soylent and Hampton Creek.
The latest phase of this invasion goes down October 15, when hordes of geek farmers descend on West 26th Street for Indoor Ag-Con, a gathering of tech-enabled farmers who grow under mostly artificial light inside buildings, which is coming to New York City for the first time. The New York event features 12 of the leading farmers, investors and product developers in the space and has tasked them with sharing their big-picture vision on how indoor ag figures into global resource scarcity, what tech breakthroughs will help drop the cost of farming indoors and why chefs who aren't thinking about indoor ag are already behind.
What's the bigger picture here? As we have described recently, software is eating our food chain — from drone-assisted tractors and robot farmers to apps that take the friction out of alcohol delivery, restaurant check paying, grocery shopping and saving food that would otherwise be wasted. If Airbnb can monetize vacant real estate — helping both renters and landlords, with not much more than a brilliant UX — then the indoor ag revolution can turn surfaces otherwise not used for growing into tillable, bountiful acreage.
Tech is opening up new frontiers for every industry. And it's literally doing that in food. There's a long line of students at Stanford's Feed Collaborative, MIT's CityFarmLab or Stony Brook's Food Lab who can improve the way we farm by stuffing the food chain with sensors, mobile devices and predictive algorithms. A big part of this latest phase is recognizing that agricultural development isn't simply a tech upgrade. It's using tech — well-designed materials, biology-tethered sensors — to move agriculture into places that yesterday's farmers have not tried in a big way.
In fact, people like Nicola Kerslake, the founder of Indoor Ag-Con and also the principal at New Bean Capital, would argue that indoor production, in greenhouses, controlled-environment warehouses and vertical farms, "is the only viable method to produce food out of season in a consistent, high-quality way." They aren't making any more dirt, as Will Rogers famously pointed out, so farms of the future will need to find new types of fields. A 2012 study identified 1,200 acres of potential rooftop farming space in New York. Between 2007 and 2012, there was a 54 percent increase in wholesale value of greenhouse-grown produce in New York State — more than the national trend. Rather than pondering the soil beneath their boots, firms like Gotham Greens and Harlem Grown are tilting their sites upward.
Speakers will explore the path towards Ag 3.0, "a data-rich approach to farming that utilizes inputs from diverse sources — sensors on plants and farm equipment, weather stations and satellite images — to make better farming decisions." Sponsors like Illumitex  are cooking up automated lighting recipes tailored for given growing environments and have just launched a new division dedicated exclusively to CEA (controlled-environment agriculture) headed by former FarmedHere founder Paul Hardej. The organizers will also release a white paper on robotics and automation in the indoor agriculture industry. "What we're talking about is an environmentally friendly way of growing local produce pretty much anywhere," says Kerslake. "It's also what happens when geeks farm; growers are already making ever-more-inventive use of controls and sensors to optimize their use of LED lighting, HVAC equipment and nutrient inputs, all in a bid to improve returns and reach 'field parity' for their produce."

Among those players who will be at the October 15 meeting is Marc Oshima, chief marketing officer and co-founder of AeroFarms, the Jersey City–based firm that has the largest hydroponics farm in the world, just 15 miles (as the crow flies) from Manhattan. Oshima is bullish on the space, of course, but has no shortage of examples of why New York is positioned to be a top producer, and consumer, of food raised inside, on top of, underneath or on the surface of buildings. As lead-up to the event, we asked Oshima a few questions.
Edible Manhattan: What do you think it means that Indoor Ag-Con is coming to New York City for the first time? Is the Northeast becoming a center of influence of indoor ag?
Marc Oshima: NYC is absolutely the nexus of what is happening with indoor farming — more so than any other region, and that can be defined in a number of different ways: years of growing, square feet of growing, pounds of produce grown, employees working in this area, dollars of capital invested, dollars of capital raised. The international trade organization, Association for Vertical Farming, led by Maximilian Loesl, is setting up their North American office in NYC to reflect the importance of NYC metro for the whole region. The other trade organization that is taking root here is the broader Urban Ag Collective that will be organizing NYC AgTech Week for the week of October 12 through 16, with support of local companies like Harlem Grown, Blue Planet, North Brooklyn Farms, as well as the Manhattan borough president's office.
EM: Will the discussion be different than it would be in Vegas/San Fran? That is, is indoor ag different on the East Coast?
MO: We have taken part the last two years in the Indoor Ag in Las Vegas and believe that the location there has been driven as much by the need to have a destination venue/location to attract the investors as by the participants/speakers/exhibitors — meaning that there is not anything particularly interesting or extensive taking place in Las Vegas specifically, although the desert environment highlights how tough it is to grow year round there. While there are important grassroots developments happening in different markets, the focus for this year's event in NYC is about highlighting the true industry leaders in the space and going deeper with each one to showcase the commercial viability. Given the NYC location, we are going to see a different audience from the grassroots side to the academic side drawing from Cornell and Rutgers that have more extensive programs for controlled growing than just the University of Arizona (Tucson) program.
EM: What are you excited to talk about, learn about, share with attendees?
MO: We are excited to share that our focus is not just on the NY metro area but also fundamentally transforming agriculture around the world and sharing that we have projects in development on four different continents. By the time of the Indoor Ag event in mid-October, our CEO David Rosenberg will have just gotten back from the Netherlands where he is leading a World Economic Forum session on the New Vision of Agriculture and will be able to share a much broader global perspective on what is taking place and the unique role that AeroFarms is playing on helping establish the agenda. We will also talk about differences in how we think about indoor vertical farming versus indoor ag versus urban farming and our greater productivity per square foot and our lower use of inputs: water, nutrients, labor, etc.  We will also talk about our role in creating local jobs and partnering with economic development groups like the Ironbound Community Corporation that is creating significant bonds with the Newark community. In terms of learning, we are always interested in seeing what is developing. In particular, we are hoping to learn more about Sundrop Farms from Australia and how their technology can work and be cost effective in different market applications beyond Australia.
To learn more and buy tickets, visit their website. Edible is a proud media sponsor of Indoor Ag Con.