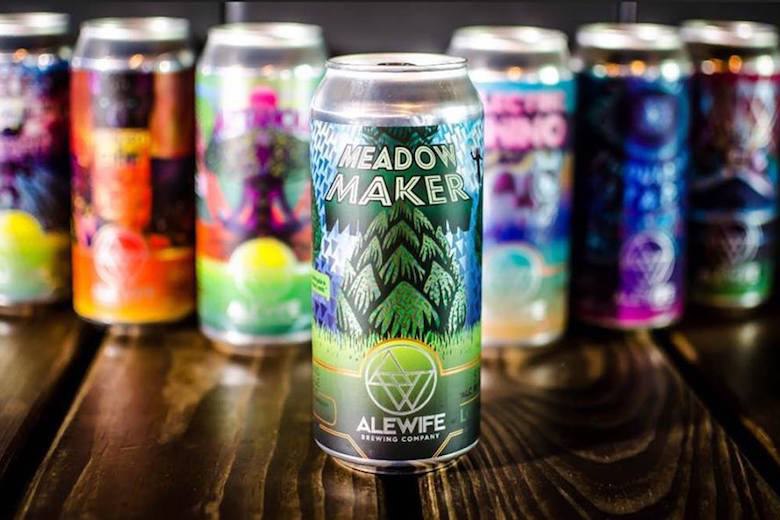 New York City's thriving beer scene now touches down in Sunnyside, Queens.
In the coming months, Alewife Brewing Company will start making beer in a 7,500-square-foot one-story warehouse on 39th Street just off Skillman Avenue in the neighborhood—its first-ever brewery. This makes the third of Alewife's brewing locations within less than a year.
The respected brewpub in nearby Long Island City began producing very small batches of beer on the premises last summer. The company also rents space at an established facility in the Bronx to brew and package core offerings like Death to Ego, an IPA.
A Dream Come True
https://www.instagram.com/p/BurueMElRYh/?utm_source=ig_share_sheet&igshid=unhy7546a4pr
Alewife, which opened as a bar in 2011, is owned by Patrick and Roz Donagher, who also run three bars in Manhattan: Fools Gold on the Lower East Side, and the Jeffrey and the Rochard on the Upper East Side. Because of the three-tier system governing the sale of alcoholic beverages in New York, the couple are in the process of selling their bars in order to legally operate the brewery (they will keep the brewpub).
"It's a bit bittersweet to give them up," Roz says, but opening a full-fledged brewery is fulfilling a long-held dream of theirs. "We've been saving up for this moment for nearly 15 years and now it's finally here," Patrick says. "I can say that opening a brewery from scratch takes a long time."
What didn't take long was the brewery receiving an award. It was recently named the best new brewer in New York by users of RateBeer, a beer-review website. "It's been a huge boost for us," Patrick says of the accolade. "Now that we're getting our feet planted and our creative juices flowing, it'll be exciting to see what happens next."
What's Brewing
https://www.instagram.com/p/BoH8SXrlAEZ/?utm_source=ig_share_sheet&igshid=1j22tos33sytc
In addition to Death to Ego (and its double dry-hopped version, released recently), regular offerings, which are available on draft and in cans, include Meadow Maker, a hazy, juicy IPA; Thousand Stars, a pilsner with a good bitter grip; and Lupulin Vibrations, a rotating line of lush IPAs showcasing single hop varieties. The series' seventh and latest installment features Idaho 7. "It's really complex, almost like two hops in one," says Keir Hamilton, the head brewer. "It has dank, piney flavor plus fruity aromas of apricot and pineapple."
Hamilton, whose résumé includes Sixpoint Brewery in Red Hook, Brooklyn, uses the one-barrel brewhouse in Long Island City, which is nicknamed the Scullery and sits behind a big glass window, to experiment with different styles and refine recipes. Batches are minuscule, just 30 gallons, and are available only on-site. On a recent visit to the two-level space with communal tables, taps poured a spicy Belgian quad-style ale and a milkshake IPA brewed with peaches, vanilla and lactose. "I'm trying to work as many recipes as I can, making subtle tweaks here and there if I re-brew a batch and trying out new ingredients," he says.
Patrick looks at the brewpub as a consumer focus group, providing instant feedback from fans and informing the brewery's next steps. "I do maybe lurk around a bit and try to overhear what people are saying," he says with a laugh.
Like many craft brewers today, Alewife collaborates with other beer makers and local businesses. Alien Technology is a potent, bittersweet imperial stout made with cold-brewed coffee from Sweetleaf, a coffee roaster with cafés in Long Island City and Greenpoint, Brooklyn. "We go there every morning for our coffee," Hamilton says. "It's cool to have the opportunity to be creative and involve our neighbors."
Another collaboration has been Alewife's contract brewing in the Bronx, using the equipment of another new beer maker Torch & Crown Brewing Company. "We get to work closely with them and have full creative control, which is rare when you're contract brewing," Patrick says. "It's been a good fit for us as we establish the brand."
The Donaghers hope to start brewing and serving beer in Sunnyside in June, though they will continue to produce and package beers at Torch & Crown (which is itself planning to open a brewery and taproom in SoHo around the same time), enabling the business to expand distribution into more markets outside the city. "We hit some of the state currently but we want to cover it all soon," Patrick says. "[Torch & Crown] will be where we make larger batches to send out and supply the state, whereas Sunnyside will be where we really flex our creativity."
To that end, Hamilton will expand the brewery's offerings on the new 10-barrel system, including an array of juicy IPAs and sour ales aged in wine and spirits barrels. There are also plans to install a coolship on the roof to ferment beers spontaneously with ambient yeasts and bacteria. "We'll capture what's in the Queens air and see what happens," he says, adding that he'll reach out to established producers of sour and wild beers like New Jersey's The Referend Bier Blendery for advice and potential collaborations. "It'll be a great learning process," he says.
Growing New York City's Beer Scene
https://www.instagram.com/p/BnbjkQ1lTZq/?utm_source=ig_share_sheet&igshid=1moweg90d67ft
New York City's beer scene continues to expand. There are now over 40 breweries operating in the five boroughs (there were just eight in 2012), many of which the Donaghers serve at their four bars. After years of working with and supporting local breweries, the couple are thrilled to be a part of the community. "This is a group of businesses and people that are so close, everyone is here to help each other," Roz says.
"I think it's because we all realize how many more breweries New York City can hold," Patrick adds. "Some small cities have hundreds of breweries. With millions of people, we have room for thousands."
Before Prohibition, Brooklyn was home to one of the nation's largest brewing industries. There were 45 breweries at the turn of the century, including nearly a dozen on one 12-block stretch in Williamsburg alone. Parts of Queens also had clusters of beer makers. But never has there been a brewing facility in Sunnyside.
"There was likely illegal production going on during Prohibition, but the area has largely been undeveloped farmland for most of its history," says Bob Singleton, the executive director of the Greater Astoria Historical Society. "During the city's brewing boom most of Queens's breweries were located in College Point and Ridgewood, which had large German populations."
The Donaghers believe building a brewery and taproom in Sunnyside will inspire others to do the same, and a burgeoning scene isn't too far away. They saw it happen in Long Island City over most of the last decade, running Alewife. Rockaway Brewing Company, the neighborhood's first brewery, opened in 2012. The addition of Alewife's brewing system last year made it the seventh. "It just takes one to get the ball rolling," Patrick says.
More than an untapped area with potential to serve a thriving local industry, however, Sunnyside is tied to Patrick's personal history. It's where he first lived after immigrating from Ireland in 2002 to continue a family tradition and become a fourth-generation bar owner. "It's an important place to me," he says. "I'm excited about starting another new chapter in my life here."