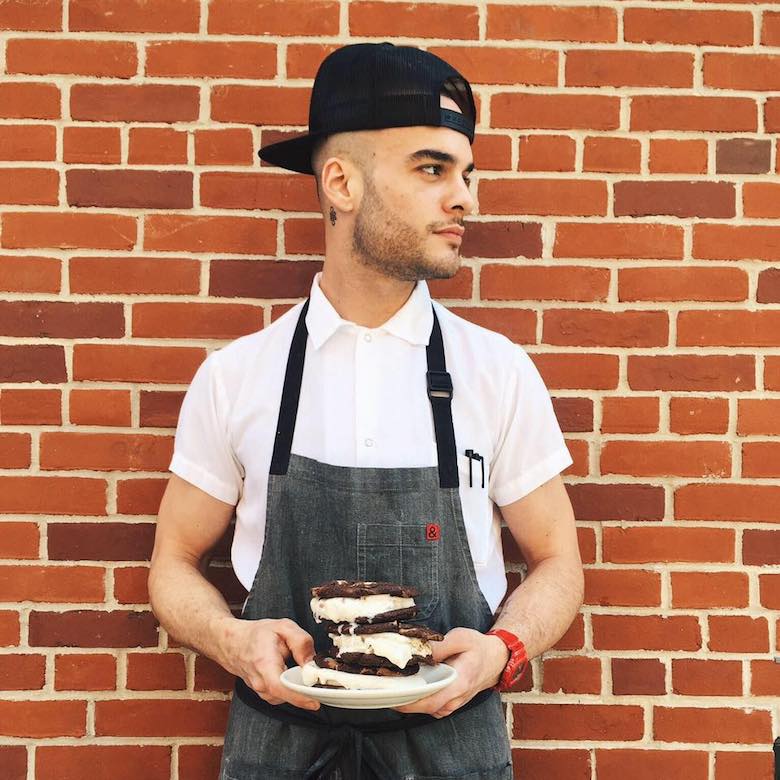 The young chef Phillip Basone (once an il Buco Alimentari cadet) has the New York stage for two nights with his pop-up Café Dolores at West Village restaurant Upholstery Store: Food and Wine. Serving recipes he learned from his grandmother, and donating all proceeds to New Alternatives NYC for LGBT Homeless Youth, it's a dream come true across the spectrum.
The initiative is supported by ASOS, the go-to website for that 20-somethings crew looking to shop, as part of their program "ASOS Supports Talent." The program spans art, music, fashion, technology and, of course in this case, food. And who better than the smiley and bright-eyed Basone?  
The whole setup for Basone is all about family. The name Dolores comes from his grandma who he calls a "phenomenal cook." But also it's for his grandpa: "I definitely wanted to do this for my grandpa. He is always telling me he won't be alive to see me own my own restaurant," shares Basone. "I don't think I could give him a better gift than to show up and see a place named after my grandma. A place that makes you feel like it's home."
"The philosophy behind Café Dolores is taking what I consider old school dishes and recreating them in a way with flavors that I love," says Basone. "I really feel like cooking is such a honest way of translating your feelings. It is so personal. Here is my idea, then made by my own hands to bring you joy." And so the menu really tells a story. "Each dish is really inspired by someone. If you're making something for someone particular in mind I believe it's just human nature to try and make it perfect, that's motivation enough you know?" continues Basone.
And the menu reflected exactly that: humble ingredients highlighting their purest forms. Think oysters on the half shell with a spicy element, fried duck meatballs with brie cheese and fennel, gorgeous beets stacked to high heaven and mussels that fall out of a bag and is served with sweet potato fries. And then, a show stopper surprise cookies and milk dessert. Besides for the comfort food, a smiley chef coming to see all the guests, the setting felt all too personal; including antique mismatched plates, glassware and silverware as another tribute to his grandmother.
Basone grew up in a non-progressive town in Northern Connecticut and shares that high school was "not a fun place," but yet he found refuge in food classes and cooking. And somewhere on the East Coast he found his love for food, and a palate to boot. "My philosophy on food is very simple. I don't like anything processed and I like to eat seasonally," he says.
"I just want to make food for loved ones," says Basone. Let's home he finds a spot where he can create exactly this kind of love on a more permanent basis—we'll all be waiting.
For more on ASOS and Phillip Basone visit them tonight at Café Dolores. Here's a sneak peek at the menu: