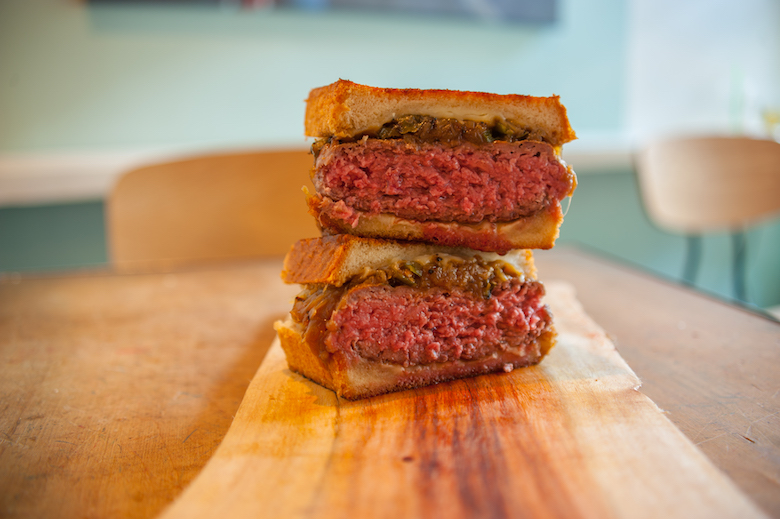 Murray Hill has a new hangout. You don't need to necessarily eat meat at the Cannibal Liquor House, but it is highly advisable here on East 29th. The block and surroundings have never really been popular dining destinations, but that could change.
First the owners, Christian Pappanicholas and Cory Lane, opened the Cannibal, and the neighborhood rejoiced at the arrival of a new people-watching venue and a beer selection sent from the gods. Very recently they expanded their offering next door with the Liquor House and the neighborhood now has an extra reason to hang out.
"The idea for Liquor House is something we've been working on for a while," says Pappanicholas. "We feel like the neighborhood is craving a spot like this, a place with our take on classic cocktails and classic American bar food in an atmosphere that's approachable and fun."
"So the concept of the Cannibal Liquor House was our take on a proper American cocktail bar. So we look at the history of cocktails from pre-Prohibition and classics, the tiki craze and shitty cocktails of the '70s and '80s all the way up to the cocktail revival happening in '90s," says beverage director Bill Brooks. "Using that guide as a frame of reference, we start with a classic or an old recipe or typically the phrase 'I remember making this drink called a ____ back in____,' and then we start by re-creating it and seeing what we like, what we dislike and how to change the ingredients to make something new."
And so the process to find the best cocktail gets tasted three or four times and then they find a recipe that the motley crew can all love. According to Brooks, "We try it out on staff and some of our favorite and honest guests before it makes its way to the menu." Some of the results have brought these favorites to the fore: a Holland Drive (think genever, Fleur de Sommer, absinthe, vanilla and some bitters to drive you crazy), an extra wild El Diablo Blanco (a simple blanco tequila, grapefruit with ginger, lime and soda), or the Truffle Shuffle (an updated take on a Gold Rush, which means it's Scotch with chestnut honey and lemon and plenty of Lagavulin).
And if you're thinking of bringing your band of insiders, get a round of Passing Notes, which is a twist on Paper Planes and a Last Word  (bourbon, maraschino, aperitivo, some bitters and lemon, of course. The PB & J, which Brady calls their version of the "shots you can find at beach bars across Florida" is peanut butter washed blended Scotch mixed with some Matthiasson vermouth. Nostalgic much?
And with all this booziness, a whole lot of eating is imperative, too. Chef Francis Derby along with chef de cuisine Danny Hobby has a perfect accompanying menu. Starting with a classic "pigs in a blanket" served with mustard or a dry-aged burger on Texas toast with onions, shishito peppers plus provolone and a special harissa mayo. And if you need to line the stomach and indulge, have the Yorkshire pudding and braised veal cheek, which is served with pickled mushroom. Stick to savory, it pairs so well with the drinks.
Photos courtesy of Cannibal Liquor House.