"Harlem is like a small town in a big city," is a refrain you hear a lot above 110th Street. What's perhaps more accurate is Harlem is like 50 small towns in a big city—each block and corner has different challenges, needs and leaders.
Unlike many other pockets of New York City, farmers markets in Harlem have evolved largely separate from the ubiquitous Greenmarket system. Some markets are run by a single person. They are used to educate an unhealthy zip code or attempt to transform a neglected area. But the random, scattershot and organic way they have developed proves that there is no corner in the five boroughs that wouldn't be improved by a farmers market.
The three women in this story show that when you shop at a farmers market in an up-and-coming neighborhood, it's likely that the organizer was there before local real estate became desirable—and they just might have been a substantial part of making it what it is today.
The One-Woman Show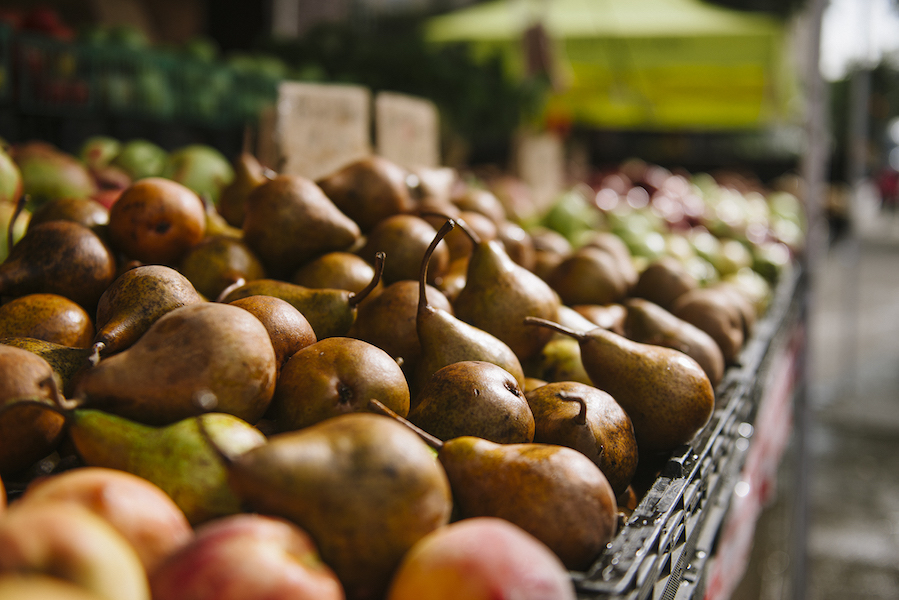 Sonya Simmons spends her winters singing jazz and R&B classics to audiences in Japan, Canada and Bermuda. But her summers are spent on the south side of Jackie Robinson Park in Harlem. For 11 years she has run the Grassroots Farmers Market on 145th Street, between Bradhurst and Edgecombe Avenues, and this effort is essentially another kind of one-woman show.
On market day, every Tuesday and Saturday, July to November, Simmons gets up at 4:00 a.m. and drives north to meet one of the Andrews boys from Andrews & Sons Farm in the Hudson Valley. She is back in Manhattan by 6:00 a.m. and tries to get a few hours sleep in her car. Simmons sets up her booth on the northeast corner of 145th and Edgecombe while the other farms she's recruited over the years construct their tents and chug their coffee. Alex's Tomato Farm of Schoharie County comes both market days. Trinity Farm of Clintondale, New York, joins on Saturdays, and Millport Dairy, an Amish operation from Lancaster, Pennsylvania, sells on Tuesdays.
On Saturdays when Simmons has three farmers selling at her market, she could skip the trip herself (the state requires three farmers to qualify as a market), but she keeps it up for variety's sake, bringing in items that her other farmers don't carry.
Originally from Ohio, Simmons has lived in Harlem for 20 years. Her husband owned an art gallery on 145th Street near the market, but got priced out of their space when their rent quadrupled.
She's glad to see the neighborhood evolving—she remembers hearing gunshots on Edgecombe Avenue every night when she first arrived. Now there's a Starbucks facing the southeast corner of her market and the apartments on Bradhurst have been renovated—with many converted to condos.
With her twelfth market season now fast approaching, and a lingering neck injury sustained from a car accident a few years back keeping her from the heavy lifting, Simmons could use some help. Her most dedicated supporter, a 99-year-old woman known as Miss Bernice who would come sit with her most market days, weather permitting, passed away this past winter. It's a loss that shoppers will surely notice and mention this season, says Simmons.
"When I first started it was community-run—literally everybody in the neighborhood was coming around saying they wanted to be a part of it. I don't think people volunteer the way they used to." She would like to find a successor of sorts, but until she finds one, she feels an obligation to keep the market going. "If the market goes, [the block] will go back to bad food."
The Crusader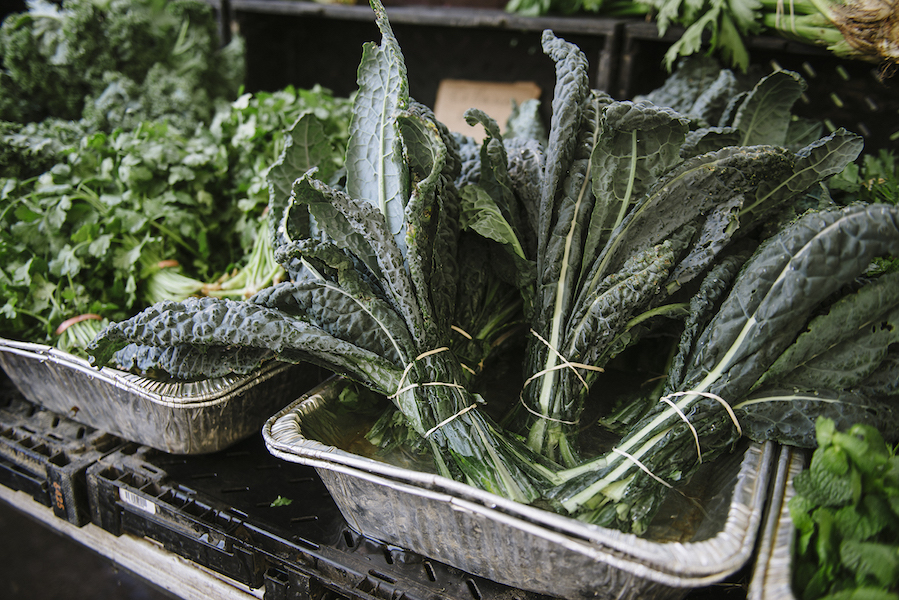 Maritza Owens has spent her career building something out of nothing. She's been managing farmers markets since 1993, but it took her 15 years to take it on full-time. And today, she's the chief executive offcer of Harvest Home—a nonprofit that runs 20 markets in four of the five boroughs—all at addresses that, according to Owens, no one else wanted anything to do with.
It all started in the Bronx. Back in 1993, the Bronx Perinatal consortium was attempting to reduce a high incidence of infant mortality due to teen pregnancy, and part of the plan was making sure that young mothers had access to healthy food. She helped establish two farmers markets in the South Bronx, and it took off from there.
"At that time in a lot of those neighborhoods, supermarkets had left. And the quality of the food in the supermarkets was crap," says Owens.
For years, Harvest Home was a sole proprietorship with market fees as the only funding, but Owens, who has worked in the field of public health in low-income areas her entire career, kept the markets going using her home as an office. "I got pissed off about the fact that, at that time, farmers markets were very elitist," she says. "They were only in white neighborhoods and they didn't think markets could survive in minority neighborhoods."
With 20 Harvest Home markets now in operation, Owens has proved any doubters wrong. In the beginning, she was essentially cold-calling farms from a Department of Agriculture registry list. And many Harvest Home markets still lack the frills of the city's larger market operations.
But Owens says she kept going all these years because "Every year I would go to the market and see the people shopping. I mean, they weren't huge like Greenmarkets, but they served the community. They didn't have heirloom tomatoes or cheese or dairy, but they could get fresh fruits and veggies, and that was the focus." Six of the Harvest Home markets are now run in partnership with Department of Health and Human Services hospitals—a partnership Owens speaks about with pride.
"Our missions are totally in sync and they are extremely supportive," she says. Special Supplemental Nutrition Assistance for Women, Infants and Children (WIC) centers at the hospital work directly with the markets; some of the hospitals have developed educational programs surrounding market foods, to help patients with diabetes and obesity-related illnesses.
One of these centers is in front of Harlem Hospital on Lenox Avenue, and the impact is apparent. Doctors, patients, family members and staff have to pass by the market to get to the bodegas and fast food across the street—you can watch the gears turning as they debate whether to grab a peach instead of a bag of chips.
The Transplant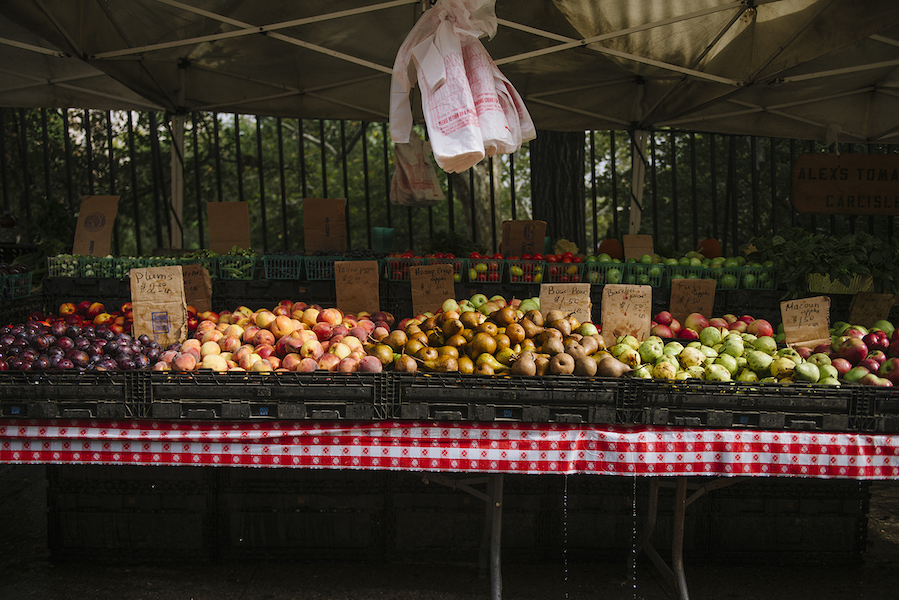 Carey King still has a serious North Carolina twang, though she has lived in Harlem for 10 years. In her past lives she has taught preschool in Louisiana and been a journalism student at Columbia University. But things started to change when she began volunteering for a new community-supported agriculture (CSA) operation in her neighborhood.
She soon started running that CSA pickup point, and one thing led to another until, having left Columbia and moved from the west to the east side, she began working for GrowNYC. It was a natural move for King since farming is in her blood—her dad's side were vegetable farmers and her mom's side farmed tobacco. Her grandparents were the farming generation and her parents left the land for office jobs. "There was always a sense of loss there," says King.
She found shades of the South in Harlem culture. "Because of the Great Migration, so many people here have roots in the South. Especially working in food, people understand vegetables and the importance of having a garden … the first crop in spring."
So reviving some troubled city blocks through food seemed natural to her, when GrowNYC started a partnership with the New Harlem East Merchants Association (NHEMA), which sprang up in 2013 to take care of three avenues that were notoriously untended: 125th Street from Second to Fifth Avenue. With a wide street, a busy train station and a lot of unchecked loitering, cleaning up those three blocks would be a full-time job.
"It has been a spot of need for so long. Everybody who passes by the intersection recognizes it as an area of need, but it's such a deep need that everyone keeps their heads down and just walks through it because the human struggle that you still see at that spot is so enormous that no one person thought they had the agency to tackle it."
But in July 2015, they were able to get 125th Street and Park approved as an official plaza through the city Department of Transportation. Soon Eric Gonzalez was hired as the new full-time caretaker of the viaduct. Wednesday afternoons, King joins Gonzalez out in the plaza (which they are now calling "Uptown Grand Central") every Wednesday to sell packed bags of local produce and a few other staples. Gonzalez has never seen many of the vegetables that King brings to the market; she makes sure he tries all of them. Gonzalez occasionally gets help from volunteers as well, who come in to powerwash the new plaza and help Gonzalez with a never-ending task.
Back at the viaduct, you can see the excitement on her face when businessmen with laptop backpacks go from top pace to confusedly slowing down to stopped at the sight of pastured eggs and Hot Bread Kitchen breads.
"You watch it happen. It gathers people into a space where they intersect with people they wouldn't normally interact with. There's no other reason to stop there. This is a space where people look up and look their neighbor in the eye and talk to them now."