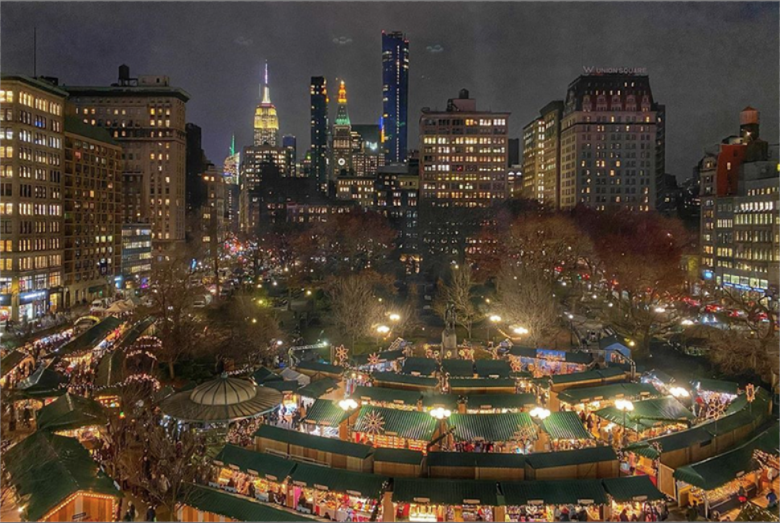 Find me in Union Square, Edible Manhattan readers—the annual Union Square Holiday Market has arrived.
Besides having to battle fellow New Yorkers and tourists for walkable space, the market is always a favorite. You get to browse artisan goods from both New York City vendors and artists and creators from around the world, there's hot chocolate to drink and delicious food from Wafels & Dinges, Fatty Sundays and more.  It's an easy way to check-off everyone on your holiday shopping list.
But say you want to either skip the food lines, or head out afterwards for mezze or grab some food on your way home—where to go? Here are 8 places to eat near the Union Square Holiday Market.
https://www.instagram.com/p/B5inQuXAF_-/
Tender Greens
Warm up from the cold with a quick meal or to pick up something to take home from fast-casual spot, Tender Greens. With customizable veggie bowls, and sandwiches (the Chipotle Barbecue Chicken is a favorite) and more they'll be something for everyone in your shopping party.
https://www.instagram.com/p/B5fcoB3hIP1/
Ole & Steen
Betcha you can't order just one pastry from Ole & Steen. Stop by the Danish bakery before you shop for hot coffee and sweet treats like the Cinnamon Social (a pastry filled with cinnamon and vanilla custard).
https://www.instagram.com/p/B5BXEJ1hh70/
Sushi by Bae
Treat yourself to classic style omakase at Sushi by Bae. Originally a pop-up from Oona Tempest, Sushi by Bae now has a permanent location on 15th Street, just remember to make reservations ahead of time.
Related: Meet the Woman Making Waves in New York's Sushi Chef World
https://www.instagram.com/p/B2z66ubHsVx/
Verre de Terre at Dirty Bird
Fans of natural wine should plan on stopping by Dirty Bird after a Friday afternoon at the Union Square Holiday Market. Every Friday night Verre de Terre hosts a pop-up in the back of the Dirty Bird. Think of it as a dive bar experience but for a natural wine.
https://www.instagram.com/p/B5TR1IFAjnb/
Au-Za'atar
Further afield, but well worth the walk, stepping into Au-Za'atar always feels like you've stepped into the kitchen of a beloved friend. Chef Tarik Fallous dishes out Lebanese style mezze, perfect for sharing with a group of friends and family. Try the shawarma (lamb or chicken into thin slices, roasted slowly-turning vertical rotisseri that is brought to the table and served with hand-cut fries).
Related: A Piece of Home at the East Village's Au Za'atar
https://www.instagram.com/p/B4QJbmzoUJe/
Ribalta
Make it pizza day at Ribalta. The pies are Neapolitan style, you'll likely hear Italian being spoken and spot a soccer match on the TV. Ribalta is an easy, casual spot to hit up and warm your bones after a day outside.
Gramercy Tavern
Pop into Gramercy Tavern for cocktails and appetizers after a day of wandering around the market. Apple cider lovers shouldn't miss the the Fall Classic (while it remains on the menu) Four Roses Bourbon, Laird's Apple Brandy, Apple Cider, Thyme, Lemon.
https://www.instagram.com/p/BzsygSBlEjO/
Zusik
On 14th Street, executive chef and co-owner Yurum Nam dishes out classic Korean fare but with global twists.. Order some of the small dishes to share: Spicy Rice Cake, Chicken Wings or Mushroom Japche and make sure you try one of the noodle dishes.