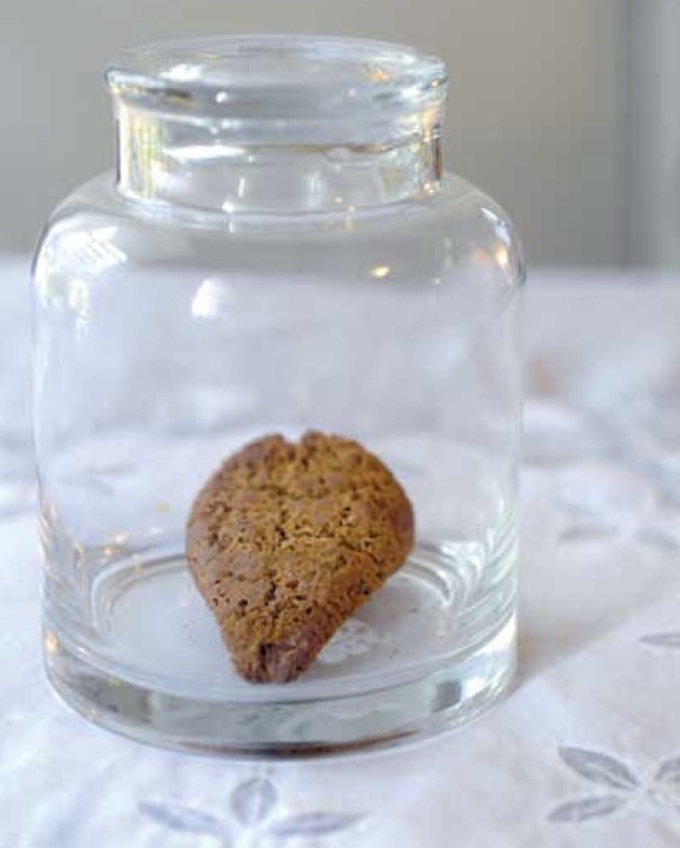 Most Jewish families pass down noodle kugel recipes or a sterling tea service meant for the Sabbath. But in Clare Burson's clan, the key culinary heirloom isn't cookbooks or silver, but a wedge of 117-year-old cheese.
Today the crusty caseus lives in a sealed bell jar, but back in 1895 it was packed in the trunk of a 14-year-old boy leaving Eastern Europe to avoid serving in the Tsar's army. He saved the snack, and, as the years turned to decades, the fermented memento was passed down through generations and eventually become the property of his great-granddaughter Clare—as well as the inspiration for the 34-year-old musician's new album. Called Silver and Ash, it tells the story of her family's diaspora, tracing the cheese's journey from Eastern Europe to Memphis, where Burson grew up, and finally to the Big Apple.
That brittle bit of dairy also became the star of a recent Silver and Ash–themed supper Burson cohosted with Sarah Lohman, who blogs at fourpoundsflour.com about her attempts to recreate historical meals. Both women support their passions with day jobs at the Lower East Side Tenement Museum, and their parallel approaches inspired the dinner: "I use my songwriting as a way to travel through time, and Sarah uses food to accomplish the same thing." They decided on a collaboration at the Henry Street Settlement House, and set to work creating a historic meal meant to tap into all five senses.
The night featured four courses pegged to Burson family memory and prepared by Lohman, each dish delivered with a story and a song from Burson. When her great-grandfather leaves home, you start with a schmear of that soft white cheese smuggled so long ago in his trunk. As Burson's grandmother Mimi leaves her parents behind in 1930's Germany, you savor her favorite meal: frankfurters, beans and German potato salad. When Burson talks about visiting Mimi as a child, you taste her always-in-the-freezer almond pound cake (check the recipe below).
These are among the stories Burson spent a year collecting with help from a Six Points Fellowship for Emerging Jewish Artists, interviewing her grandmothers, Mimi and Jojo, and traveling to the Ukraine, Latvia and Lithuania. It was while in rural Posvol, Lithuania, that Burson discovered that the cheese packed in her great-grandfather's steamer trunk is still made to this day. They offer a fresh and an aged version, but neither come close to her century-old wedge.

Silver and Ash will be released on Rounder Records on September 14. For more information about Silver and Ash dinners, go to clarebursoncom.

Helga's Almond Poundcake
From Sarah Lohman, fourpoundsflour.com
5 large eggs
1 Tsp. almond extract
2 sticks butter
2 C. sugar
2. C. all-purpose flour
Preheat oven to 350 degrees. Crack eggs into bowl and add almond extract. Using an electric mixer, cream butter and sugar until light and pale in color. With mixer on low, slowly add flour, alternating with the eggs. Mix until combined. Bake in one pan for 1.5 hours or two loaf pans for 1 hour. Allow to cool and enjoy, or freeze. (Helga always served this poundcake straight from the freezer.)
Photo credit: Michael Harlan Turkell