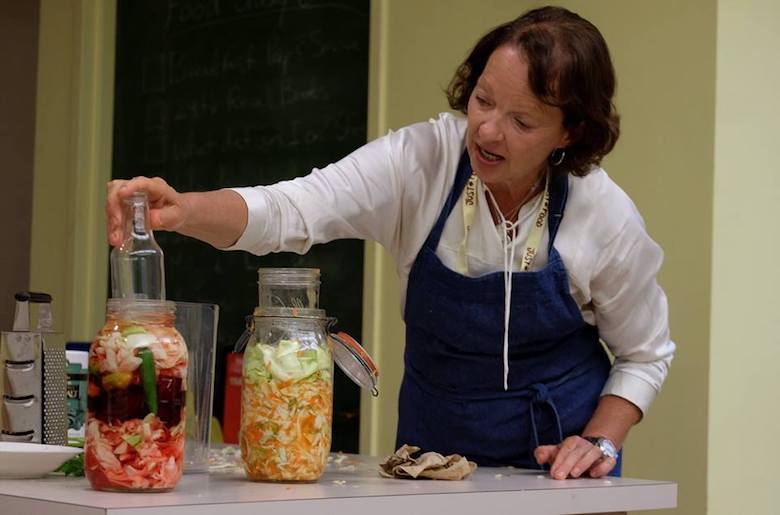 While there's much to be said for voting with your fork, not to be overlooked is the power of getting one's hands in the dirt. Gardening not only fosters community and soothes the soul, but the city's farms and gardens contribute measurably to "social, health, economic and ecological outcomes."
Conference-wise, it's March madness for gardeners and food justice enthusiasts. And if you're planning on growing from scratch, now's the time to start seeds indoors. Pro tip: Eggshells make great homes for seed starts and when ready can be planted directly in the soil, providing bonus nourishment when the shells naturally break down.
From community gardening and foraging to educational events, activism and conferences, here's the latest installment in our new series aimed at helping you better engage with the local food system.
Have an event or opportunity you'd like to share but isn't listed here? Let us know by e-mailing info@ediblemanhattan.com.
https://www.instagram.com/p/0nUXrQhgFP/
Education
Ongoing, March–June. Farm School NYC Spring Classes. Take part in courses on Propagation, Growing Soils and Irrigation this spring and early summer. "Completed courses can be applied toward a Certificate in Urban Agriculture in the future." Farm School NYC, various locations. $140–$350.
Saturdays, March 4–18. What's in Your Food? With powerful DNA-based technologies now accessible to everyone, this class is all about empowering consumers to investigate what they eat. Learn how to extract DNA from animal, plant and fungal samples, and use techniques such as DNA barcoding and PCR to determine if that goat cheese is really from goats, if your sushi is the wrong fish or if your soybeans are GMO. No previous science experience needed. Genspace NYC, 33 Flatbush Ave., Bklyn; 3–7 p.m; $150–$300.
Thursday, March 9. Threshold: Biodiversity, Climate and Humanity at a Crossroads. Join the New York Botanical Gardens as three renowned scholars of ecology, sustainability and environmental law discuss the implications of the climate crisis for the future. NYBG Ross Lecture Hall, 10 a.m.–noon. $20
Mondays, March 20–April 10. Fundamentals of Gardening. From the organizers: "Explore the basic principles underlying successful, environmentally friendly gardening. … Students learn not only what to do, but why. Topics include soils and their improvement, seed sowing, vegetative propagation, planting, pruning, watering, weeding, mulching, and disease and pest control." New York Botanical Garden, 2900 Southern Blvd., Bronx, NY; 6–9 p.m., $295–$325.
Ongoing. Brooklyn Botanic Garden. Community Greening: Take part in the BBG's vibrant network of people, places and projects dedicated to making Brooklyn a greener place. Programming includes Brooklyn Urban Gardener Certificate, Community Garden Alliance, Street Tree Stewards and more. Plus, Children's Garden Classes: "Cultivate a love of nature and a connection to plants in your kids by signing up for a Children's Garden class at Brooklyn Botanic Garden. Children aged 2 to 17 can plant their own crops and flowers and harvest them under the guidance of garden instructors."
Farm, Food and Water
Monday, March 6. Chefs Working to Improve the Food System. Join NYC Food Policy Center for this breakfast seminar to discuss how chefs are working to impact the food system and make lasting change. Hunter College, Silberman Building, 2180 3rd Ave. at 119th St., 2nd floor auditorium; 8:30–10:15 a.m. Free. RSVP here.
Thursday, March 9 and Friday, March 10. NOFA-NY Organic Action Plan. Join NOFA-NY for a brainstorming session to create a New York Organic Action Plan to create a food and farming system that is socially just, environmentally resilient and economically vibrant. March 9: Park Slope United Methodist Church, 6th Ave. at 8th St., 7–9:30 p.m. Brooklyn; March 10: 6th St. Community Ctr, 638 E. 6th St., NYC, 6:30–9:30 p.m. RSVP to elizabethhenderson13 at gmail dot com.
Wednesday, March 22. The Inner Workings of New York City's Water. Part of NYC Food Policy Center's "Food Policy for Breakfast" series, this panel discussion will bring together academics and environmentalists to explore how the city's water system works. Hunter College, Silberman Building, 2180 3rd Ave. at 119th St., 2nd floor auditorium; 8:30–10:15 a.m. Free. RSVP here.
Foraging and Farm Tours
Saturday, March 4. Join "Wildman" Steve Brill in Central Park for this opening season walk, where even in late winter you'll find cold-weather greens, field garlic, daylily shoots, chickweed, young mustard greens and more. 11:45 a.m.–3:45 p.m., meeting at 72nd St. and Central Park West. Call 914.835.2153 at least 24 hours ahead to reserve a place. $20 sliding scale

Sunday, March 5. "Wildman" Steve Brill heads to Prospect Park to kick off the season's Brooklyn foraging tours. As with Central Park, expect cold-weather greens, field garlic and daylily shoots but also wild coffee—unrelated to the commercial variety yet purportedly "the world's best caffeine-free coffee substitute." 11:45 a.m.–3:45 p.m., meet at Prospect Park's Grand Army Plaza entrance, across from the library. Call 914.835.2153 at least 24 hours ahead to reserve a place. $20 sliding scale
Saturday, April 15. Foraging Walk in Prospect Park. Sign up now for the first of these popular wild food walks with forager and Edible contributor Marie Viljoen. Learn about plant life, the do's and don't's of urban foraging, culinary ideas and creative techniques for unfamiliar ingredients. More details here. $40
Tuesday, March 28. Square Roots Farm Tour. Visit Brooklyn's Square Roots Farm—meet the farmers, taste the food and talk with others about the local food in urban areas. 630 Flushing Ave., Bklyn; 5:30 p.m.
Jobs
Wyckoff Farmhouse: Garden Coordinator / Community Engager. This position "blends garden/ farm work with organizing and community work. The position is year-round, averaging 20 hours per a week. Hours vary depending on the season (i.e., more commitment in the growing season and scaling back hours in winter months). Wyckoff Farmhouse Museum, 5816 Clarendon Rd., Bklyn.
Conferences—Gardening and Food Justice

Saturday, March 11. 36th Annual Making Brooklyn Bloom: Connecting the Drops. Join the Brooklyn Botanical Garden for their annual conference. A day of workshops, panel discussions, films and more, "Connecting the Drops" will give special attention to water wisdom, interconnectedness and citizen action. Brooklyn Botanical Garden, 990 Washington Ave, Brooklyn; 10 a.m.–4 p.m.
Sunday–Monday, March 12–13. Just Food Conference. Join food justice pioneers Just Food for their can't-miss annual two-day event of panels, talks and discussions on strengthening our food system. This year's theme is "A Call to Collaboration." Volunteer and internship opportunities are still available.
Saturday, March 25. GreenThumb GrowTogether Conference. From the organizers: "Celebrate the official kick-off of the community gardening season in New York City. The day will be packed with 30+ workshops on garden related topics including: food systems education, kids' activities, vegetable growing techniques, and designing your community garden for the present and future." Hostos Community College, 450 Grand Concourse, Bronx. 9 a.m.–4 p.m. $5.00 Get tickets here.
Save the date:
Saturday, April 29. The People's Climate March, Washington, DC. From the organizers: "March with the Food & Agriculture Hub to stand up for the future of our planet and fight for safe and healthy communities and food justice. We envision a future with sustainable and regenerative agriculture, family and small-scale farming, community generated solutions, safe and dignified food sector jobs, expanding space for permeable land to grow food in community and home gardens, sequestering carbon with agriculture, and food security for all people. We are committed to leadership from those communities most affected by our present food system and the most intense harm of climate change."