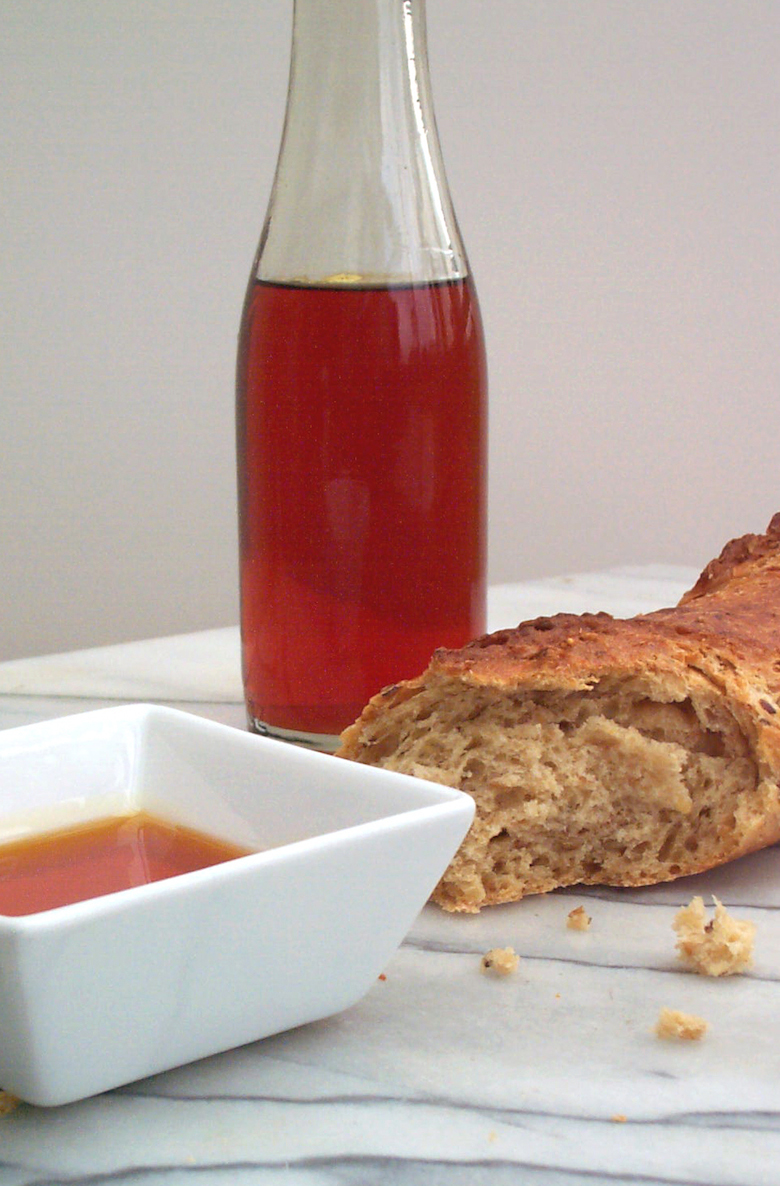 Spring is salad season, but, for hardcore locavores, dressing those leafy greens requires a decidedly long-distance ingredient: olive oil. Until now. Taking a cue from Austrian cuisine, an upstate entrepreneur is turning would-be compost into liquid gold: squash seed oil. Each week
Martin Farms
—a family operation up in the Finger Lakes—guts, chops and packages a staggering 40,000 pounds of butternut, acorn, delicata and kabocha squash for supermarket chains like Wegmans, Fairway and Whole Foods. Until recently, they were left with literally tons of seeds. So in 2009 the Martin family approached Greg Woodworth, owner of a cookie company called Stony Brook, about pressing those seeds, in hopes that they'd exude oil that could be used in his bakery business. With help from Cornell Cooperative Extension's Food Venture Center, Woodworth and his partner, Kelly Coughlin, borrowed a tabletop press. But when Martin's squash seeds went in one end, what came oozing out the other wasn't some neutral canola stand-in. It was an ingredient of serious culinary caliber.Woodworth knew he had struck, well, oil.
Further experiments revealed that butternut, acorn and kabocha each yielded its own uniquely flavored oil. Today Stony Brook presses them individually and sells them under the label Stony Brook WholeHearted Foods. Pumpkin delivers an umami-kicked flavor similar to a well-fermented soy sauce, while butternut is more robust, nutty and brown-buttery than the flesh of the fruit from which it's scooped.
"Early on, we decided to leave the seeds intact," says Woodworth, explaining that this yields increased antioxidants and a beautiful range of color from gold to amber. Oil from the Styrian pumpkins—an Austrian variety Martin Farms now grows just for the seeds—has a dazzling deep-green hue. The oils are best used as finishers—a splash over roasted ramps, in a vinaigrette or drizzled over soups, which is how they're used at Print Restaurant in Hell's Kitchen.
Johanna Kolodny, Print's forager, knows local oil fills an essential niche, and adds that diverting seeds from the waste stream makes the ingredient even greener. If that doesn't make you salivate, Print's executive chef Charles Rodriguez will, when he mixes the oil with reduced oranges, saffron and Champagne vinegar for a dressing over pan-seared striped bass.
They're also a great baste to create extra-crispy chicken skin, suggests Laura Nuter of the Filling Station in Chelsea Market, where you can sample dozens of different oils, vinegars and salts before buying them in refillable glass bottles. The butternut oil is a big seller, and she's so taken with it she even drizzles it over gelato. (You can also find the butternut or pumpkin oils at Dean & Deluca and Formaggio Essex.)
"We listen to the oohs and aahs all day," says Filling Station co-owner Megan Joan Cariola, who first stocked it when she ran Provisions at South Street Seaport. "Ninety-nine percent of people who taste it end up buying it."
Photo credit: Stony Brook Squash Oil