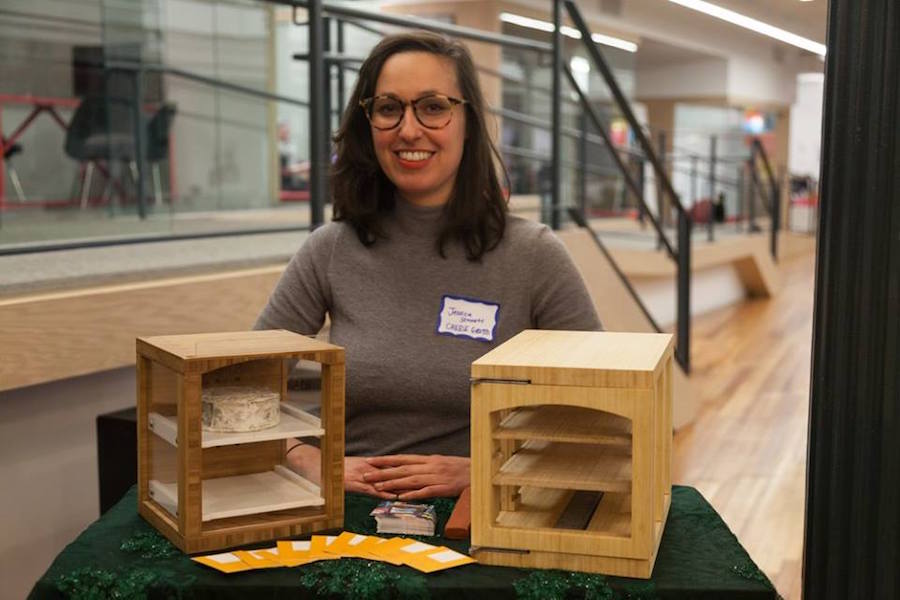 Editor's note: In anticipation of our upcoming Food Loves Tech event, we've launched a regular column to explore new and intriguing trends in the food, tech and business space. Read more about Food Loves Tech, and buy $35 early bird tickets, here.
There is not a lot of good free business advice out there. But in Manhattan, one of the most expensive advice-markets in the world, a "good food community" app is offering not just free advice, but also informal focus groups and networking to food entrepreneurs.
Foodstand is an app but also an event producer. Their most popular event is a pitch night called "Good Food Spotlight" co-produced by Slow Money NYC every month. Entrepreneurs can pitch their businesses to a panel of experts for feedback in front of a supportive crowd or book short, private appointments with an industry expert.
Bill Bodell came down to the Nomad event from the Catskills where he is developing an open-source alternative currency system for farming communities called Farmshare.us.
It's the kind of idea that won't necessarily fit into the traditional food start-up categories—most entrepreneurs in attendance were building service-based tools for the food industry or consumer packaged goods—but it's one that certainly shares the ethos of the real food movement Foodstand is trying to stoke. Bodell came to the event for legal advice. The opportunity of 15 minutes of free advice was perfect for him since he really only had one question: "I wanted to speak with someone who had experience with intellectual property in the food industry and I got that for sure. The legal adviser really shed some light on my next steps," said Bodell.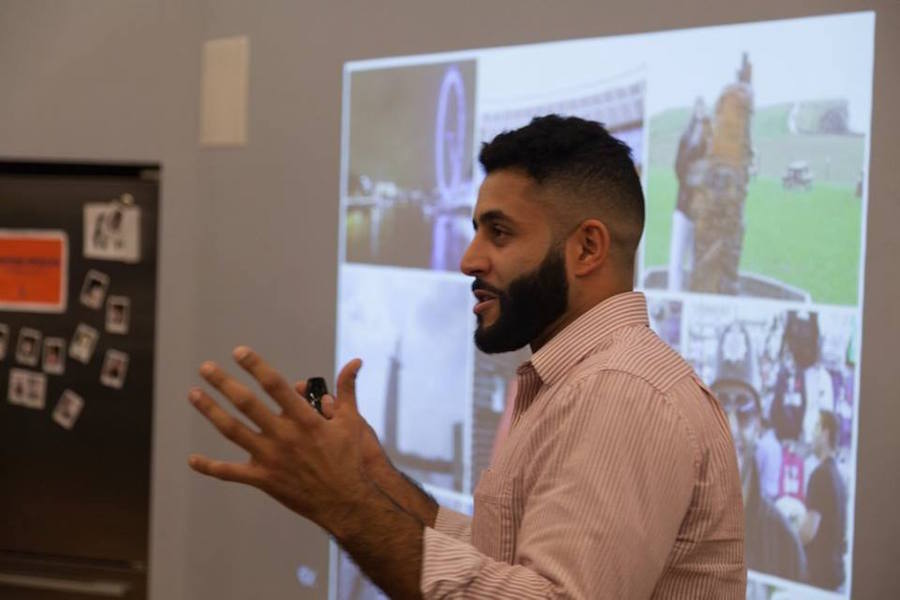 Pitch Night
Foodstand's goal is to create a "good food community" large enough to inform and inspire action, as well as support the organizations and companies already spreading the word. "If we want to help eaters make better choices every day, we need to ensure good food choices are available, abundant and delicious. We realized many entrepreneurs wanted to tap into the community to get advice, so we brought that to life," said Rachna Govani, Foodstand's chief executive officer.
And the feedback is indeed immediate. A major part of the presentations is a text voting system wherein presenters pose questions on a screen as they present and the audience offers answers.
Nearly all of the entrepreneurs posed questions to the audience about prices ("How much would you be willing to pay for…") and also about existing behaviors ("How often do you…"). Not exactly scientific, but considering the food acumen of the room, valuable to an entrepreneur pitching a product targeted at connoisseurs.
The Foodstand events are not dissimilar to tech pitch nights. In fact, Govani and co-founder Udi Falkson pitched their app at the massive New York Tech Meetup back in November 2015. At their own pitch night, the hit was LunchSpread: a service that offers office workers free samples and restaurants the opportunity to provide those samples with extremely precise geographic targeting.
Also sparking imaginations were the Cheese Grotto, a small structure in which cheese appreciators can keep cheese fresh without plastic wrap or refrigeration; Loft Tea, a bottled tea that contains a THC-free cannabis extract touted as an adaptogen and energizer; Zia Green Chile Company, a jarred version of the famous New Mexico green chiles; and Komeeda, a planner and executer of pop-up dining experiences and chef contests.
Community Building
Foodstand events, and other events that draw similar audiences around the city have, in the last year, started bursting at the seams. The crowds are enthusiastic and many attendees come back again and again. Though their community may appear to be preaching to the converted, Govani says that the aim of the app is to have people in the know push out content that inspires the less informed to make better choices and eventually get involved.
"Food is everywhere [on the Internet], and when people decide they want to care about it, they get lost," said Govani, who sees Foodstand as a one-stop shop for good food-related news, tips and discussion.
The newest version of the app allows users to ask questions and have discussions within the community. The first incarnation of the app, which debuted publicly in November 2015, was more for sharing purposes and encouraged action through inspiration alone. But the update has brought more energy to the conversation.
Discussions on the app are friendly, inclusive, specific and productive. A discussion thread about an electronic option for labeling genetically modified organisms (GMOs) for example, debated the efficacy of QR codes (the conclusion was decidedly negative). There are threads about new products on the market, including photos, what is special about them and where to find them. Recipes on the site are tagged ingredient by ingredient with qualities like "in season" and "local" and each ingredient is tagged with a purchase location. This is all info that is peppered throughout social media now, and Govani says the value is in centralizing it for eaters who haven't scoured the Internet for the best information sources.
Though Good Food Spotlight events happen only in New York for now, events in Washington, DC, and Detroit are set for April. The next Good Food Spotlight event in New York is this Monday, February 22, at Brooklyn Food Works.
Photos courtesy of Foodstand