Earlier this month, we hosted a crew of New York City market experts at the Brooklyn Brewery for a panel on what it takes to start and maintain a successful market in the Big Apple. In addition to panelists from some of the city's most popular markets, we were fortunate to welcome Karen Seiger, author of Markets of New York City.
She's a walking, talking, up-to-date source of the city's market culture, as proven by her regular weekend picks that she posts on her website. "[Markets] always on my brain," she says, "[their] environment for creativity is incredible."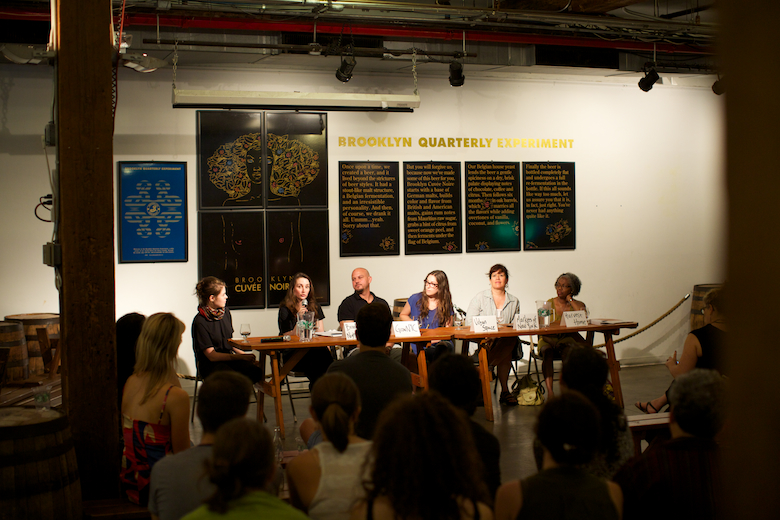 Seiger's originally from upstate in Rochester, but currently lives in the city, where she has several long-standing ties (her grandfather opened the first movie theater in Coney Island). She grew up going to farmers markets with her mother, and when she grew older and began to travel, Seiger found these community hubs to be "instant access to a culture and society," as well as a location "where you go to connect with people."
That idea also rings true for her in New York City, where she finds a "historical thread [of] scrappiness, industry and creativity" throughout the local market culture. Since her book was published in 2010, she's also noticed a significant rise in markets as an eating destination (hello, Madison Square Eats) and thinks that now, at least more than before, "the city is literally and figuratively hungry for food."
We couldn't agree more, so we asked Karen to share the top local markets where she thinks we should go to eat this summer. They range in shape, size and mission, but all ultimately satisfy our craving to explore some of the best food and drink that Manhattan has to offer:
Chelsea's Down to Earth Farmers Market: It is funny to think of bustling West Chelsea as being underserved, but there has not been a farmers market nearby until just this summer, when the Down To Earth organization launched this lovely market. Local residents have been flocking to the market enthusiastically for tomatoes, pickles, baked goods, olive oils and even artisanal spirits, in addition to enticing local produce.
Abingdon Square Market: The lovely thing about this market is that it is designed to serve the West Village neighborhood, and it is also such a pretty destination for visitors to this part of town. For residents, the market offers all the colorful produce, bread, seafood and cheeses they will need for the week. Visitors can pick up a refreshing picnic and take it up on the High Line Park, just a few blocks away.
Broadway Bites: I can't think of a nicer place to meet up with friends for lunch or happy hour than Broadway Bites, a seasonal market at Greeley Square at 33rd and Broadway. Sample savory and sweet foods from around the world, including brick oven pizza, lobster rolls, crêpes and ice cream sandwiches, and enjoy a few beers under the twinkly lights. Open summer and fall.
Broadway French Market: Brought to us by the organization that runs most of the farmers markets in Paris, Bensidoun USA, this weekday market is an inspiring destination for a midtown lunch and foods to take home for dinner. The market also invites fine local craft artisans, whom you normally only see in the weekend markets.
Chelsea Market: This food market is home to an irresistible variety of shops selling glorious prepared foods, baked goods, seafood, gourmet products, kitchen equipment and much more. Two of my favorite treats are the Cinnamon Crispy from Amy's Bread, a cinnamon muffin made from croissant dough, and the artichoke crostata from Buon Italia. Chelsea Market also hosts Artists & Fleas, designer pop ups and numerous sample sales, including Staub and Riedel.
East 67th Street Market: Open every Saturday, this Upper East Side flea market features a nice selection of vintage and antique dealers, including jewelry and miniature treasures. Outside in the school yard, you will find larger antiques and two farmers selling their lovely produce and freshly baked Amish pies and cookies. If you are lucky, you might also find traditional Polish sausages and pierogi for lunch.
Essex Street Market: Originally established in 1940 by Mayor LaGuardia, this Lower East Side Market hosts some of the most exciting food stores in the city while also providing basic grocery products to the local neighborhood. Roni-Sue's Chocolates, Heritage Meats, Saxelby Cheesemongers, Nordic Preserves, Fish & Wildlife — these are just a few of the thirty amazing shops housed together in this indoor market,
Flea Marqueta: One of our more picturesque markets, Flea Marqueta is hosted by the Urban Garden Center in East Harlem. Local artisans, mostly from Harlem, sell their beautiful handmade products amidst the trees and plants. Join neighbors at one of the communal tables for slow-roasted pork barbecue every weekend, served with mouthwatering chorizo, corn, slaw and Korean style BBQ Sauce. Wash it all down with a cold Sugar Hill Beer. Just across the street is La Marqueta de Harlem and Hot Bread Kitchen.
Grand Central Market: Whether you are commuting home after work or admiring the splendors of Grand Central Terminal, the Grand Central Market is a high-end food emporium that is not to be missed. Pick up cheeses, meats dry-aged on the premises, seafood and caviar, breads and desserts, spices, teas and coffee and produce. I can never resist the giant bowl of chocolate pudding from Dishes at Home.
GreenFlea Market: This Sunday classic flea market has been open for decades on the Upper West Side. They also have a nice variety of food vendors at the 77th Street entrance selling snacks to munch on while you shop, such as empanadas, bourekas and baklava from Yona's Gourmet Delights, as well as pickles to take home for a late night snack.
Hester Street Fair: The laid back atmosphere and the tall trees above this Lower East Side market make it the perfect destination with friends on a summer afternoon. This market has a beautifully balanced mix of curated vintage sellers and talented craft artisans. Towards the back section are the food vendors, selling meatballs, French fries, Asian cuisine, flavored lemonade, and frozen desserts. Linger over your plates at the picnic tables provided. Vendors accept bitcoin payments every Sunday through October.