After having spent $20 on lackluster flounder fillets one time too many, I set out to determine where in New York I could buy the absolute best fish, at the least inconvenience.
How hard could it be, I thought. It's just fish, I thought. "Disruption" is my generation's most strongly felt collective value. Whether it's eyeglasses or razor blades or rental cars, we've made it better, cheaper and easier to come by. And yet here I was living on an island, surrounded by fish, still carting chunks of white flesh home from a seafood counter, with no clue as to their origins beyond the hazy marketing language purporting freshness and sustainability. What I wanted was seafood caught locally, of a species that isn't being fished into oblivion, no more than a few days out of the water. There had to be a way to get it.
In April, a friend who knew that I had been researching the subject asked me where she should be buying seafood—expecting, I assume, to hear which start-up was whisking the liveliest striped bass off boats and into kitchens the next day. By then, I had spoken to dozens of people in the seafood industry: fishermen, wholesalers, processors, retailers, chefs and entrepreneurs. The stories that emerged about how seafood is bought and sold were complex, murky and often inconsistent.
Virtually any retail source that one person recommended, another aired reservations about. I heard tales of pallets of fish destined for high-end Manhattan markets seen rotting out in the sun; tuna steaks blasted with carbon monoxide gas to perk up their color and sole soaked in sodium tripolyphosphate to cover up the dull, mealy appearance of age; flounder caught off Long Island, carted into the Bronx, shipped to China for processing and sent back to Manhattan only to be labeled as "local." One guy would only talk on background for fear of mob retaliation. I thought about my friend's question. "You should buy from Stephanie," I replied.
"We live in a city of 10 million people, and you're telling me the best place to buy fish is from 'Stephanie'?" she snorted.
That is exactly what I'm saying.
As the chain of custody lengthens, the fish not only loses quality and gets more expensive, but it becomes harder to verify its species or geographic origin, let alone who caught it and when.
Based in Mattituck, New York, Stephanie Villani runs a GrowNYC Greenmarket stand called Blue Moon Fish. Those of you hoping for a story involving a groundbreaking app or 30-minute-delivery might be disappointed to know that she's been doing it for 27 years, in more or less the same way. She's at Union Square on Wednesdays as well as TriBeCa and Grand Army Plaza markets on Saturdays, with white PVC buckets nestled in crushed ice piled with glistening clams, dogfish, skate and monkfish caught inside two days by her husband, Alex, in a 36-foot trawler that's probably older than you are. At the rear of the Blue Moon tent hangs a whiteboard with a list of the species he brought in and announcing that fish heads can be had for free.
Stephanie is not the only old-fashioned fishmonger at the city's farmers markets, but she's the only one that was mentioned by name in several of my conversations with the seafood cognoscenti of New York City. Ruddy-cheeked and quick to smile, she spends her market days greeting regulars and meting out advice for the best way to cook plentiful local species like butterfish or sea trout. Stephanie has fielded these questions so many times in the past three decades that this summer she's finally releasing a cookbook, co-authored by Kevin Bay, called The Fisherman's Wife: Sustainable Recipes and Salty Stories, detailing sensible and appealing preparations for the blackfish and sand shark and sea bass that Alex picks up in his nets and fish pots.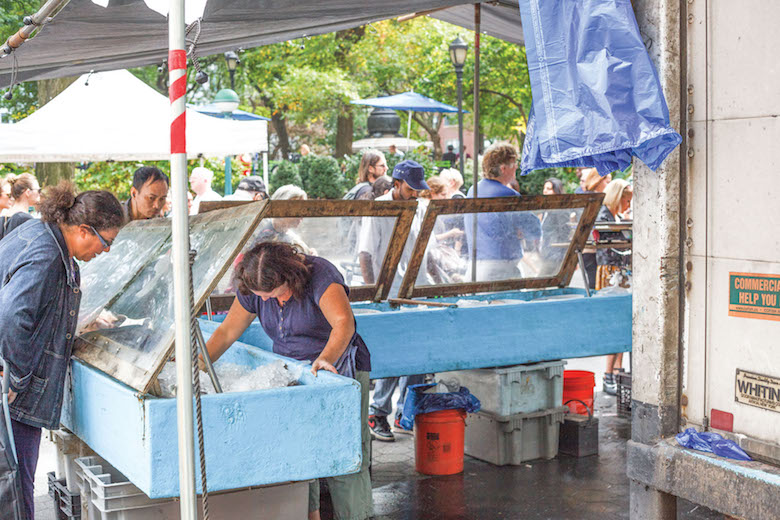 I have been known to be dismissive of this old "befriend a fishmonger" saw that gets peddled by chefs in magazines and cookbooks on a regular basis. It has always seemed overly precious and impractical, a romantic extravagance incompatible with the rhythms of modern life. Do you have time to make a special trip across the city for fish? Neither do I. But after dozens of conversations on the subject of sourcing seafood, I have come to believe that places like Blue Moon are, perhaps contrary to all appearances, the most logical and efficient solution I currently have for buying sustainable seafood.
It is not that Blue Moon has a corner on the freshest, most sustainable fish in all of New York. Plenty of retailers stock local seafood from boats like Alex's (see below for a recommended list), and some of them even have it within a few days of landing. But once that fish passes out of the boat captain's hands, it is absorbed in a murky web of wholesalers, distributors, processors and resellers. "People are under the impression that the fish they buy is a few days old," one insider told me. "Most seafood is weeks, if not months, old." As the chain of custody lengthens, the fish not only loses quality and gets more expensive, but it becomes harder to verify its species or geographic origin, let alone who caught it and when. Investigations into the subject have uncovered that as much as one-third of all seafood is mislabeled.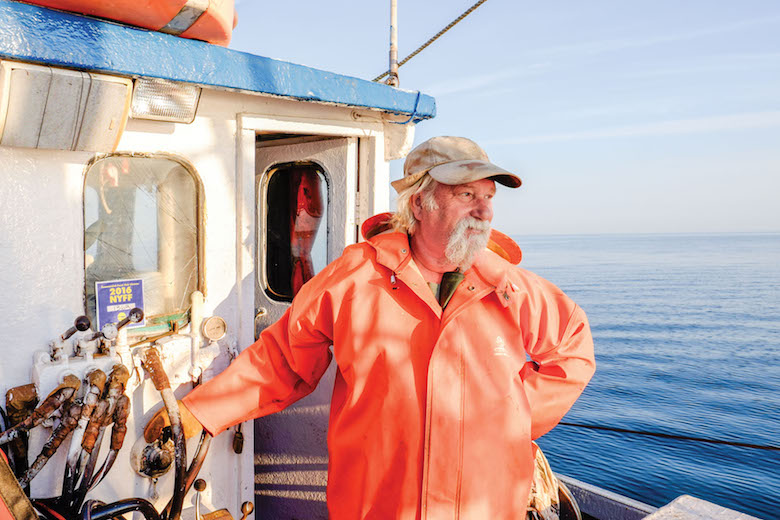 And ensuring that that flounder is truly local is about more than supporting my regional economy or shrinking my carbon footprint. The United States is currently the gold standard in fisheries regulation, carefully monitoring fish populations in our waters and setting catch limits that have been a boon to vulnerable species (if not our fishermen). "We have the most sustainable fish populations in the world," explained Sean Barrett, whose company Dock to Dish provides a direct link between fishermen and restaurants. Although sustainability hard-liners will rank U.S.-caught fish by species, catch method and region, I know that I can feel good about most anything I buy from a licensed day boat off Long island—especially if I've bothered to ask the fisherman what's most plentiful.
Blue Moon has one more major advantage over conventional retailers. While the latter operate on a demand-based model—assembling a portfolio of fan favorites like shrimp, red snapper and swordfish to suit customers' tastes—a fisherman's market stand is a supply-based system, simply displaying what the ocean has yielded that week. That means that highly plentiful but under-appreciated species like sea robin and herring at last find their way to the American dinner table. "Most people are looking for cod or sea bass at first," Stephanie tells me. "But I'm standing right there answering questions, so I can get them interested in these other, delicious local fish that they aren't as used to." Alex could unload his catch of porgy, a highly sustainable local fish with little cache among eaters, for $1 per pound to a distributor. At the Blue Moon stand he's able to sell fillets for $8.50 per pound and still come in on the bottom end of the retail price scale.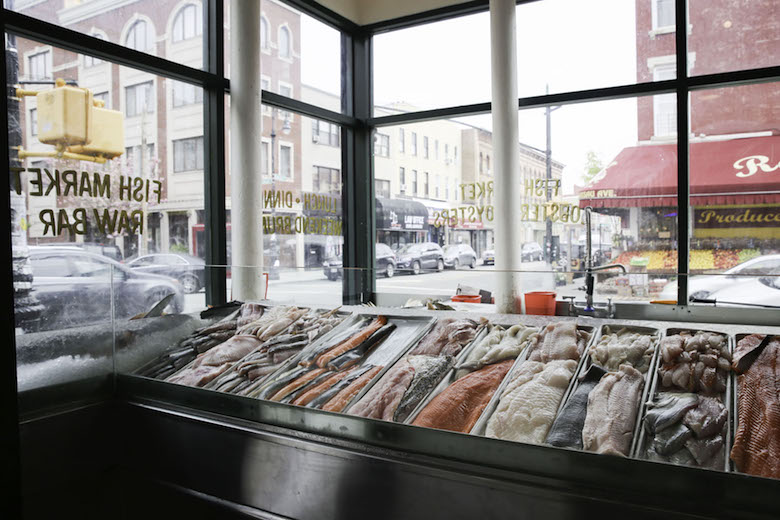 If all this seems like a slam dunk for fishermen, it can be hard to understand why more don't throw over their dealer contracts and go into business for themselves, opening a market stand or even scaling the business up by shipping direct to consumers. "Most of these guys aren't too social," Stephanie explains. Generally speaking, fishermen on Long Island, like most places, are an aging population that is neither tech-savvy nor city-slicking; plenty became fishermen in the first place to avoid sitting at a computer or working retail. Changing business models is risky, and many small fisherman are on the knife's edge of solvency as it is. Most are too busy trying to catch enough fish to survive to take on the additional labor associated with filleting and selling their own catch, much less building a web empire. In other words: Uber, they ain't, nor should we eaters expect them to be.