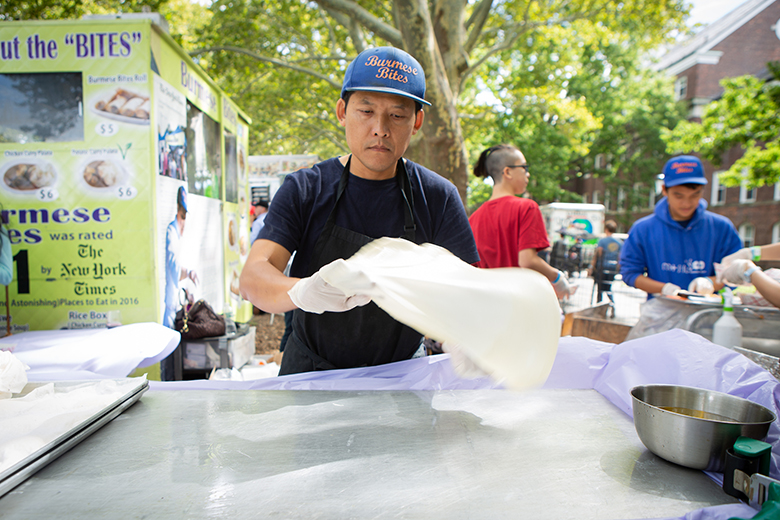 Luis Alfonso Marin Valencia dances while flipping cheese arepas. Across the lawn, MD Alam asks each customer, "How are you, my friend?" as he serves chicken korma. It's a warm day on Governors Island, perfect conditions for the 14th Annual Vendy Awards that took place on September 19.
Sometimes called the Oscars of street food, the Vendys determine the best food vendors in the city. There are six categories: Best Breakfast, Best Dessert, Best Market Vendor, Best Rookie (for those new to the street food game) and best of all: People's Choice and the Vendy Cup.
"All of the food is very generously donated by these vendors, so it's a big hit for them. It's not cheap to feed a thousand people!" says Vendy co-organizer Sean Basinski. "But all of the [ticket] proceeds go to the Street Vendor Project."
The Street Vendor Project is part of the Urban Justice Center. They offer legal representation, business consultation services and raise public awareness of street vendor contributions to the community. Currently, the project aims to remove the city's cap on food vending permits, which limits the number of approved street vendor businesses.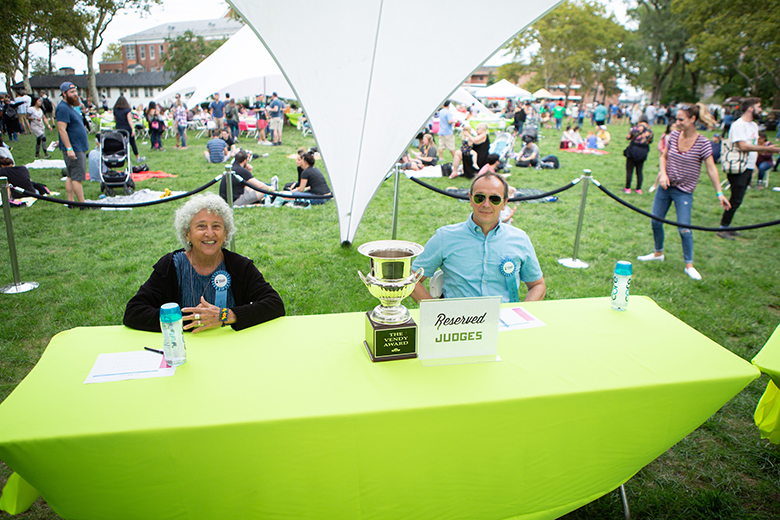 "Today I feel that I am the winner no matter what happens. People gave me support!" Valencia laughs. "Life has been teaching me that when you make things you love, love is what you get."
Pooja Bavishi, the owner of Malai Ice Cream, enjoys the camaraderie. "More than anything it's just so cool to be here with other people who are kind of doing the same thing you are," she says. "Facing the same struggles—and getting the same successes."
The crowd is literally eating it up.
1,200 people spread out on tables and picnic blankets. Some strategize, sending someone to get Afghan bread from Nansense (Best Rookie), while another tracks down arrosticini—lamb skewers—from D'Abruzzo NYC (Best Market Vendor). Others simply roam in clusters from one cart to the next: enjoying banana pudding from Baonanas (Best Dessert), keema palata from Burmese Bites (People's Choice) and baklava from Mama Jo's Breakfast Cart (Best Breakfast).
While attendees vote for most categories, the Vendy Cup is awarded by five judges who work professionally as chefs, journalists and city officials. After eating, they huddle to deliberate. The moment is tense. Each almost argues against their pick when considering the competition. "It's all so good!" one exclaims.
The award ceremony is fast but charged with energy. When Burmese Bites wins People's Choice, a woman in the crowd screams, "Burmese Bites rocks! I eat your soup every day!"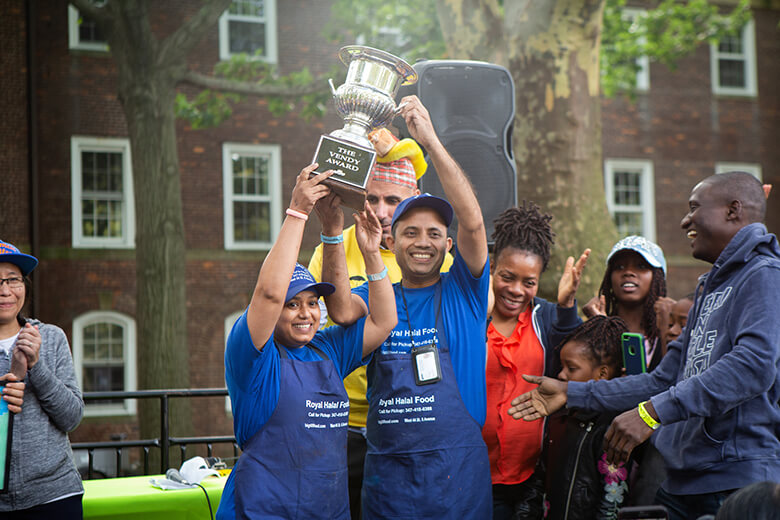 Vendy officials take the stage and declare Royal Grill Halal Food the 2018 Vendy Cup champion. Pop music blares, and the crowd erupts into applause. The married owners, MD and Hira Alam, who immigrated from Bangladesh nearly 30 years ago, appear on the verge of tears. "Thank you for supporting us" says MD Alam. "This is very, very good." The audience cheers warmly.
Mohamed Attia, Basinski's co-organizer, closes the day with a reminder of the Vendy's purpose. "Maybe you'll be like, 'I was at Governors Island, having a lot of nice food and drinks.'" He pauses for a moment. "But you should say, 'I was supporting the street vendors of New York City. I was supporting the 20,000 street vendors out there in our city.'"