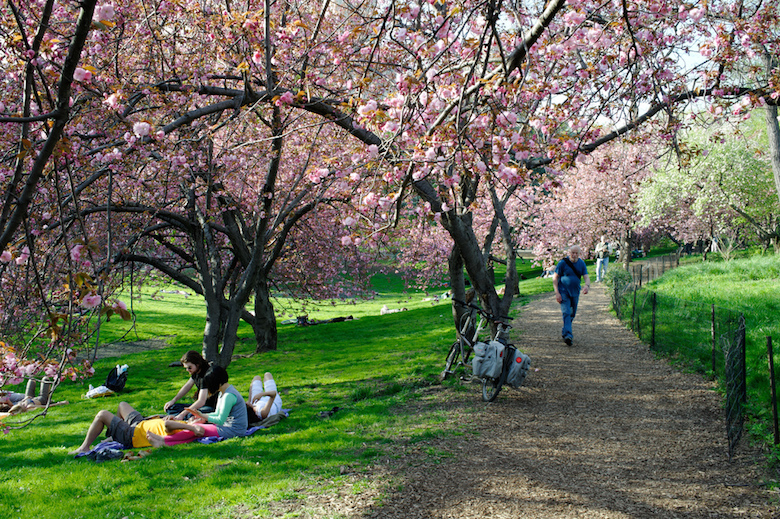 Summer picnics in New York City are fabulous staycations, but the season rushes by all too quickly! If you don't make a point of enjoying at least one of these gorgeous days sitting on a blanket in the fresh air and sunshine with friends and the most beautiful excess of food you can imagine, you might have some regrets when fall rolls around.. With that in mind, here's our menu for the best picnic ever, with a "to-do" timeline. There's something for the omnivore, the meat-eater, the vegetarian, the vegan, the gluten-free and the sweet-tooth.
First, choose your location. There's ample space for picnicking between the city's 28,000 acres of parkland and 14 miles of public beaches. Public spaces can also be a good meeting place for urban picnics (particularly if there's a chance of rain). My personal favorite is the beach at Coney Island—its old-school New York sense appeals to me, and the walk to Brighton Beach afterward is always fun. But almost anywhere in Central Park is a classic choice, full of great people-watching.
Marinated Artichokes, Roasted Peppers, Olives from Buon Italia at Chelsea Market 
This market's focus on curating the best of Italian brands of foods makes visiting it an adventure in deliciousness. All these foods can be purchased one month ahead.
Calbee Honey Butter Chips from HMart
Get these up to two weeks ahead from HMart. Their flavor profile of sweet, salty, crunchy and buttery makes them seriously addictive!
Kimchi from HMart
Another item to pick up two weeks ahead. HMart has a wide selection of kimchi, which pairs well with hiyayakko, summer rolls and even the Saint André!
Saint André Cheese and Gluten-Free Crackers from Murray's Cheese
Go to Murray's the week before the picnic so the cheese can meet its potential, not more nor less.
Fresh Halvah from Seed and Mill, Chelsea Market (Matcha Rose, White Chocolate and Lemon, Cardamom)
Best brought home during the week before the picnic, because this halvah's freshly made.
Wagashi from Minamoto Kitchoan
Wagashi are tiny Japanese pastries. Each one is a small artwork designed to mirror the season. As with all the foods chosen for this picnic, they represent one of the many cultures the blend to create our city. They're best when served close to the date they were made, so one or two days before the picnic is a good time to get them.
Fresh Strawberries with Stems
Though best the day you eat them, you can buy these the day before or two days before the picnic depending on ripeness.
Fried Chicken, Cornbread, Collard Greens from Sweetchick
There's a theory that a picnic without fried chicken isn't a picnic at all. Don't be that person with no fried chicken at their picnic!
Hiyayakko from Village Yokocho
Freshly made soft tofu, chilled and topped with green onions, ponzu and other toppings is hiyayakko, and it's one of the most perfect summer dishes in the world. It can soothe even the most anxious, hot-from-the-subway New Yorker.
Vegetarian Summer Rolls and Fresh Papaya Salad from New Xe Lua
The summer rolls aren't "less-than" other, non-veg foods, but "equal to or better."