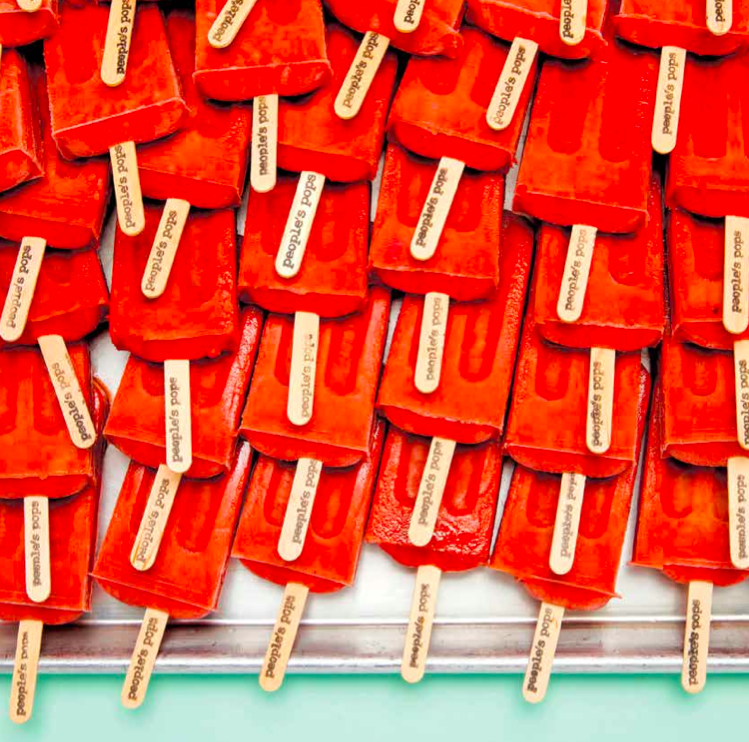 What do you get when you cross a researcher for Good Morning America, a food writer and an art director for MTV? If you answered "a company that makes local fruit into delicious ice pops" then you're either psychic or have unusually intimate knowledge of the artisan frozen treat market. For the rest of you, the story goes like this.
In 2004, David Carrell, 21, moved from Miami to New York City for an internship at NBC. He found a room to rent on Craigslist and moved in with a 22-year-old freelance art director named Joel Horowitz. Carrell was still rooming with Horowitz four years later when he got a call from his old high school friend, Nathalie Jordi. They'd gone to prom together twice (just friends). A food writer, she'd been working on a farm in Ireland and was coming back to the States with plans to run an ice pop stand at the debut of the New Amsterdam Market.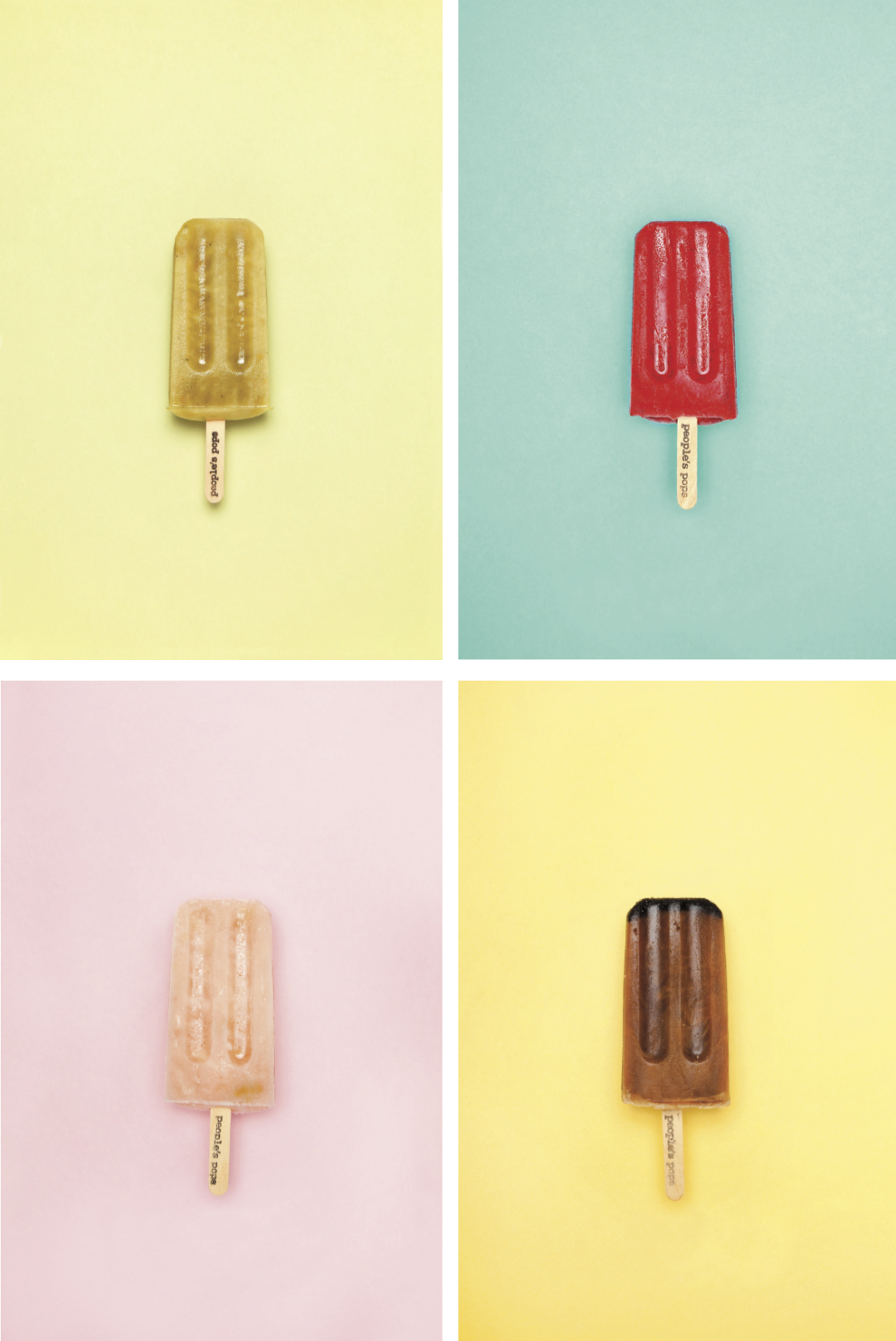 "I figured the weather would be hot and pops would be a great way to use local fruit," she said. "Everyone loves ice pops, but how often do they actually have real fruit in them?" Good point. In a bar in Ballycotton, Jordi came up with the name "People's Popsicle" — later changed to "People's Pops" because the word "popsicle" is trademarked and owned by Unilever, which sent them a cease-and-desist order. "We thought the name had a nice ring and was descriptive of what the pops were: made by people and for people, an alternative to industrial pops," she said. All she needed was a place to crash and a couple of friends to help out. Carrell and Horowitz were in.
The three started cooking, mashing and pureeing in the basement kitchen of the shuttered Tasting Room in Nolita. One blazing Sunday morning in July 2008, they hailed a taxi and schlepped coolers of their strawberry-basil, blueberry-honey-yogurt and rhubarb pops to the New Amsterdam Market, set up their stuff, put out a 75-pound block of ice for old-fashioned shave ice (soaked in lemon basil or cherry cocoa syrup) and waited.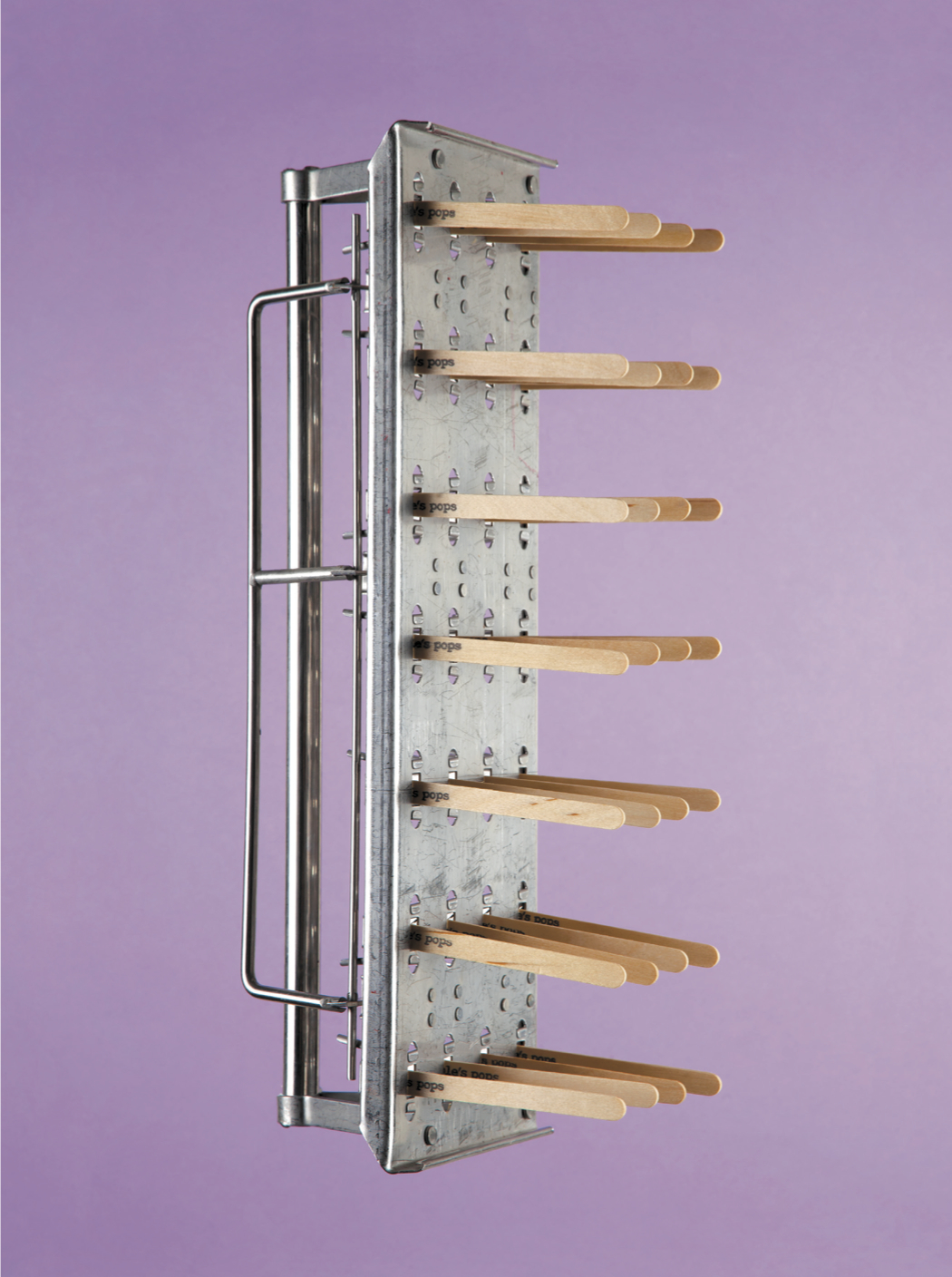 "On a hot day, a 75-pound block of crystal ice is a crowd magnet," recalled Carrell. "Even so, we really thought we'd be eating old pops for months." Instead, they sold out in three hours. "That reception is what empowered us to try to turn it from an experiment into a business," he said. The friends peddled their pops at the Brooklyn Flea but they weren't banking on anything big, so they kept their day jobs. (Carrell was now at Good Morning America working for Diane Sawyer.) Any income went back into the pops, which they made after work and on weekends in kitchen incubators around the city. After two-and-a-half years, they decided they might be able to make a living off of frozen fruit. In 2010, they signed a lease for a brick-and-mortar shop in the Chelsea Market. "It was a leap of faith," recalled Carrell, "but in a sense we were in a good place because we had a track record, we had a reasonable infrastructure, and it was a healthy business." That leap paid off.
Now in its seventh summer, the company has 45 employees, four stores — Chelsea Market (2010); High Line (2010); East Village (2011); and Park Slope (2012) — and one great cookbook (People's Pops: 55 Recipes for Ice Pops, Shave Ice, and Boozy Pops from Brooklyn's Coolest Pop Shop, Ten Speed Press, 2012). On weekends they draw huge crowds at Smorgasburg in Williamsburg and Brooklyn Bridge Park, and at Brooklyn Flea in Fort Greene and Park Slope. They're also sold in upscale grocers like Whole Foods, Foragers and Marlow & Sons. They hope to be selling multi-packs in your corner bodega soon. (And if you can't bear to get off the couch, they'll deliver to your door if you order 25 pops or more, which should last you an afternoon if you don't share.) To keep up with all the demand, People's Pops now operates out of a gleaming, 2,728-square-foot, custom-built kitchen in the former Pfizer Factory in Bushwick. It's here that they make an average of 2,500 pops a day in a rotating cast of 100 fresh flavors like Lime Raspberry, Blueberry Peach Jasmine and Watermelon Cucumber Hyssop.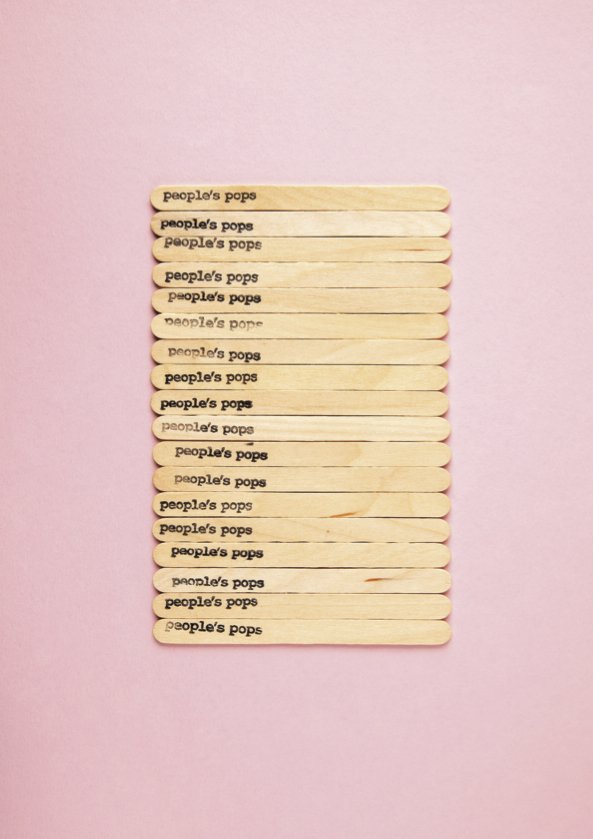 The pops are gorgeous — bright, sun-drenched shades of purple, red, blue, yellow and pink, all achieved through the marvels of nature not the mysteries of food dye, and tasting of sweet, luscious, perfectly ripe fruit. And then there's the texture. Even the pops that contain no dairy are startlingly creamy; there's no trace of iciness or shardiness (if that's even a word). That's because they contain only local produce (grown within 250 miles) and a bit of organic simple syrup (which doesn't taste too sweet). That's it. The puree is poured into stainless-steel molds and frozen in a propylene glycol solution chilled down to negative 25 degrees. It's so cold, they freeze solid in just 20 minutes flat. This time frame — known as the "speed of the freeze" amongst ice-pop geeks — is the key to the pops' surprisingly smooth consistency.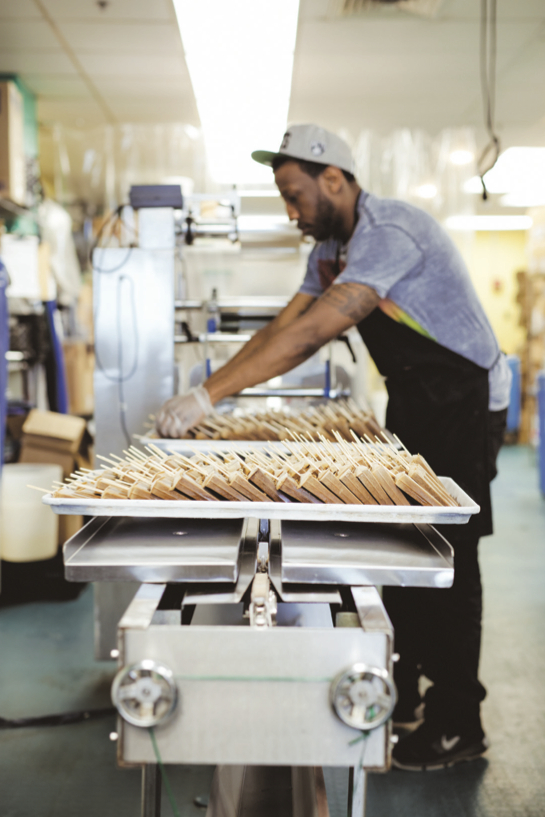 "If the freeze is too slow you get these ice shards," said Carrell. "Twenty minutes is the ideal freeze." While you may not have a propylene glycol solution to achieve that sublime texture in your kitchen, you should, by all means, try this at home. As their book explains, you can freeze pops in anything from Dixie cups to shot glasses, and in a few hours you'll be savoring a rad peach-strawberry-lime pop of your very own. It's child's play. But these pops aren't just for kids — in fact, some of them aren't for kids at all. If you're a fan of the frozen drink, you'll want to stick a paper umbrella in people's "adult" pops like the Watermelon Peach Bellini and Kim Crawford Strawberry Lemongrass Sauvignon Blanc. (That ultra-chilled propylene glycol solution is cold enough to freeze booze.) This year they've even created a line of boozy pops for the rooftop pool at the Conrad Hotel. Served upside down in wine glasses topped with Prosecco, flavors include Peach Vanilla with Widow Jane Bourbon, Blueberry Peach with St-Germain, Strawberry Lemongrass with Tito's Vodka, and Yellow Plum Mint with 10 Cain Rum. It's slightly alarming the first time you get drunk from an ice pop. But it's something I think you can easily adjust to.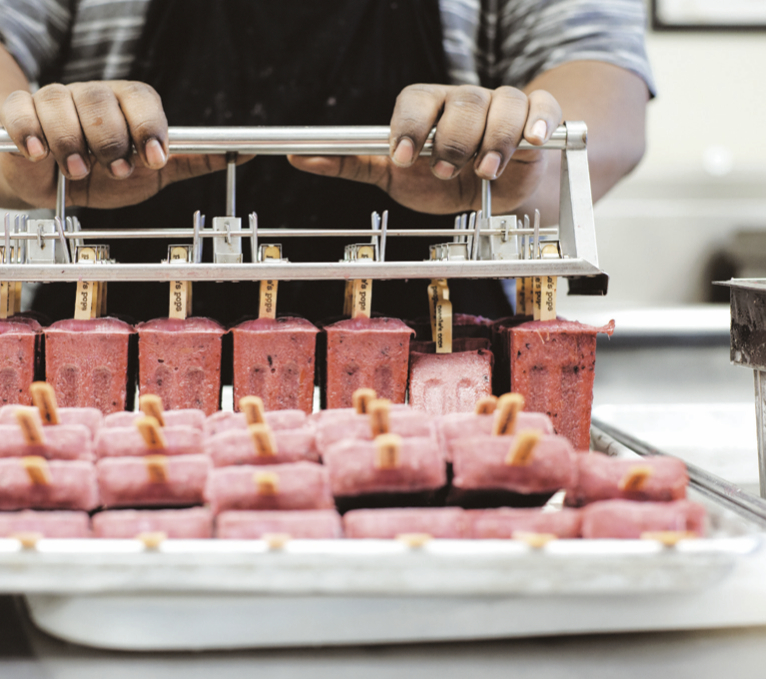 After making hundreds of thousands of fruit pops, they're turning to new (for them) territory. This summer they're introducing two flavors: chocolate-infused strawberry and mocha. "We've never done chocolate before, and now we can't live without them," said Carrell. Um, me either. But perhaps their most brilliant invention, at least to this sleep-deprived mother of two little ones, is their cold-brewed coffee pop. You read right: cold caffeine on a stick. Despite new combinations, People's Pops stay true to their initial goal. "From day one, we really wanted to capture the charm and charisma of a lemonade stand at the end of the street," said Carrell. "It's just that we serve pops to, like, eight million people."
Find out more: Find recipes for cantaloupe-Campari and watermelon-parsley pops here. 
Photo Credit: Scott Gordon Bleicher