You're going to a new restaurant, a hot restaurant, a neighborhood joint. Wherever you might be going out to eat, we all have the same question: "What's good here?"
So, we're here to tell you the five most exciting, tantalizing, must-have dishes from the eateries you're visiting.
Via Carota is a place of New York City lore. We all know about, we've all heard it's amazing, but scoring that reservation can be tricky. Once you do get it, though, you're bound to wonder, "What's good here?" So I went to Via Carota to find out, and these are the five menu items not to be missed.
The Quickie Version
Light, summery Negroni bianco
Crispy, creamy 'nduja arancini
A towering, fresh bowl of insalata verde
Decadent, smoky tortelli
Grassy, fruity panna cotta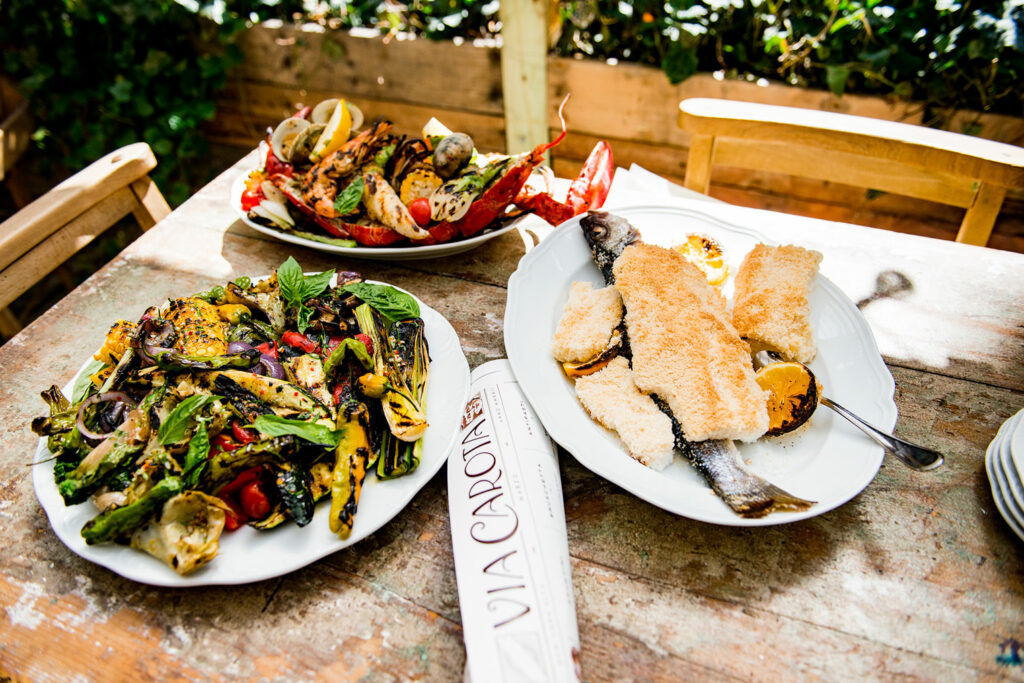 The Full Monty
Negroni Bianco
If you're going to have one drink, let it be the negroni bianco. Made with vermouth bianco and Luxardo, this negroni is light yet sweet with notes of orange. Easy sippin'…almost too easy.
'Nduja Arancini
Crispy breading on the outside, creamy rice on the inside, these arancini define comfort. Add some spicy 'nduja to the center, and you have a near perfect appetizer.
Insalata Verde
You really can't go wrong with any of the veggie dishes at Via Carota, but perhaps the most showstopping one is the insalata verde. It comes piled high—think: fresh green lettuce mightily towering out of the bowl. Dressed in a light sherry vinaigrette, this salad pairs nicely alongside some of the heartier entrees and pastas. Speaking of which…
Tortelli
If there is one thing you take away from all of this, it's that you absolutely should get the tortelli. You will likely peruse the pasta section of the menu and think to yourself that each one sounds better than the next. I can confirm that you really can't make a bad pasta choice here. However, there is one that is definitively more unique, more indulgent and more satisfying than the rest, and that is the tortelli. Similar in shape to tortellini, these tortelli are filled with smoked ricotta. That's right. Smoked. Ricotta. Creamy, decadent, smooth, smoky, oaky—completely blissful and an absolute must-try.
Panna Cotta
When you inevitably get to the end of your meal, your mind will wander to dessert, like everyone's does, even if out of pure curiosity. But before you write off the idea of dessert because you're "too full," consider the panna cotta. This panna cotta is truly something special. It's so simple, but it has beautiful notes of grassy, fruity olive oil. It took me by surprise and left me completely awestruck.