Shmackwich, a chopped cheese outfit that—since December 2022—has been based out of Chelsea's Olly Olly Market, started as a pop-up born of lockdown. That's when co-founders Jordan DiNoia, Phillip Williams (who goes by Midi), and Sibnavus Cheeseman (a/k/a Sibi, née Wavy Savory) came together to create the excitement of a fashion drop but with a bodega sandwich. The rest is history.
The beginning was rough. After weeks of planning and many experimental chops, Midi says they gave themselves an ultimatum, "Alright, let's just make the damned sandwich, put it on Instagram, and see what happens." The response to their July 2020 IG post was instantaneous. Recalls Midi, "Holy shit! 57 people cash-apped us, and we had to make these sandwiches, so there was a little bit of anxiety."
Says Sibi, "We told people to pre-order all week long for a pickup on Saturday. We thought we'd sell 15–20 sandwiches, but we had 76 orders."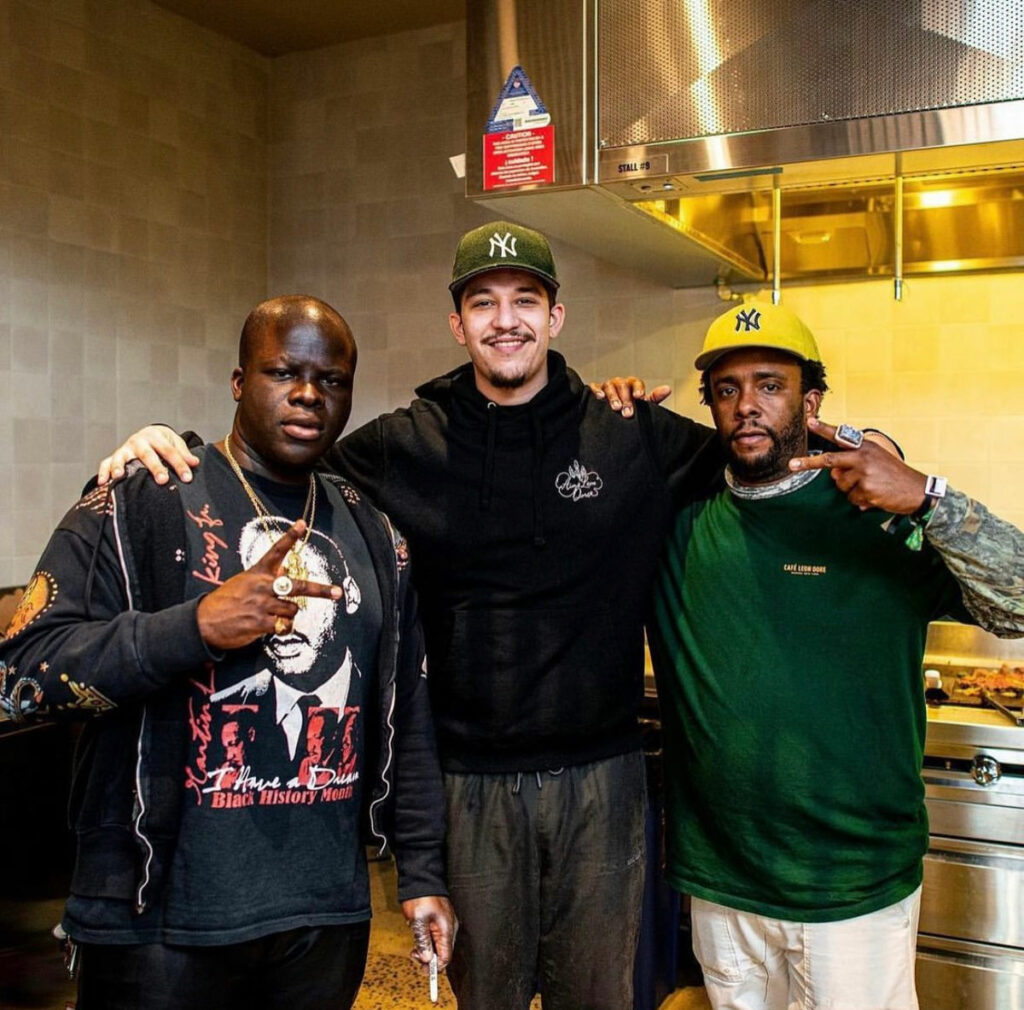 The chopped cheese (or just chop cheese) sandwich is a wholly New York invention that was first spotted in the 1990s at the Blue Sky Deli (colloquially known as Hajji's) in Harlem. There, it's made by throwing ground beef, onions, seasoning, and peppers onto a flattop grill and chopping them together with the flat edge of a spatula as they sear. When cooked, the caramelized mixture is piled together on the grill, topped with American cheese, and then scraped into a hero roll with lettuce and tomato.
Midi explains, "The chopped cheese is a New York sandwich, a hip-hop sandwich, and we wanted to monetize something that's a part of our culture."
The Shwaggyu, Shmackwich's most famous creation, is made with Heritage Farms Wagyu ground beef, a blend of three local cheeses from Saxelby Cheesemongers, house-blended sazón, and roasted cherry tomato aioli. Served on a kaiser roll with lettuce and tomato, "it is a serious sando." Sibi says its origin was in "conceptualizing the perfect bite: a balance of salt, fat, acidity, and heat."
The team also creates one-off mashups with collaborators: chopped cheese calzones with Roberta's Pizza, white chopped cheese pizzas with Valentine's Pizza, chopped cheese bagels with Greenberg's Bagels. Brunch pop-ups might include a Shmackwich-style WEC (a wagyu, egg, and cheese croissant) or a Wetty Waffle (like chicken and waffles, but with a chopped cheese spin).
Shmackwich has popped up at Soho House, and with brands like Arcteryx, Supreme, and fashion favorite Brandon Blackwood. While the sandwich was originally offered infused with THC—and they still occasionally partner with cannabis brands for collaborations—Shmackwich offers virgin chopped cheese at most of their events. Representing Black culture with food, music, and curated drinks, Shmackwich doesn't gel with every host. Says Sibi, "We only work with hosts that understand that we are a vibe, we're not trying to fit into spaces. We're trying to bring this experience into spaces where it wouldn't normally be." @shmackwich