Crafting Unique and Always Crushable Cocktails
If you've been to Bonnie's, the small and always packed Cantonese-American restaurant in Williamsburg, you can attest to its creative menu and dynamic approach to fusion dishes that remain rooted in their cultural origins. Take a seat at its intimate six-stool bar, and you'll probably meet Channing Centeno, the charming and personable creative beverage director and bartender who'll likely be mid-shake, -stir, or -pour.
Like many in the service industry, Centeno's first job in restaurants was in the dish pit. Now, his face and name are known across New York City bars—not only for his work at Bonnie's but also as a part-time brand ambassador for Copalli rum. "I kind of just fell in love with bartending because I found a creative outlet for the culinary things I like to do, while also being guest-facing," he says. "Every service you work, it's like someone comes into your house and I really like the aspect of welcoming people."
Centeno credits much of his love for the industry to his family. "My mom is Filipino, my dad is Black, and my [Filipino] grandmother plays a big part of my inspiration for cooking and hospitality—it's just kind of a Filipino way."
Dreamt up by chef/owner Calvin Eng, Bonnie's dinner menu is filled with Cantonese classics like congee and dao gok, alongside playfully twisted dishes like fuyu cacio e pepe mein and cha siu mcrib (an ode to the McDonald's McRib). The drinks menu, crafted by Centeno, achieves the same with cocktails that include his MSG Martini (Grey Goose vodka or The Botanist gin, olive brine, shaoxing wine, and MSG) and a yuenyeung espresso martini with orange pekoe tea, coffee-infused vodka, coffee liqueur, and Chinese slab sugar. It's clear that the restaurant, from its menu to its decor, is a tribute to Eng's culture, family, and childhood. In fact, it was Eng's love for his own mother (Bonnie, for whom the restaurant is named) that really solidified Centeno's desire to work with him.
RELATED: James Beard Nominee Chef Calvin Eng of Bonnie's is Reclaiming MSG
After meeting during a Bonnie's pop-up at Win Son in 2021, the pair became a team. The following weeks and months were filled with weekly trips to Manhattan's Chinatown for cocktail research. "It was a really collaborative process," Centeno says. "I wasn't creating my own dream bar program; it was about helping make Calvin's dream come true." One of the biggest requests Eng made of Centeno was for him to incorporate MSG in the cocktail menu.
For decades, MSG—monosodium glutamate, a salt commonly used in Chinese cooking that imparts umami—has been suspected of causing a constellation of negative physical reactions in non-Asian diners. Chinese restaurants were pressured to drop its use in their kitchens. The reality of "MSG syndrome" has been debunked—just like table salt, MSG is fine to consume in moderation—but the common misconception that the ingredient was poisonous to Americans stigmatized Asian cooking and supported anti-Asian xenophobia. "It was super important to me to break through that [stigma]," Centeno says. His MSG Martini has gone on to gain fame, a vocal fan base, and notice in PUNCH, Bon Appétit, and The New Yorker. Not surprisingly, Centeno's favorite drink to make is a martini: "The right way to order a martini is however you like it," he says about the age-old shaken-versus-stirred, gin-versus-vodka debate.
When Centeno isn't behind the bar at Bonnie's, you might find him at the new Moxy Hotel in Williamsburg. He's creating tropics-inspired cocktails for its rooftop bar, Lillistar—though you might also catch him on a stool, sipping a sherry-based Adonis or a pineapple daiquiri (two of his favorite cocktails). Maybe you'll bump into him running for a flight to visit friends, or in front of a class, putting his yoga instructor certification to use. Regardless of where you find him, one thing's certain: He'll give you a warm welcome.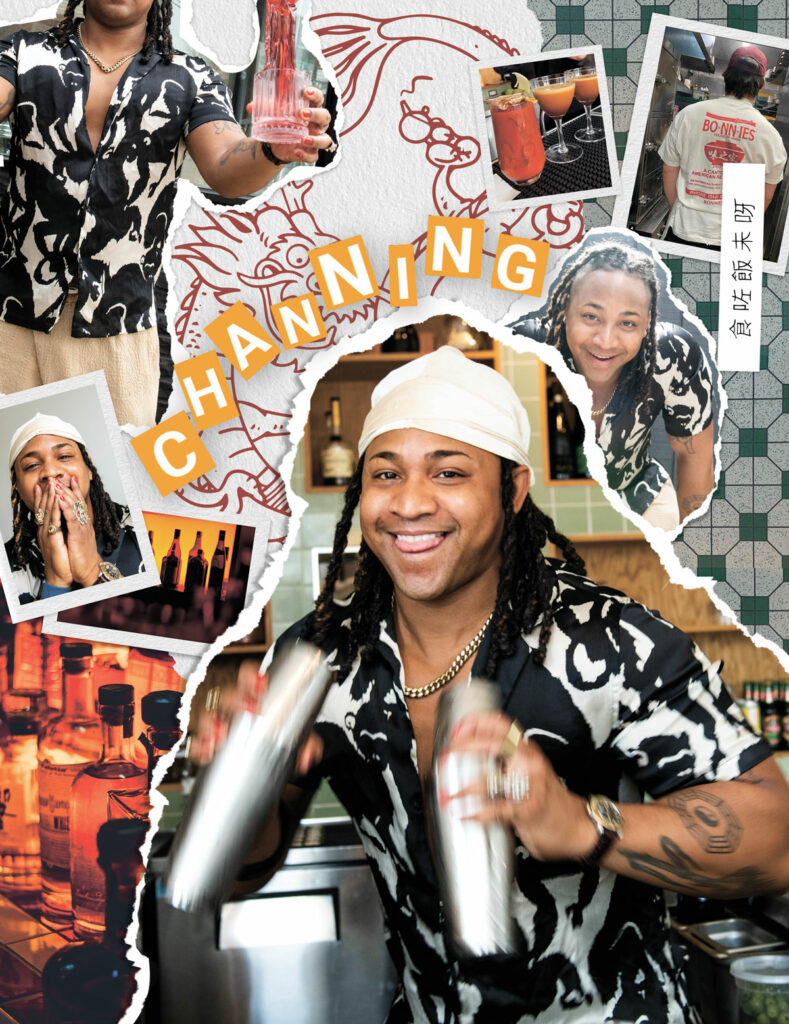 Henny Kravitz Cocktail Recipe
By Channing Centeno
MAKES 1 COCKTAIL
INGREDIENTS
¾ ounce Hennessy VS
½ ounce Copalli White
½ ounce Plantation Pineapple Stiggins
Pineapple skins
¾ ounce Lustau East India Sherry
¼ ounce Giffard Banane
1 ounce Toasted Coconut Syrup
¾ ounce Pineapple Juice
¾ ounce Lemon Juice
DIRECTIONS
Combine the first three ingredients with pineapple skins and infuse in the refrigerator overnight. Strain, and discard skins. In a shaker, combine infused ingredients with remaining ingredients and shake over ice. Strain into a coup, garnish with a dehydrated pineapple slice and serve.