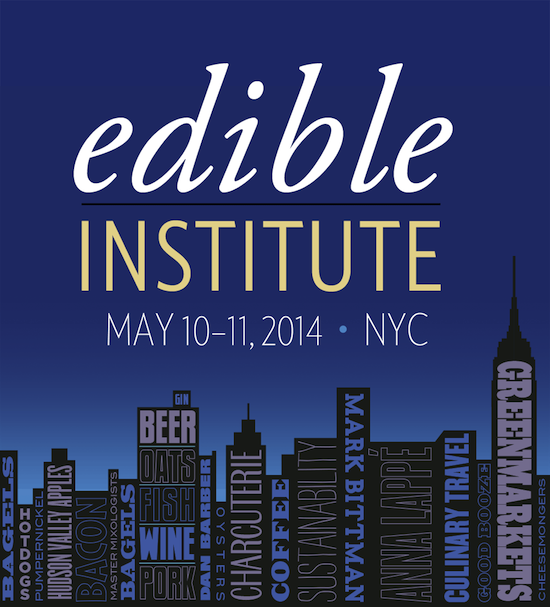 The 2014 Edible Institute will be held in New York City on May 10 and 11 at the New School's Tishman Auditorium, at 66 West 12th Street. Both days will consist of dynamic, moderated, Q&As in the morning and afternoon. There will be breaks for networking and an assortment of refreshments, curated local lunch options and end-of-day food and drink tastings for attendees.  
The current agenda is listed below. Stay tuned for updates, as well as food and drink tastings available to attendees. All attendees will also be sent a list of recommended accommodations and eating options near the Institute, and a list of curated food and drink activities happening in conjunction, from walking tours of the Union Square Greenmarket to lunch specials for attendees around town to regional food tours before and after the Insitute. You can purchase your tickets here.
SATURDAY, May 10
7:30 – 8:30 a.m. Arrival and registration. (Coffee and refreshing edibles available throughout the day.)
8:30 – 8:45. Opening remarks. Brian Halweil (bio) and Tracey Ryder (founder of Edible Communities).
8:45 – 9:45. Keynote. Mark Bittman (bio): Whither the Food Movement?
9:45 – 10:45. Culture: Can the food "revolution" cross geographical, cultural and class boundaries moderated by Jane Black (bio, author and journalist). With Scott Mowbray (bio, Editor of Cooking Light Magazine).
10:45 – 11:00. Break.
11:00 – 12:00. Seafood: How will small scale fishers save East Coast seafood, moderated by Paul Greenberg (bio) with Sean Tobias (bio), Mike Martinsen (bio) and Bren Smith (bio).
12:00 – 1:00 p.m. Lunch
1:00 – 2:00. Farming: Farm-based food chain restoration for pollinators and people, moderated by Gary Paul Nabhan, with Scott Chaskey (Quail Hill Farm), Ken Greene (Hudson Valley Seed Library), Jack Algiere (Stone Barns), Chuck Eggert (Pacific Foods).
2:00 – 3:00. Technology: The expanding "foodtech" space and what it means. There's an explosion of venture-funded, tech startups working to make dining more equitable, profitable and healthy. This panel will explore what the emerging food tech sector is and how it's fueling the next food revolution. With Danielle Gould (bio, Food & Tech Connect), speakers TBA.
3:00 – 3:15. Break, with food options inside and on the street.
3:15 – 4:15. Environment: Fracking, what can New York learn from and teach the rest of the nation, with Wenonah Hauter (bio, Director, Food & Water Watch), Peter Hoffman (Chef, Back Forty and Back Forty West), Ken Jaffe (Farmer, Slope Farms), Will Blunt (Editor, Star Chefs).
4:15 – 5:00. The good food movement is drinking well. And that's good for a lot of reasons, moderated by Allen Katz (New York Distilling Company), with speakers: TBA.
5:00-6:00. Reception featuring drink and food artisans curated by Edible.
6:00 p.m. Attendees will be able to choose from curated dinner offerings around Manhattan and Brooklyn. Afterparty option TBA.
SUNDAY, May 11
8:30 – 9:00 a.m. Registration.
9:00 – 10:00. Keynote. Anna Lappe (bio, Small Planet Institute and Real Food Films). It's All Connected: Linking Food, Climate, Labor, Health, the Environment Without Making Your Head Spin. Food affects everything. Everything affects food. But how do we make these connections without overwhelming people? I will explore some examples of effective campaigns that have helped connect the dots as well as encourage all of us to keep making the connections in all of our communications.
10:00 – 11:00. The Future of Food Service Part 1: As people eating in corporate cafeterias, government buildings and school lunch rooms expect more–and foodservice providers raise their own standards–the industry is confronting major challenges in waste reduction. Moderator Claire Cummings (bio) with Nick Papadopoulos (bio) and Ben Simon (bio).
11:00 – 12:00. The Future of Food Service Part 2: What are the game changing policies, practices and innovations that will allow this massive part of our food budget to drive us towards good farming and great meals with Danielle Nierenberg (Food Tank), Brad Nelson (Marriott International), Jeffrey Zurofsky (Wichcraft), Anne McBride (C.I.A.)
12:00 – 1:30 p.m. Lunch
1:30-2:30 p.m. Media: Does independent food journalism matter (and can it survive)? With Sam Fromartz (bio), Corby Kummer (The Atlantic), James Marcus (Harper's Magazine), Gabrielle Langholtz (Edible Manhattan).
2:30-3:30 pm. Fermentation can rebuild our food culture. From kombucha and beer, to pickles and charcuterie, how can food microbiology help us all. A tasting and discussion. Andy Smith (The New School), Rick Fields (Rick's Picks), Eric and Laura Childs (Kombucha Brooklyn and Tempeh Shop Brooklyn).
3:30 – 4:30 p.m. Closing: A rapidfire summary of big impressions and future-friendly thinking from the Institute. Brian Halweil, with play-by-play assistance from Anna Lappe and Tom Philpott (bio, food correspondent, Mother Jones), Nevin Cohen (Assistant Professor of Environmental Studies at The New School).
4:30. More curated dinner options and food and drink experiences for attendees. TBA.
You can find more information and purchase your tickets here.