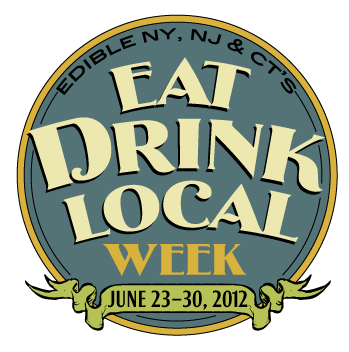 We're thrilled to announce our fourth annual Eat Drink Local Week, an eight-day fest for our foodshed celebrated by Edibles around the Tri-state area. The Week kicks off June 23 and involves partners from every part of our local food system, who urge you to dine out, cook in, and celebrate the ingredients, landscape and people behind our plates through a week's worth of events, restaurant meals and plenty of cooking and drinking at home. What can you do to join in?
MAKE A RESTAURANT RESERVATION:
Be sure to make a reservation between June 23 and 30 to have an Eat Drink Local meal at our partner restaurants, which will be serving prix-fixe menus featuring our seasonal ingredients of the week (those are listed below). You can search our entire Eat Drink Local guide–which includes listings for restaurants, shops, wineries, bakeries and other retailers participating in the Week–or go directly to lists for your area below:
- Manhattan's Eat Drink Local Restaurant Guide
- Brooklyn's Eat Drink Local Restaurant Guide
- East End's Eat Drink Local Restaurant Guide
 SHOP WITH OUR PARTNERS: 
Partner wineries, breweries, bakeries, cheese shops and other food businesses will be offering discounts during Eat Drink Local week. Search our Eat Drink Local guide–which also includes our restaurant partners–by neighborhood right here.
CELEBRATE THE INGREDIENTS OF THE WEEK:
Each year we pick one seasonal locally available ingredient, food group or beverage to highlight for each day of Eat Drink Local Week, and encourage our partnering businesses and home cooks to try them. This year those ingredients are: Spinach, Eggs, Goat (milk, cheese, yogurt, meat, etc.), Radishes, Rose Wines, Porgy, Fava Beans, and hops.  One great place to get your hands on the ingredients of the week is at your neighborhood Greenmarket.
COME TO AN EAT DRINK LOCAL EVENT:
1. June 20: Kickoff event at Union Square farmers market with chef demos and prize giveaways.
2. June 20: Meet your Maker at the Brooklyn Brewery. Four groups will meet at Brooklyn Brewery, then go on tours to explore Brooklyn Brewery, Brooklyn Winery, NY Distilling Co. and Toby's Estate Coffee.  All tours are $20 and will meet back up at the Brewery for beers, sandwiches and story swapping.
3. June 23: Chef demos and prize giveaways at the Grand Army Plaza farmers market.
4. June 27: Children's Museum of Manhattan will host an Eat Play Local Day, with kid-friendly, healthy cooking demos and important health information for parents.
5. June 27: Taste of Greenmarket featuring market-inspired dishes and cocktails prepared by over twenty of the city's finest chefs and mixologists.
6. June 28: At the Edible Eat Drink Local Feast, CITY GRIT Culinary Salon will be teaming up with New York Wines for a special dinner centered around the Featured Ingredients of Eat Drink Local Week.
7. June 30: A Food and Film Night, in conjunction with the Parrish Art Museum, at Marder's Gallery in Bridgehampton.
 GET TO KNOW OUR 2012 SPONSORS: 
Eat Drink Local Week 2o12 is made possible with help from the following businesses, each of which does its part to support local foodsheds:
Meatless Monday  | Whole Foods Market | Brooklyn Brewery  | Williams-Sonoma | New York Wine & Grape Foundation
 DONATE TO OUR CHARITABLE PARTNERS:
A portion of proceeds from Eat Drink Local Week events and restaurant events will be donated to the following organizations, but they could also use your help all year long.