When Annemarie Colbin was a recent arrival from the Netherlands in the 1960s, a steady American diet of coffee and donuts left her feeling fatigued. A chance encounter with a way of eating called macrobiotics changed the course of her life — and eventually, that of many others, too.
That's because Colbin's dietary awakening was so complete that in 1977 she opened the Natural Gourmet Cookery School out of her Upper West Side apartment, where she could accommodate 12 students around her kitchen table. There curious cooks, including the likes of John Lennon and Yoko Ono, learned how to make simple, healthful foods like spinach nori rolls with tofu and wild mushrooms and azuki bean and winter squash stew.
Even after the school moved to its current location on West 21st Street, it "was run by a bunch of hippies," recalls Susan Baldassano, who heard about Colbin during a massage in 1987 and is now director of the chef's training program. "We were the weird school."
Thirty-seven years after opening, both the Natural Gourmet Institute (NGI), as it is now known, and the world have evolved, and many of the theories Colbin espoused are entering the mainstream.
NGI now sprawls across two floors of a Flatiron District building, with lecture rooms, three kitchens and five concurrent classes at any given time. Many of its 2,478 graduates are well-known chefs, cookbook authors, entrepreneurs and teachers, including Amanda Cohen (Dirt Candy) and Jacques Gautier (Palo Santo and Fort Reno in Park Slope), who cut their teeth cooking dishes like Bengali dal with cumin, fennel and black mustard, or salmon fillets in a spicy red pepper juice garnished with mint chiffonade.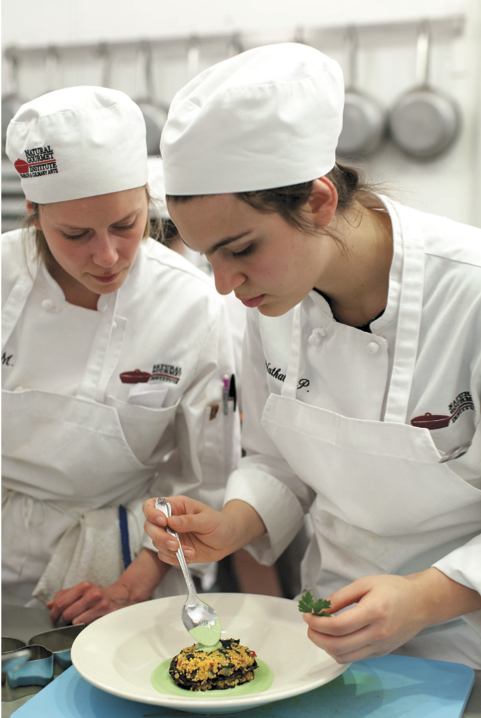 "I loved it," says Cohen, who attended NGI in the late '90s and is now a member of its board. "I knew I was getting important skills, and that this was the foundation for the rest of my career."
In a world where many culinary schools boast about classes in butchery, sugar sculptures and traditional white sauce, NGI still teaches what it calls "health-supportive," mostly plant-based cooking, now encompassing a wider range of ingredients. Colbin's core kitchen values — whole, fresh, seasonal and local, "in harmony with tradition," balanced and delicious — remain the program's theoretical foundation, but it has expanded to include courses on Ayurvedic cooking, cleansing with living foods and organic meats. In addition to its 619-hour Chefs Training Program (which graduates over 200 students a year), NGI offers public classes including essential techniques, how to cook for certain illnesses and chronic conditions, sushi-making for kids and several two-week summer intensives that draw health-minded amateurs from far and wide.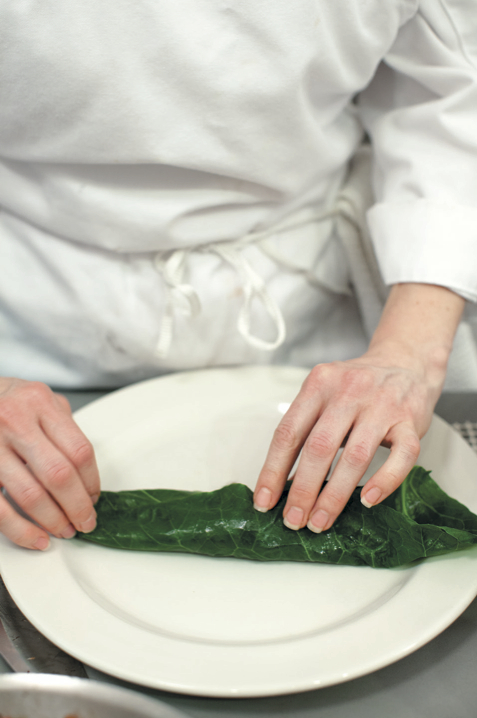 And while Colbin, who received a PhD in holistic nutrition from the Union Institute and University in Cincinnati in 2002, still serves as chairman emeritus and guiding light, a new CEO, Anthony Fassio, is writing the next chapter of NGI's story. Since his arrival last July, he's set about revamping recipes, going deeper into subjects like supply chains and ecology, forging partnerships with like-minded organizations and adding more experiential programs that allow students to "get their hands dirty."
You might say Fassio was born for the job: Raised on a Utah egg farm, he got some corporate manufacturing experience under his belt at Frito-Lay and Pepsi, then helped his father's farm go organic and cage-free. After training at the Cordon Bleu cooking school in Paris, he cooked on the line at the farm-to-table restaurant Print, headed the New York chapter of Slow Food, was founding director of Hot Bread Kitchen's food incubator and at Union Square Hospitality Group was tasked with maintaining high standards of ingredient sourcing and ethical business management for the Shake Shack restaurants.
Along the way he earned an MBA, skills he says help him run "a very progressive, very modern curriculum."
Fassio set to work developing new certificate programs for pros and the public. The first, to launch in August, will be on sustainable farming in partnership with the biodynamic Hawthorne Valley Farm, Brooklyn Grange and GrowNYC. Students will literally go field to fork studying integrative farming, which balances plants, animals and the cultivation of healthy soil, by day, and cooking for each other at night.
Later this year NGI will roll out certificate programs in entrepreneurship and nutrition.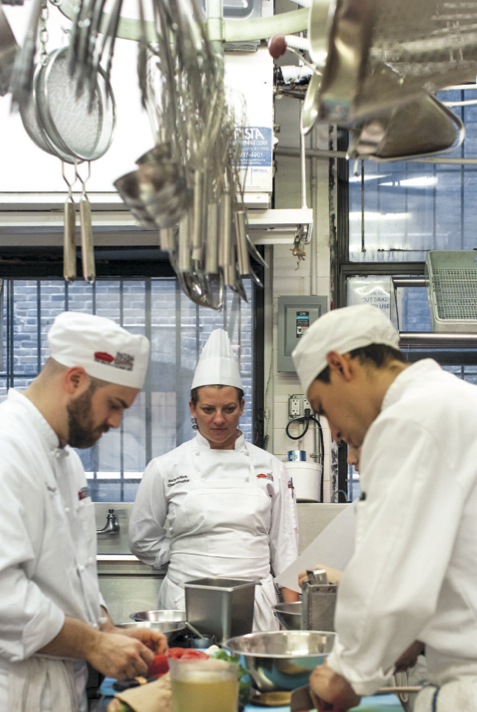 And Fassio says the school's sourcing is seasonal to an extent unknown among other culinary schools. Student chefs shop three days a week at the Union Square Greenmarket. Poultry and rabbit (for extracurricular courses) come from Cascun Farm upstate. Bigger orders come from small local farmers via Farmers Web. While these partnerships take root, NGI relies on specialty wholesale grocers like Baldor.
And, to reduce waste, instructors are developing root-to-frond recipes that utilize the whole vegetable; in one recent class, students made six dishes with beet tops. Food scraps become chicken feed at Cascun Farm.
Throughout the kitchens and halls, the aromas of fresh produce mingle with the perfumes of spices, kukicha tea and the rich umami undertone of soy, miso and tamari. But don't picture platters of Moosewood-era brown rice pilafs. It's not that your mom's health food co-op ingredients have been tossed out the window but that, slipped in among premium produce and massaged with French and Asian techniques, they can satisfy even the pickiest 21st-century palate.
In one kitchen classroom, instructor Barbara Rich, an alumna of San Francisco's Zuni Café, supervises 15 students making 12 different pâtés and terrines. The deep, woodsy scent of sautéing mushrooms fills the air as students work on a sophisticated pâté with green lentils, toasted walnuts, miso and umeboshi paste. Another team tackles a terrine of polenta, goat cheese, black beans, konbu and ghee. A third builds a rutabaga-potato terrine with scallion puree and wasabi.
"I talk about the classic aspects of pâtés and terrines," says Rich, "but they don't just involve pork and fat."
That approach draws applicants from distant lands: Over half the students in the Chef's Program are from out of state or another country. Caroline Aceves, 22, trained as a psychologist in her native Mexico but came to New York to study at NGI because she wants to offer a combination of psychological and nutritional counseling when she returns to Guadalajara.
Alene Brennan, 34, was inspired to change careers after she conquered her migraines by altering her diet. So she quit her job designing homeless programs for a hospital, sold her New Jersey home and moved to the city to study at NGI. She wants to expand her side business as a health coach and says the classes translate abstract ideas into practical skills.
"Before, I knew the benefits of healthy eating, but I didn't know how to cook. Here I'm learning how to prepare health-supportive meals," she says. "I feel so strongly about food's ability to support the body to heal."
Meanwhile, in the basic cooking techniques class, instructor Rich LaMarita —  who looks like a football coach but has been an Ayurveda practitioner for 25 years — supervises students coating broccoli florets with tempura batter of whole-wheat pastry flour, club soda and arrowroot.
"It's the same as cornstarch but minimally processed, and we know it hasn't been genetically modified," he explains.
Back in 1977, genetically modified corn wasn't yet on Annemarie Colbin's radar. But the macrobiotic school she cooked up has evolved for the 21st century while remaining true to her vision. Even back in those early days around her kitchen table, she notes, "I imagined it would grow and become a company that would last at least 100 years. And that sooner or later, people would catch on."
Find photos of young Annemarie Colbin in her upper West side kitchen, and an interview with NGI alumna Amanda Cohen of Dirt Candy here. 
Photo Credit: Sharon Radisch