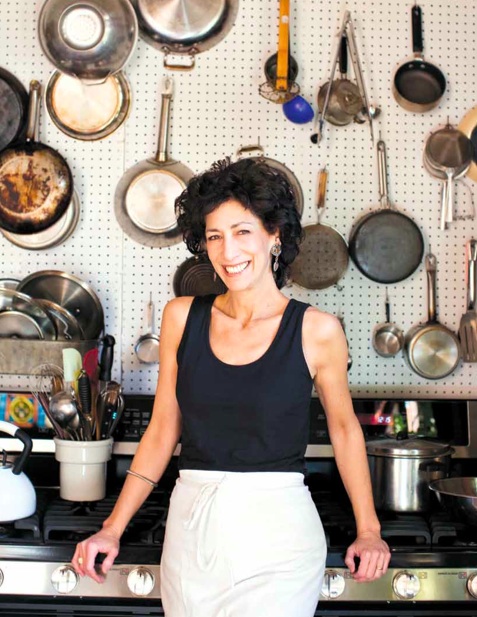 In 1965, when Rozanne Gold was about to turn 12, the Queens tween begged her parents to take her to Howard Johnson's for her birthday. Her Hungarian-American mother, known for her noodles and cabbage and heart-shaped meatloaf, and her Brockton, Massachusetts–raised father, who often boiled up a pot of lobsters on the weekend, were mortified. What had happened to the little girl who, at age five, toted around a Little Golden cookbook instead of a security blanket, who practically learned to read from the pages of Gourmet and who, at just 11, started a summer camp for which she was head chef?
Years later, Gold figured out that the incident coincided with Pierre Franey's and Jacques Pépin's well-respected tenure at HoJo's. The request had been an early example of her preternatural palate landing her in the vanguard of tastes and trends—as it would time and time again over her extraordinary career.
If you're under 40, you may only know Gold—should you recall her name at all—for her "1–2–3" series of cookbooks and their simple yet sophisticated recipes. But over the past 35 years, Gold has seemingly done it all: developed the menus for three of New York's three-star restaurants, won four James Beard awards and was the inspiration for The New York Times's "Minimalist" column. She helped usher in the small-plates craze, cocktail pairings and pan-Mediterranean cuisine, and she championed the locavore philosophy before the term existed. She even correctly predicted that McDonald's would one day serve cappuccino. In short, she is a kind of culinary Zelig—present at key moments in Manhattan culinary history—only with more influence and agency.
In the early 1970s, Gold studied psychology at Tufts, but spent her spare time whipping up the likes of duck à l'orange in her dorm room and serving it with Gallo Hearty Burgundy. In 1975 she entered a master's program in human sexuality at New York University, but even that subject paled in comparison to cooking, so she dropped out.
When Gourmet rejected her entry-level application, Gold began cooking in New York's most revered French restaurants for free. She was the first woman to cook at the celebrated Le Plaisir and put in time at La Colombe d'Or, the city's first Provençal restaurant. Meanwhile she launched her own catering company— which would lead to her first big break. In 1977, when Gold was just 23, she was hired to be private chef to the newly elected Mayor Ed Koch, on the promise that she would save the city loads of money by doing all of the mayor's catering herself (previous mayors had relied on caterers for events). She cleaned former Mayor Abe Beame's leftover flanken out of the freezer, dished up sophisticated foods like tapenade toast and steak with green peppercorn sauce, prepared midnight snacks for Hizzoner, devised a peanut cheesecake for Jimmy Carter (who arrived with a food taster), and planned a weekend of entertaining, including a reception for 900, when Israeli Prime Minister Menachem Begin and his wife visited. (That occasion brought in 800 people to kosherize the Gracie Mansion kitchen).
Gold was only in the position a year, but she used it as a culinary pulpit, preaching the nascent gospel of local food. A fresh approach was taking root on the West Coast—where so-called "California cuisine" threw off heavy French sauces to let fresh ingredients sparkle—and Gold was an early East Coast adopter. She scoured the Hudson Valley, befriending growers and ferreting out fiddlehead ferns, zucchini blossoms, even early farmstead cheese. At a time when gastronomes considered French wine the pinnacle of sophistication, Gold had two house wines: one from Hargrave Vineyard, the first vineyard on Long Island, and one from Clinton Vineyards, the trailblazer that helped bring serious viticulture to the Hudson Valley. When the Clinton harvest was underway, recalls Gold, "[owner] Ben [Feder] would invite all his friends up and I would cook for a hundred people over the weekend."
(Sixteen years later, when Mayor Rudy Giuliani moved into Gracie Mansion in 1994, Gold wrote an opinion piece for the Times in which she urged him to "use New York State products, especially wine," and to serve the ethnic foods New Yorkers ate. She also recommended global pasta styles—"soba noodles, pelmeni, lo mein and kreplach"—reasoning, "After all, you're setting all New York's table.")
After leaving the civic stoves, Gold, 24, founded her own consulting company. She served as director of restaurants to the Barbizon Hotel and worked with Milton Glaser (legendary creator of the I ♥ NY logo) to design a restaurant (never built) and reconceptualize the Grand Union on East 86th Street, for which she developed some of the country's first supermarket gourmet prepared foods. She began dating Mario Daniele, the wine distributor who introduced California wines to the East Coast and who later helped stock sommelier Kevin Zraly's world-class wine list at Windows on the World.
Still, life then was not all barrel-aged cabernets and balsamic vinegar. "There was a time when she had to work against the predominantly male hierarchy of the food world," says Glaser, "but she was one of those people with an extraordinary range of experience and information who never had to put it in your face to establish her reputation. She was able to make her way because of how pleasant she was, which is a great secret if you want to get along."
In 1984, Gold landed her dream job with legendary restaurant impresario Joe Baum, as chef-director for his vaunted international restaurant consulting company. Baum created a total of 167 restaurants between 1953 and his death in 1998, among them some of the most spectacular and visionary of their time. "I was so excited," Gold recalls. She helped create the menus for Aurora and for the resurrected art deco palace the Rainbow Room. Each earned three-star reviews from the Times.
Baum's legendary perfectionism could make the job a maddening one. "Joe treated Rozanne like all newcomers," says Michael Whiteman, Baum's partner and the man Gold would marry three years later, "which was to turn a blowtorch on them to see if they would catch fire."
In his customary cursory way, Baum told Gold to "go figure out" the cocktails-and-little-meals concept he had come up with. She did, and it became a smash hit at the Rainbow Room'sPromenade bar, featuring her globally themed little meals served onthree-tiered silver servers. Gold's avant-garde meals—including a ring-molded steak tartare iced with black caviar and garnished with warm gaufrette potatoes, and skewers of shrimp and chorizo on a bed of Creole rice—were designed to pair with master-mixologistin- the-making Dale DeGroff's inventive cocktails; her small plates, which were diminutive, thought-out main courses rather than hors d'oeuvres, prefigured the tapas boomlet and spawned Gold's first book, Little Meals: A Great New Way to Eat and Cook in 1994.
"Rozanne wrote Little Meals 18 years ago," says Arthur Schwartz, former New York Daily News restaurant critic, cookbook author and Gold's longtime friend. "And what's fashionable now? Little meals.  But at the time, the 1–2–3 books were a slap in the face to chefs doing 14 ingredients in three bites."
Those genre-busting dishes were only one small part of Gold's work at the Rainbow Room. She designed half a dozen everchanging menus, including those for a health-oriented restaurant called Evergreen (where at the end of lunch guests would get a computer printout analyzing the content of their meals). For the Rainbow Room, she created a roasted halibut dish served in a dramatic gold foil balloon, and a frozen "pousse-café" dessert with rainbow-colored layers. "She did such a clever job reformulating 'nostalgic' classics lobster Thermidor and tournedos Rossini that guests gushed over what they thought were true renditions from the '30s and '40s," says Whiteman.
Baum also tasked Gold and Whiteman with redesigning the upscale Kings supermarket chain in Morristown, New Jersey; while sharing regular commutes there they fell in love. (Whiteman founded the industry publication Nation's Restaurant News before he joined forces with Baum; today he is president of the food and restaurant consulting company Joseph Baum + Michael Whiteman Co., and a respected elder statesman in the field.) The two were married in 1987, and catered their own lavish reception at the Rainbow Room, featuring 40 linear feet of little meals.
While most cooks in the mid-'80s were stuck on blackened catfish and quiche, Gold came up with the concept and menu for a pan-Mediterranean Baum restaurant called Café Greco (she called it "Med-Rim cuisine"). The restaurant earned two stars from the Times in 1986, and prompted critic Bryan Miller to observe, "It might be the next food trend."
Fads came and went, but Gold continued sowing the seeds of the locavore revolution. In the late 1980s, restaurateur Peter Higgins asked Gold to develop a fish menu for a new seafood restaurant at the World Financial Center. Instead she convinced him, Baum and Whiteman that a better idea would be a restaurant dedicated to what she called "Hudson Valley cuisine." At the time, the Hudson was known not for the farms on its banks but for its PCB contamination. The 1988 opening of the Hudson River Club was so far ahead of its time that a Mirabella magazine article about Gold practically guffawed, "after a decade of crazy food trends— would you believe Hudson Valley Cuisine."
The menu included Coach Farms goat cheese, hickorysmoked ham from Millerton, greens from Tivoli, strawberries from Manhattan District Attorney Robert Morgenthau's Fishkill Farms and wine from Clinton Corners. A talented young chef named Waldy Malouf, who had cooked at La Côte Basque and La Crémaillère, took the helm, and the restaurant earned three stars from the Times. At the time, Hilary Baum, Joe Baum's daughter, was working for the nonprofit Project for Public Spaces. She would go on to make food systems her life's work, and back then she was spearheading a PPS effort to promote farmers markets as an element of urban revitalization. Gold, she recalls, "played a really important role in the development of [local food] as a concept for a restaurant, and it had a lot of creativity and elegance."
When Baum bid on the $25 million job of reopening Windows on the World at the World Trade Center, it was Gold's job to create menus for the complex's three restaurants. Her white clam risotto with poached lobster and her whole veal shank en papillote with Mexican spices helped win the contract, and went on to become top-selling dishes. For a time, Windows on the World was the highest grossing restaurant in the U.S. At 40, Gold was at the literal pinnacle of the New York restaurant world.
Gold, however, was ready to spend more time on her own projects. Although she continued international consulting work for Baum + Whiteman, she spent more time alone in her utilitarian Park Slope kitchen, equipped with a double oven but neither dishwasher nor microwave, working on 11 more cookbooks. Her first, second and fourth books—Little Meals in 1994; Recipes 1–2–3: Fabulous Food Using Only Three Ingredients, 1996, and Entertaining 1–2–3: 300 Recipes for Food and Drink, 1999—all garnered James Beard awards. Her fourth came in 2009, for her performance on WNYC's Leonard Lopate show, where listeners called in and challenged her to improvise three-ingredient dishes on the spot.
The success of the "1–2–3" series was all the more impressive since its mantra of simplicity ran counter to the overwrought creations of the day. "What struck me from the beginning was that she was so very smart about the food world," says food writer Betty Fussell. "She saw early on how to market something that was more simple, accessible and always works—three ingredients—and she created a brand out of that." (Gold's recipes really do just have just three ingredients, not counting salt and pepper, although in Recipes 1–2–3 she gives suggestions for optional "add-ons," such as pasta under braised short ribs, or fried sage leaves on a sausage and lentil dish.) Recipes 1–2–3 was so successful that shortly after its 1996 publication, Times editor Richard Flaste approached her about writing a column inspired by her book. It was to be called "The Minimalist." Gold had recently completed the exhausting task of helping open Windows on the World, her mother had just pulled through a serious illness, and perhaps for the first time in her life, says Gold, "I was afraid of failure." She declined, and the column went instead to an up-and-coming food writer named Mark Bittman.
The admission of fear is a rare one for Gold, whose accomplishments make one wonder how she has time to make her bed, let alone take on another project. Yet, in person, she is centered and gracious. "She a very good listener, and very intuitive about putting people together," says Newsday food writer and longtime friend Erica Marcus. She calls Gold, who has spawned countless marriages, book deals and business opportunities, "a yenta in the best sense of the word," as well as a crack Scrabble player. "I treasure the hours sitting in her beautiful dining room, playing Scrabble and eating a slice of her trademark wine cake, with lots of gossip between the turns," says Marcus.
Gold's latest book, Radically Simple: Brilliant Flavors with Breathtaking Ease, a fixture on 2010 top-cookbook lists, was named the number-one favorite of Food & Wine and won the author her sixth James Beard award nomination. Its recipes— including pork loin in cream with tomatoes, sage and gin, or steamed parsnips with toasted almonds—conjure originality and sophistication with a minimum of ingredients and fuss. In her review of Radically Simple, the Times's Christine Muhlke wrote that Gold "wants your meal to be as effortless as possible. And yet she has more in common with René Redzepi (officially this year's best chef in the world…) than with Rachael Ray."
More than any other of her books, Gold says Radically Simple exemplifies her style. Although nouvelle cuisine eventually wore out its welcome, its principles are still central her cooking. One example from an earlier cookbook is her idea of reducing prune juice to pour over coffee ice cream and serving it with bitter almonds. Susy Davidson, coordinator of the Julia Child Foundation for Gastronomy and the Culinary Arts, says Gold's is "an intellectual approach to food matched by this brilliant palate and sensibility."
Radically Simple is a distillation of all things Gold, a summation of her wide-ranging accomplishments; it showcases her keen palate and her deep knowledge of culinary and cultural history. Invoking a quotation from one of her heroes, the French gastronome Curnonsky, she says, "Good cooking is when things taste of what they are."
As if writing 12 cookbooks in 16 years was not enough to keep her occupied, Gold served as entertainment columnist for Bon Appétit magazine for five years, designed a 5,000-plate Washington, D.C., dinner to celebrate women veterans, created the menu for the 100th birthday of the Wall Street Journal and planned a lavish 80th birthday party for Julia Child at the Rainbow Room.
After the death of her beloved mother in 2006, Gold, says Whiteman, "had a hole in her heart." The couple adopted daughter Shayna in 2007, when she was 11. (Gold is also stepmother to Jeremy Whiteman, 43.) Two years later, shortly after Gourmet folded, Gold gave New York University's Fales Library $14,000 to fund the purchase of Gourmet's 3,500-volume cookbook collection in her mother's name. The books, including a large cache of Cajun, Asian and Mediterranean titles, had been slated to be sold off for $4 a volume.
Looking back on her trailblazing 35-year career, Gold says,
"I feel satisfaction that so many of my ideas live on." She knows she's fortunate to have had a front-row seat to New York's food revolution in the '70s—and to enjoy what she calls "the second food revolution" unfolding today. She identifies its leaders as young "passionistas" who have turned away from the hedonism of the previous generation and are focused not just on gustatory pleasure but on "feeding and nourishing themselves, their families and the planet." She worries that they are perhaps not as connected to the past as they should be, but adds, "like every generation, they feel like they've invented their world."
In fact, it was Gold who fostered many of their ideas, before they were even born.