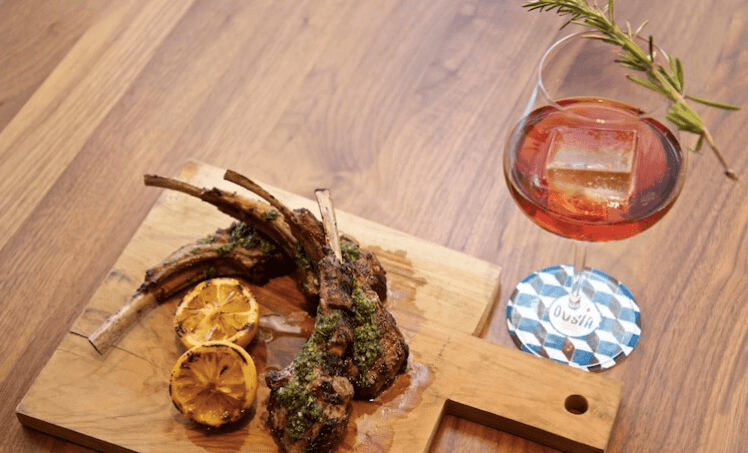 There's nothing we enjoy chronicling more at Edible Manhattan than food and drink makers getting together to do good for the world. In that spirit, chef Charlie Trotter, a James Beard Foundation Humanitarian Award-winning chef, launched hundreds of culinary careers at his Chicago restaurant and inspired chefs across the globe with his innovative approach to cuisine.
And now, along with Woodford Reserve, Edible Manhattan is celebrating the 30th Anniversary of chef Charlie Trotter's eponymous restaurant with a 30-day "Pairing and Sharing" program.
How it works is simple: Woodford Reserve will share $1 for every Woodford Reserve cocktail sold at participating restaurants ($10,000 max. donation) from August 17 to September 17 to benefit The Trotter Project, a 501(c)(3) organization uniting budding talent interested in the culinary arts and hospitality industry through the Pillars of Excellence Mentor Program. We recommend you try pairing this exquisite cocktail with a recommended dish, too.
The really good news is that these mission-focused campaigns don't just raise money for great causes. They give bartenders and chefs just one more occasion for inspired liquid symbiosis. Which makes us all happy. See below for pairings from participating bars and restaurants: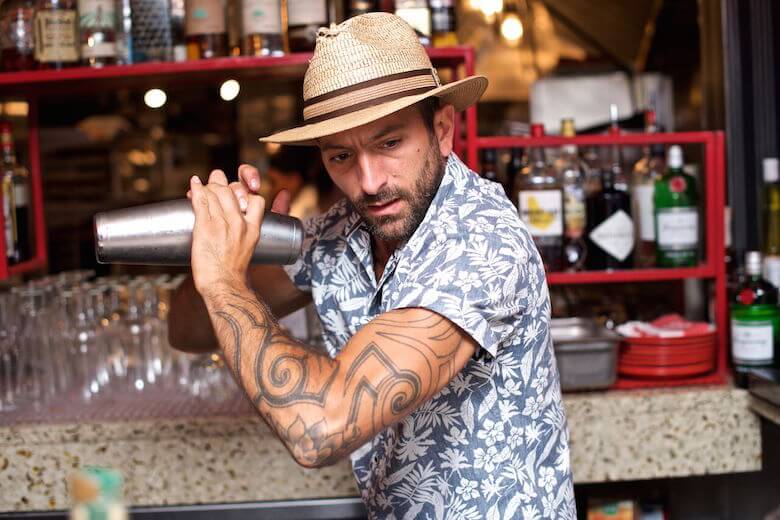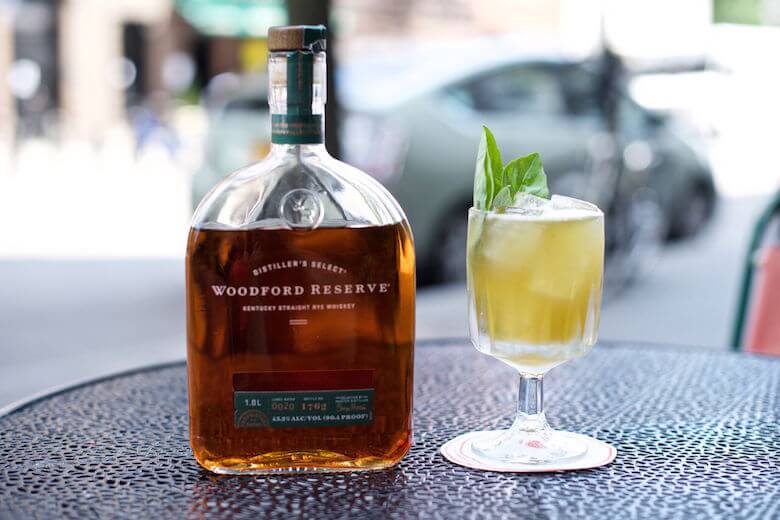 Chatted with: General Manager Paul Lee
Drink: Basil-Bourbon Cocktail
Dish: Dry-Aged Meatloaf Burger
This pairing combines some of our favorite comfort foods: meatloaf and a burger, with accompaniments fit for both. The dish is a dry-aged meatloaf burger topped with green peppercorns, caramelized onions, mushrooms, Gruyère and tomato jam, served alongside Cajun fries. Paul Lee, the restaurant's general manager, pairs this with a Basil Bourbon cocktail of Woodford Reserve Demerara, fresh lime and basil to enhance the flavors of the dish. Lee landed on this pairing while walking through his upstate New York garden, hip flask of bourbon always in tow, where his basil crop was in full bloom. The fresh, bright addition of the basil balances the funky Gruyère and Cajun seasoning.
---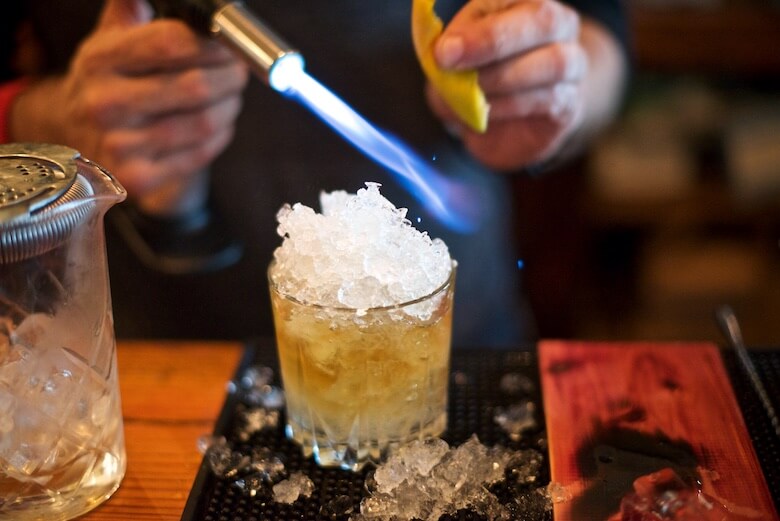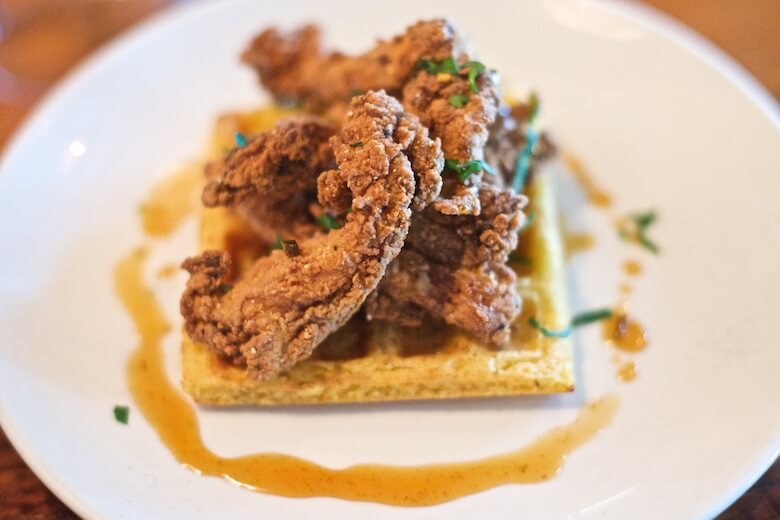 Chatted with: Chef Mike Franzetti
Drink: Cold-Smoked Old Fashioned
Dish: Fried Chicken and Cornbread Waffle
Like so many of us, chef Mike Franzetti prefers his bourbon with just a single ice cube to open the bouquet. But for this pairing, he and his team will be serving an equally refreshing cocktail called the cold-smoked Old Fashioned. The drink comes in a cedar-smoked glass and instantly cools you down while also emanating the smell of a summer barbecue. This cocktail accompanies a chicken and cornbread waffle entrée that offers a different kind of heat thanks to its a maple-jalapeño syrup.
---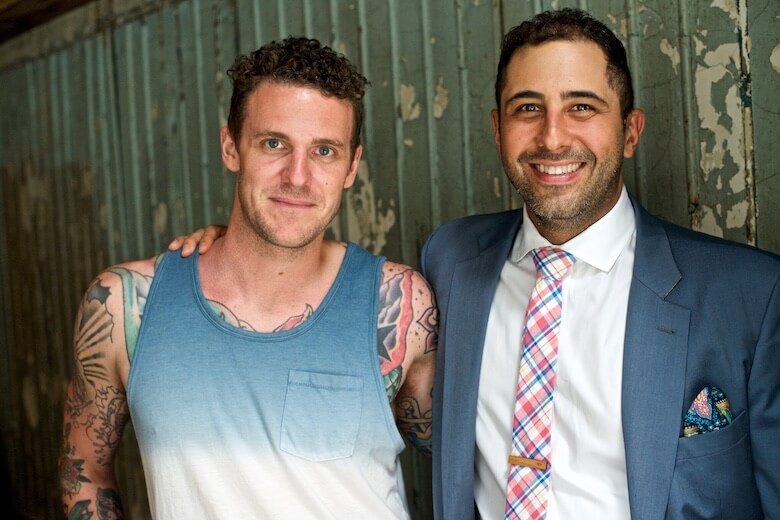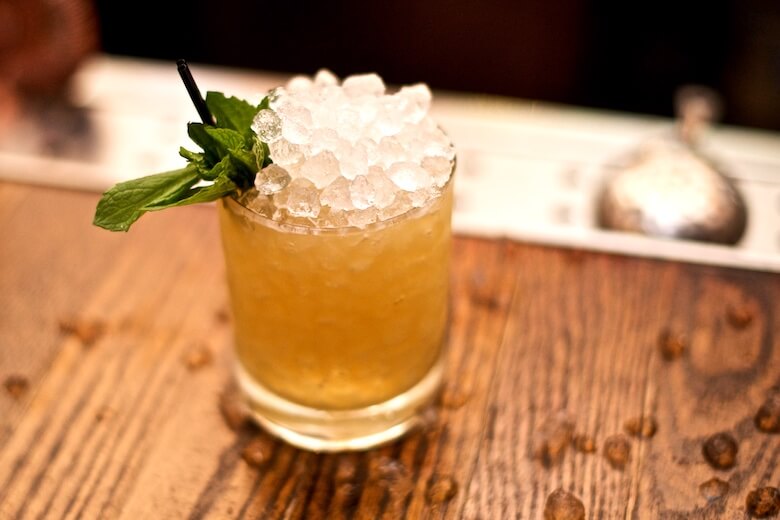 Chatted with: Bar Manager Joey Vargas
Drink: Woodford Reserve served neat
Dish: Smoked cocoa-rubbed ribs
This team is always looking to connect their passion for their craft with a good cause, which is why they've welcomed the opportunity to work alongside Woodford Reserve for the Trotter Project. The best way to enjoy whiskey on a hot summer day is served neat, according to their team. It draws on the summer barbecue vibes, which is probably why they will be serving their smoked cocoa rubbed ribs with this pairing. Like the name says, the ribs come rubbed with cocoa and garlic before their smoked and finished with a housemade barbecue sauce. The light, fruit notes of Woodford Reserve Bourbon are "a worthy adversary" of the savory ribs.
---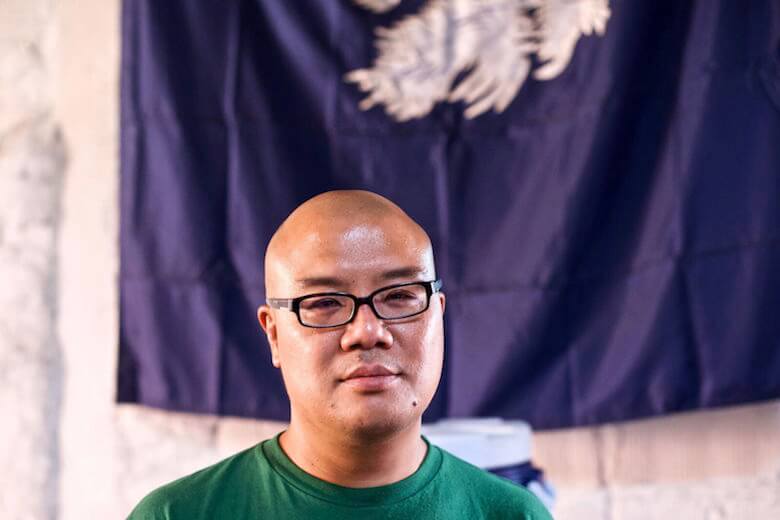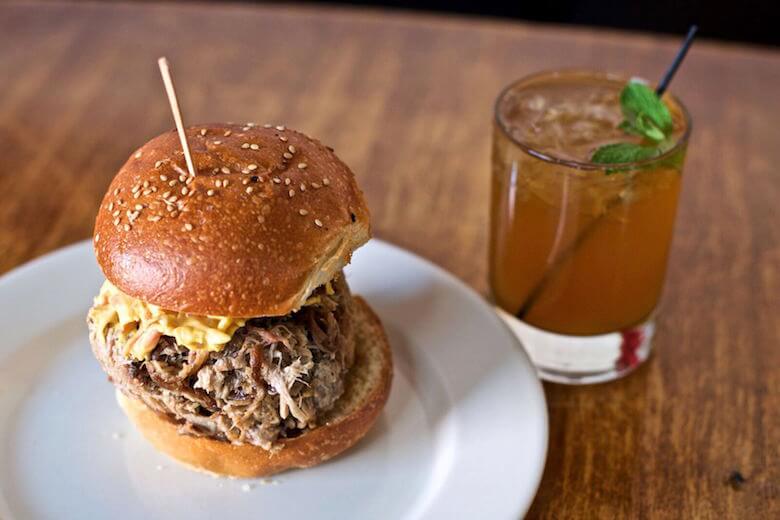 Chatted with: Pitmaster Tyson Ho
Drink: The Queen's Gambit
Dish: Carolina Whole Hog Sandwich
Bringing us an entirely new cocktail to pair with their signature Carolina whole hog sandwich, this team slowly smokes meat over hardwood embers, pulled, chopped and seasoned with the vinegar pepper sauce and topped with crackling. This hearty, savory dish is complemented by a drink that's "colder than Siberia." The Queen's Gambit is a variant of the classic Queen's Cocktail from the 1930s by Harry Craddock. Tyson Ho, the man behind the swine, tends to avoid sugar in cocktails on humid nights, which is why he looked to the Queen's Cocktail, which uses pineapple juice, for inspiration. Swapping gin for Woodford Reserve Bourbon, he muddles mint and lemon, and adds spice with Ancho Reyes liqueur and sweetness with pineapple juice.
---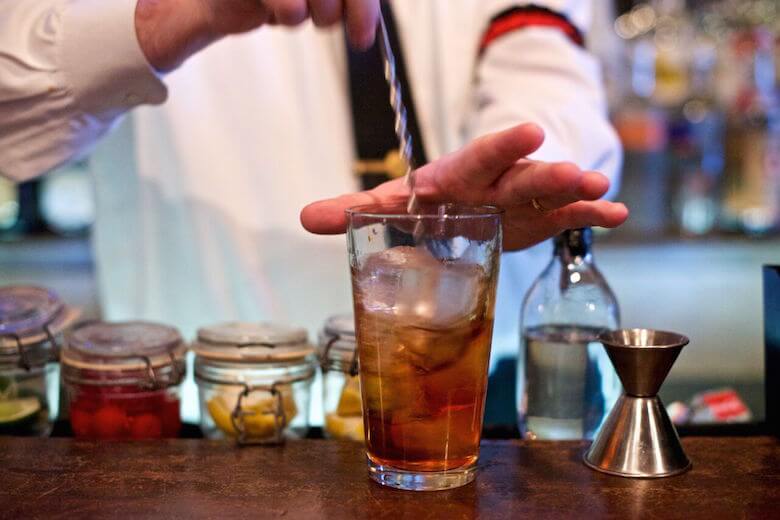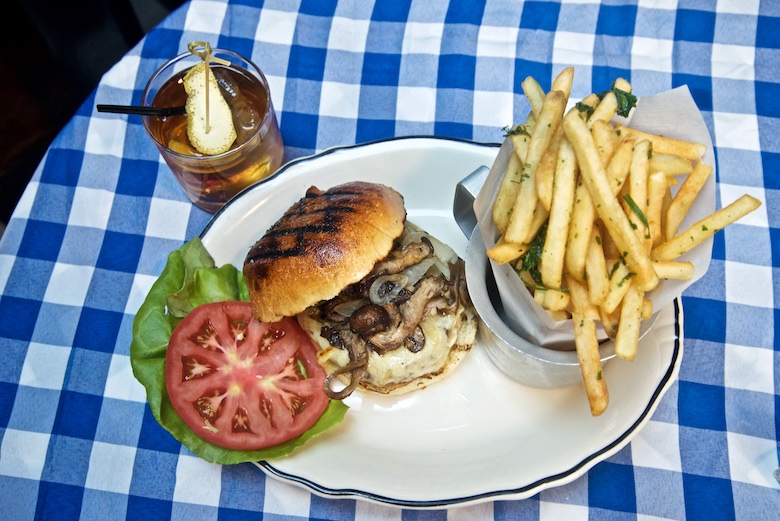 Chatted with: General Manager Jonathan Leeder
Drink: Old Fashioned
Dish: Burger
Here it's all about balance. This restaurant and bar inhabits three floors of a townhouse that's more than 100 years old. When considering how best to complement Woodford's array of bourbons and ryes, they chose to pay tribute to their historic location with a tried and true pairing of an Old Fashioned and burger. The burger is Kobe Beef topped with caramelized mushrooms and onions, and a sharp Gruyère with truffle fries rounding out the dish. To accompany the meal, the bar crew is offering a mix of bourbon and rye, with a blend of types of three bitters—a spin on a classic Old Fashioned.
---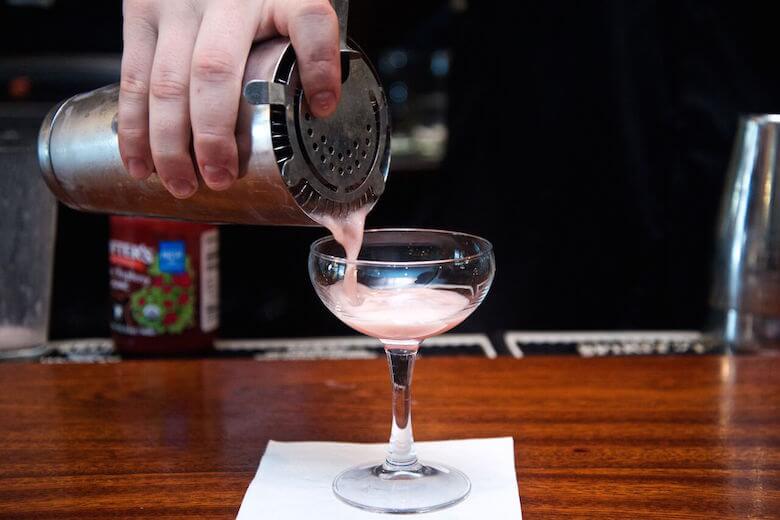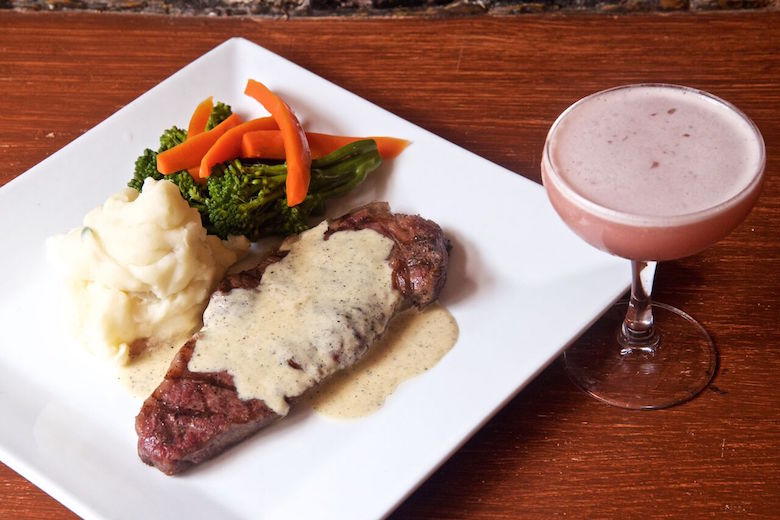 Chatted with: Owner Brendan Clinkscales
Drink: Copper Still Reserve Neat
Dish: New York Strip Steak
This pairing stands out because of their Private Woodford Reserve, which is incorporated into their dish and cocktail. A requisite steak and whiskey meal, on offer is a New York Strip Steak, cooked to order, served with Woodford Reserve cream sauce, mashed potatoes, sauteed Brussels sprouts and carrots. Brendan Clinkscales decided to offer up his favorite way to enjoy the Copper Still Reserve: neat, sipped slowly to enjoy the balance and smoothness. But for those looking to lighten up their drink, the menu also includes option to enjoy the Reserve neat or as a Whiskey Sour. The Sour, with raspberry jam, balances out the cream from the steak sauce.
---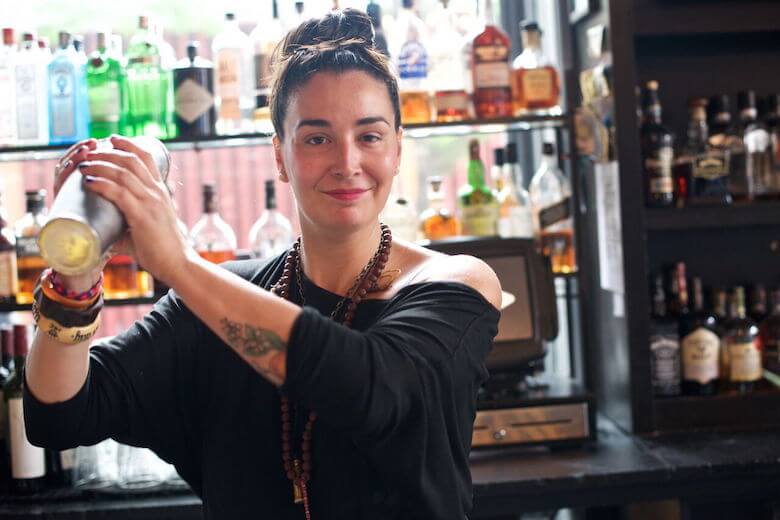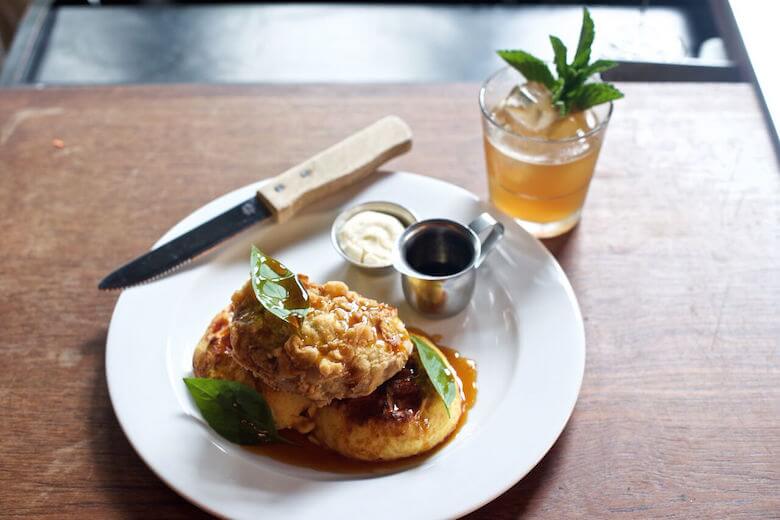 Chatted with: Bartender Meghan Kelleher
Drink: Island Smash
Dish: Country Fried Duck and Waffles
Chef Shane Lyons goes by a simple motto: All things delicious go with all things delicious. As long as he has the best ingredients at hand, like Woodford Reserve, he can't go wrong with his food and drink menu. The restaurant will be offering their country-fried duck and waffles, which is a confit duck quarter that is country fried, served on a brioche French toast waffle, and topped with Thai basil and smoked chile maple syrup. According to Lyons, the fatty and salty flavors pair perfectly with the deep flavors of Woodford Reserve. To combat the heat, he recommends pairing the dish with bartender Meghan Kehller's Island Smash, a take on a classic Bourbon Smash that combines Woodford Reserve with chocolate bitters, mint and pineapple. The end result is a fun and refreshing drink to complement the fried duck and waffles.
---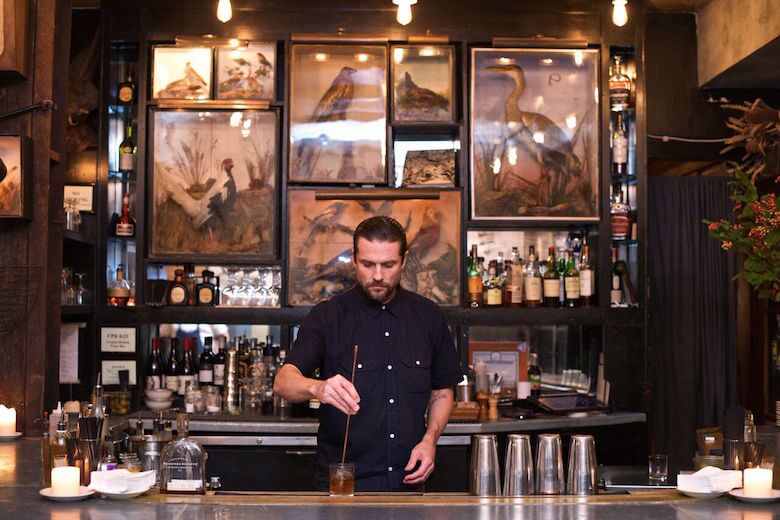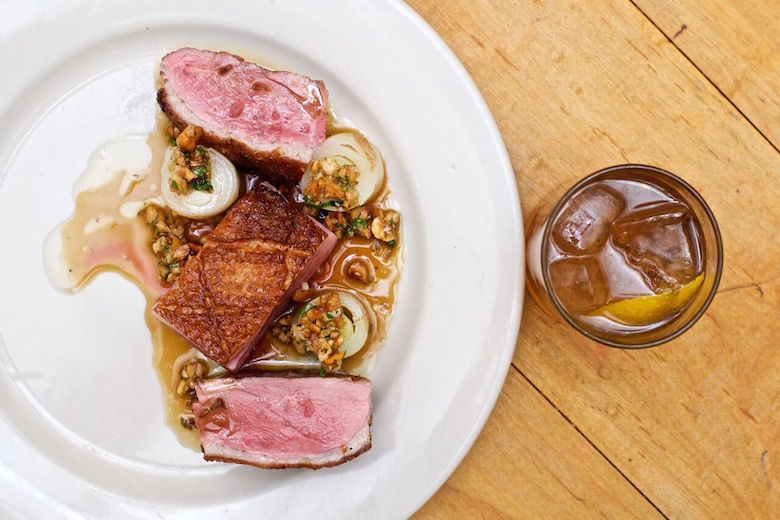 Chatted with: Chef Harold Villarosa & General Manager Michael Dempsey
Drink: Summer Oak
Dish: Pan-Seared Duck Breast
In order to showcase the product and reflect the versatility of the bourbon, complementing something as rich as duck and as simple the vegetable, chef Harold Villarosa is offering a pan-seared duck breast with braised leeks in hazelnut vin and a lavender Woodford duck jus. The dish lends itself to the rich flavors of the Hudson Valley and lighter, more herbaceous tastes of the East End. Although chef Harold and general manager Michael Dempsey enjoy their bourbon by itself or with a splash of water, Michael borrows from lavender flavors in chef Harold's dish to create the Summer Oak, a simple and refreshing drink for whiskey drinkers looking to switch things up. The cocktail highlights the rich complexity of Woodford Reserve Bourbon by adding honey and lavender bitters, resulting in a creamy mouthfeel and an herbal freshness lingering on long after the drink is done.
---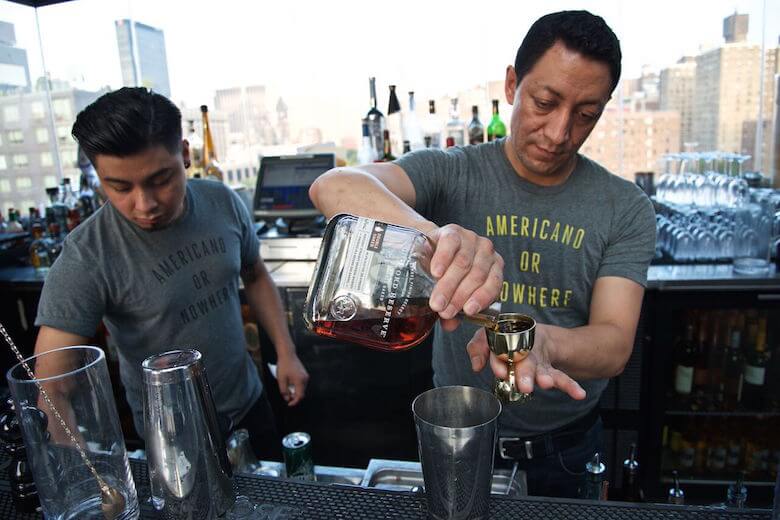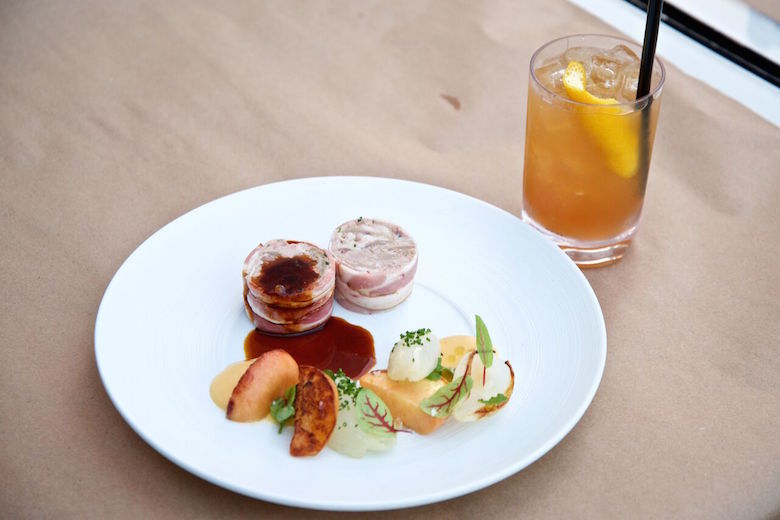 Chatted with: Executive Chef Bryan Noury
Drink: Old Fashioned
Dish: Karabuto Pork Shoulder
Executive chef Bryan Noury chose to incorporate flavors that are approachable and close to his heart. The Roulade of Karabuto pork shoulder, wrapped in smoked pork belly, is cooked in a carnitas style—confited very slowly in its own, finished with herbs and a splash of vinegar, and topped with a puree of peaches, shallot and a touch of white port and Woodford Reserve, roasted Vidalia onions and a lightly spiced pork jus. Noury appreciates Woodford Reserve in many forms, drinking it with a splash of water, single ice cube or in a traditional Old Fashioned.
---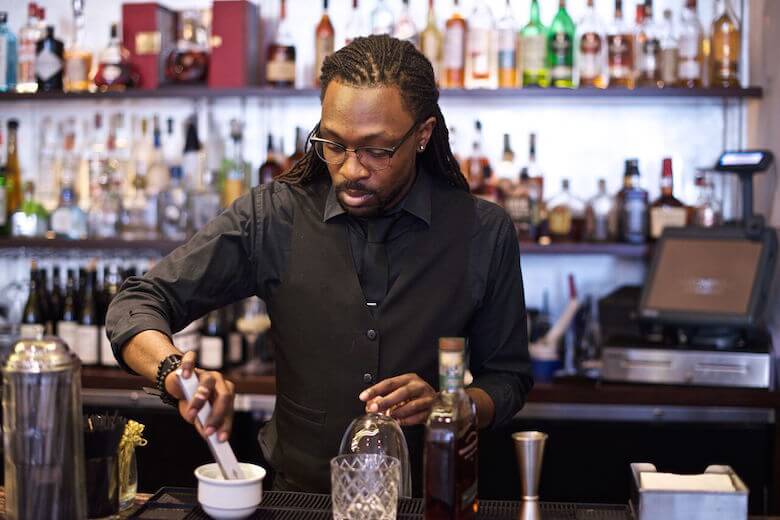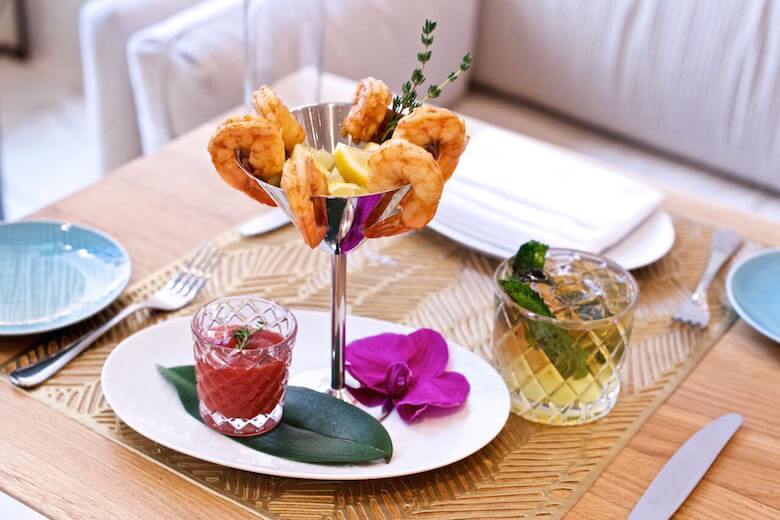 Chatted with: Food and Beverage Director Luis Febus
Drink: Mint Julep
Dish: Shrimp Cocktail
Why mess with the classics? Luis Febus and his team are putting together a pairing straight out of Mad Men with updated versions of a shrimp cocktail and Mint Julep. Rather than sidling up to bland cocktail sauce, the shrimp will be paired with a Woodford Reserve Double Oaked–infused cocktail sauce, adding a bit of smoke lacking in the original dish, which dates back to 1901. On the menu, it's no longer a dish for the wealthy but one for the many. Riffing on a Mint Julep, also considered to be a luxury at one point, their version will complement the Double Oaked sauce by using the same spirit in their julep, creating a pairing of affordable opulence.
---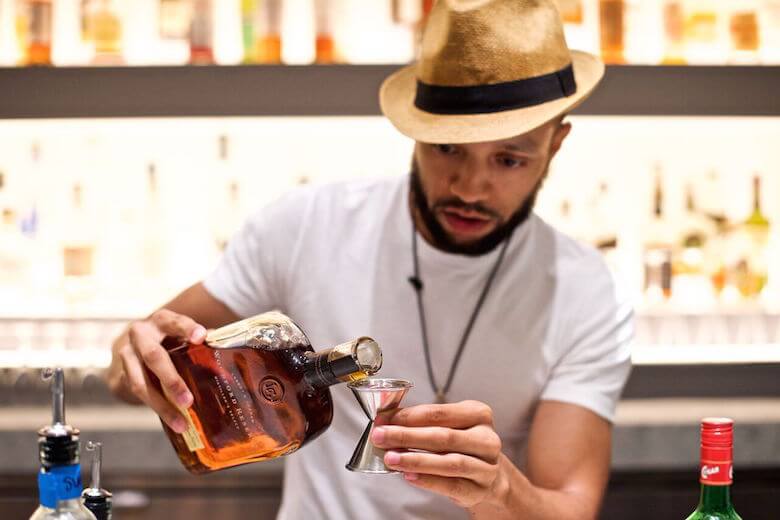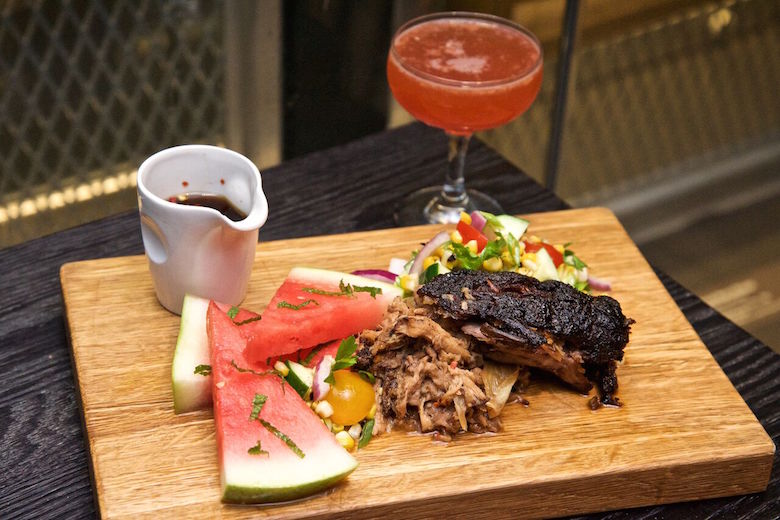 Chatted with: Chef Saul Bolton & Beverage Director of Great Performances Antonio Thompson
Drink: The Kentucky Summer Love
Dish: Smoked Pork Shoulder
This team is offering a pairing that speaks to our favorite flavors of summer in the South. The Kentucky Summer Love, an Old Fashioned meets Arnold Palmer, mixes Woodford Reserve Bourbon with Cynar, muddled watermelon, lemon zest, fresh-squeezed lemon juice and Angostura Bitters. The refreshing yet slightly acidic cocktail aims to balance the smoky sweetness of chef Saul Bolton's entrée. The smoked pork shoulder is served with a Woodford Reserve BBQ Sauce, grilled sweet corn, and lime and mint–infused watermelon. The watermelon in the cocktail and dish are meant to showcase the different uses of the summertime staple. Antonio Thompson's use of Cynar in the cocktail is a well-intentioned surprise, meant to be "a refreshing option for the cocktail enthusiast who prefers a gin or mezcal Negroni, but also enjoys the flavor of bourbon."
---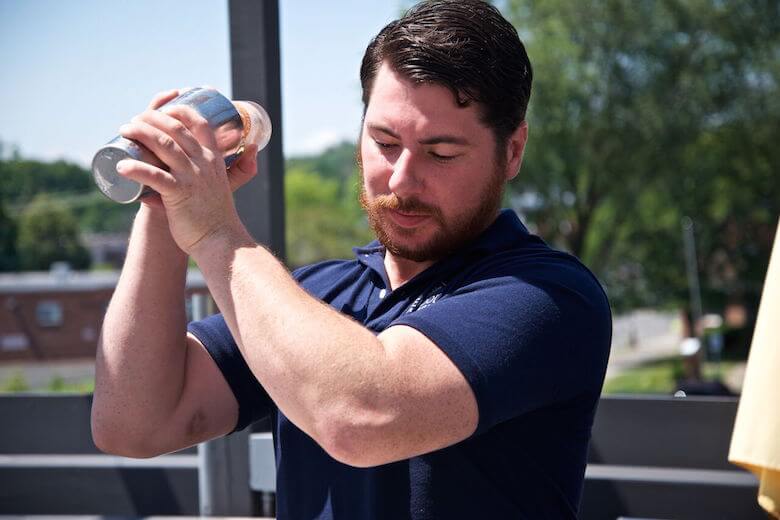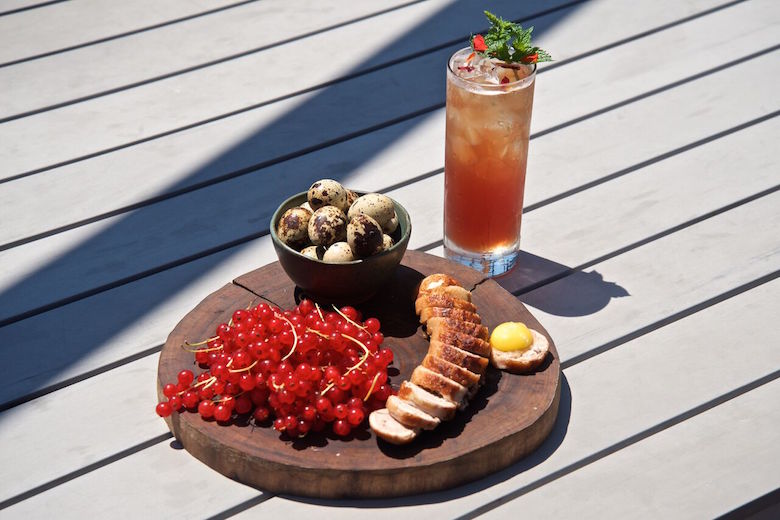 Chatted with: Bartender Steven Gremmert & Chef Sean Tomkins
Drink: Derby Dandy
Dish: Qual Ballotine
This pairing is rooted in history. Dining on quail is a classically French tradition, but Redwood brings their entrée, Quail Ballotine, which is two quail boned, smoked with white oak and stuffed with quail sausage, into the 21st century. Their modern approach creates a less crowded plate, completely rid of bones. The dish is sauced with a red currant barbecue sauce spiked with Woodford Reserve and oakwood-smoked bacon, and served alongside a puree of vanilla roasted parsnip—a true homage to the Hudson Valley. The cocktail accompanying the French-lite dish the Derby Dandy. The drink draws on the connection between Woodford Reserve and the Kentucky Derby by merging two classics, the Mint Julep and the Pimm's Cup. The cocktail is herb-forward, with a sweet and bitter profile that creates a refreshing drink for a hot August day.
---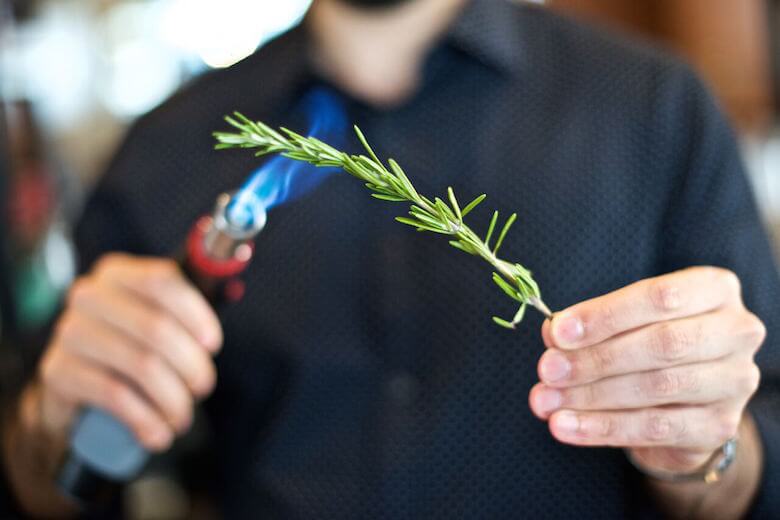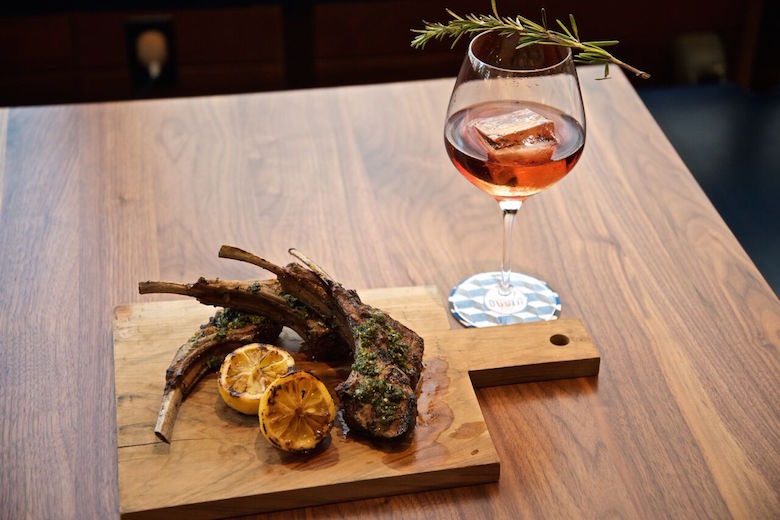 Chatted with: General Manager Johnny Livanos
Drink: Boulevardier
Dish: Lamb Chops
This pairing is designed to showcase the flavors of Greece in the summertime. Their cocktail riffs off of a classic Boulevardier cocktail, where they complement Woodford Reserve by using Contratto Bitters to evoke the citrus and herbaceous scents wafting through the Greek islands throughout summer; Ratafia Cherry Liqueur, adding the flavors of summer stone fruits; chocolate bitters to add depth to the drink; and a burnt sprig of rosemary to mimic the smell of the wood-burning ovens that are a cornerstone to Greek village kitchens. With balance being key for this pairing, the cocktail is served with lamb chops marinated in fresh herbs and lemon zest, and finished with their Ionian garlic sauce: the restaurant's version of a Greek chimichurri, a mix of arugula, parsley, garlic, dill, olive oil, salt and pepper.
---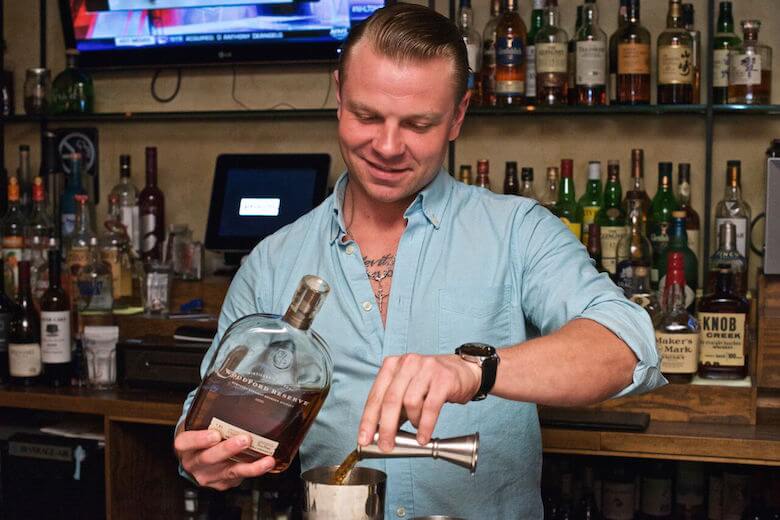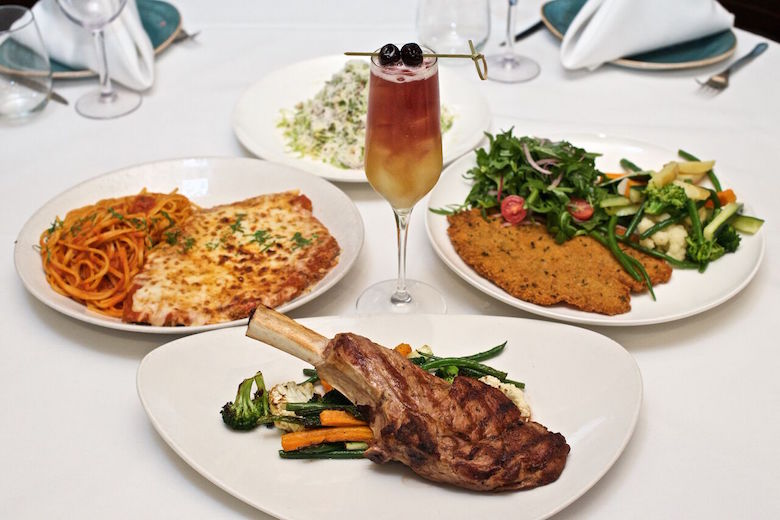 Chatted With: Chefs Manny Lopez and Rene Lema; Head Mixologist Robert Ulasiuk
Drink: Sour Oak
Dish: Various Classics
Here, it's all about variety. Chefs Manny Lopez and Rene Lema want to showcase their most sought-after dishes: the Brussels sprout salad, baked clams oreganata, veal milanese, grilled veal chop and chicken parm. These dishes might are meant to take you back of the era of admen, à la Mad Men, where white tablecloths and power lunches were king. To match these classic dishes is an updated Whiskey Sour. Their head mixologist, Robert Ulasiuk, created the Sour Oak, which is Woodford Reserve Bourbon, lime juice, simple syrup, a splash of orange juice and quickly topped off with Meiomi Pinot Noir. Their team enjoys a Maduro cigar alongside an order of neat bourbon and the clams oreganata.
---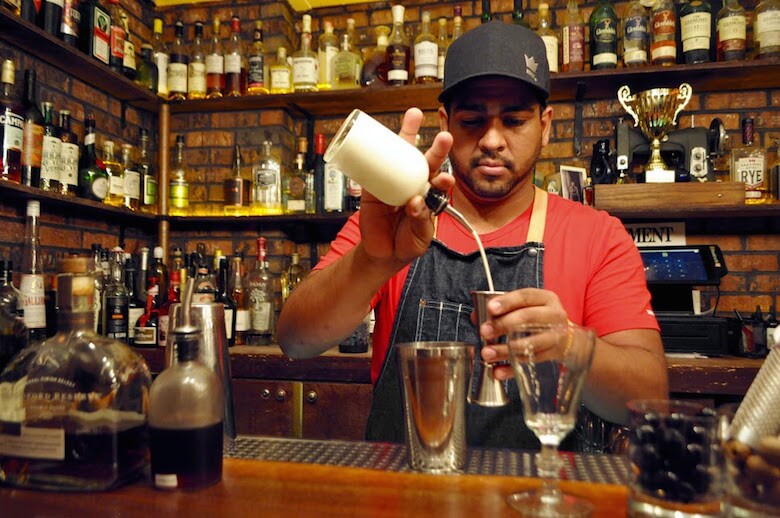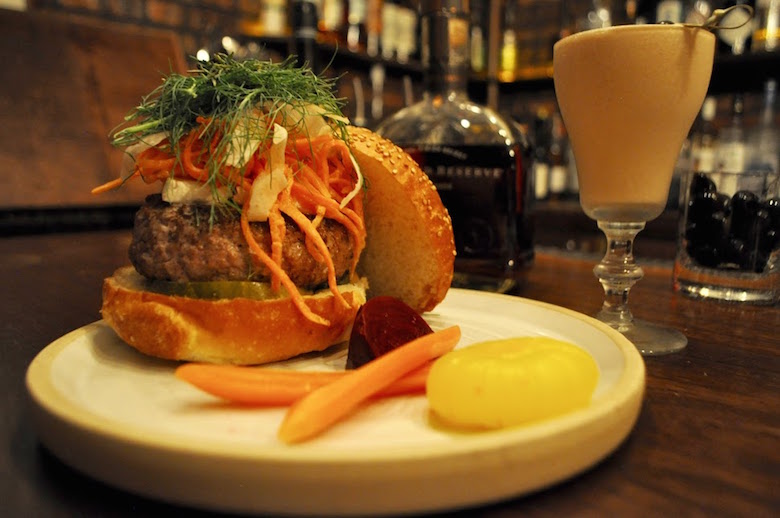 Chatted with: Bartender Luis Hernandez
Drink: Bourbon Milkshake
Dish: Mutton Burger
The burger and milkshake combo is a classic, littering the menus of fast food chains and upscale restaurants. Now it's crept into this establishment, where they're offering their own spin on the pairing that aims to merge the talents of their kitchen and bar. Their mutton burger, something you're not likely to find on the menu at Shake Shack, is topped with brie, fermented carrots and fennel fronds, and is garnished with house-made pickled carrots, onion and beets. Sidling up next to the burger is an adult milkshake with cream, vanilla and cherry liqueur, garnished with nutmeg and, of course, a cherry floating on top. Adding Woodford Reserve Bourbon warms the back of the palate after swallowing a mouthful of the icy drink.
---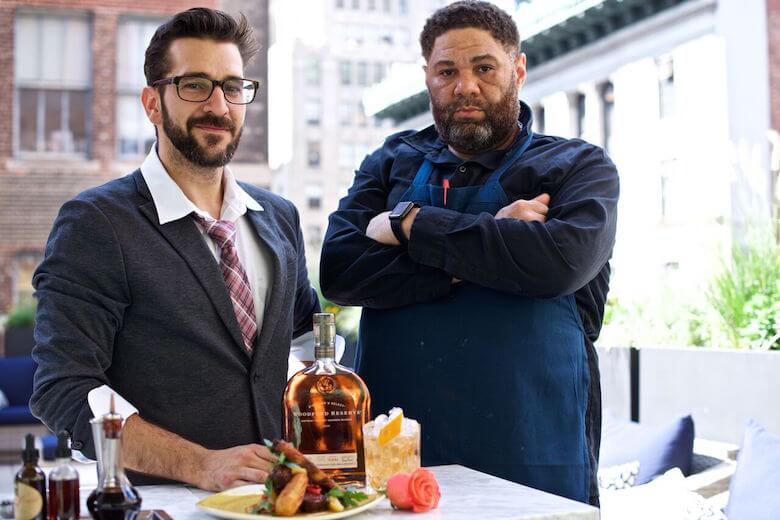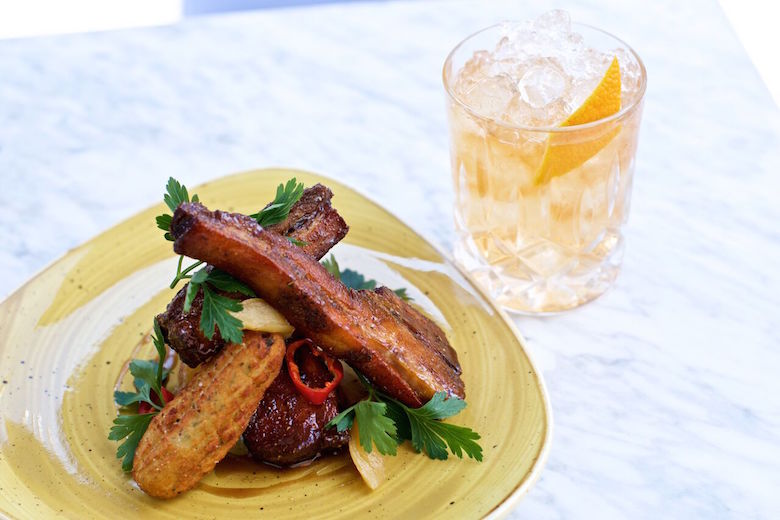 Chatted with: Chef Keith Geter; Bartender Pietro Filipponi
Drink: Cold Smoked Maple Old-Fashioned
Dish: Cider-Glazed Pork Belly
This spot is known for its elevated American fare and their Woodford Reserve pairing embodies their commitment to flavor, balance and exciting twists on traditional dishes. Chef Keith Geter riffs off Rose Hill's cider-glazed pork belly dish by swapping the cider for bourbon, served atop brown butter apple sauce and potato fritters, and topped with chiles that add heat and depth to the sweetened glazed pork belly. But the real magic of this pairing is in the cold-smoked maple Old-Fashioned, meant to be enjoyed on the restaurant's rooftop bar and main dining area. Pietro Filipponi infused New York maple syrup with a cold hickory smoke that replaces the sugar cube that is used in a classic Old-Fashioned, and brushes the orange peel with salt and honey, which creates a candied effect on an otherwise unremarkable garnish.
---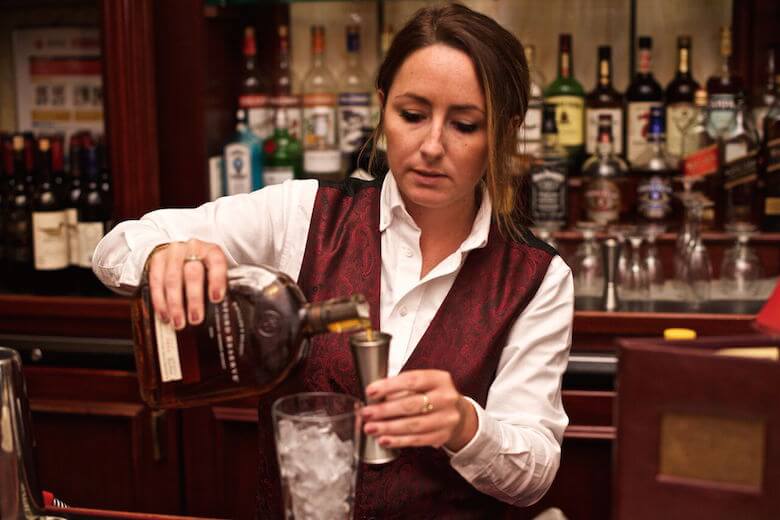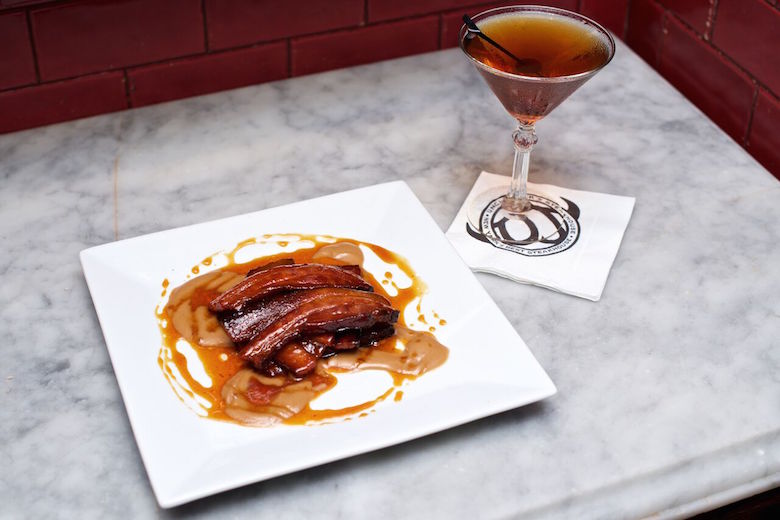 Chatted with: Chef Jayson Margulies
Drink: Old Fashioned
Dish: Maple-Chipotle-Glazed Bacon
For locations around the city, this pairing is so special that they offer it year-round. Start your meal off properly with an order of the maple-chipotle-glazed bacon. The dish is a platter of thick-cut bacon, spiced with a maple-chipotle glaze as it's seared in the pan. The smoke and spice are tempered with a peanut butter sauce, served on the side. The smoke and fattiness of the bacon and peanut butter mellows out when washed down with a smooth Old Fashioned. This version of the steakhouse classic starts off with twists of orange, lemon and lime, mixed with Woodford Reserve Bourbon, Carpano Antica Vermouth, cherry bitters and topped with a housemade bourbon soaked cherry.
---
These Woodford Reserve cocktails are available at these retail locations:
33 Greenwich
33 Greenwich Ave.

Alice's Arbor
549 Classon Ave., Brooklyn
American Whiskey
247 W. 30th St.
Arrogant Swine
173 Morgan Ave., Brooklyn
Bill's Townhouse
57 E. 54th St.
The Copper Still
151 2nd Ave.
Distilled
211 W. Broadway
Freemans
Freeman Alley
Hotel Americano
518 W. 27th St.
The Marmara
114 E. 32 St.
The Norm
200 Eastern Pkwy, Brooklyn
Redwood Bar & Restaurant
63 N. Front St., Kingston, New York
Ousia
629 W. 57th St.
Petaluma
1356 1st Ave.

Seamstress
339 E. 75th St.
Rose Hill
34 E. 32nd St.
Uncle Jack's
44 W. 56th St.
Text by Suzanne Zuppello. Photos by Ben Jay; Seamstress photos by Ally Spier.