If you like Greek yogurt, it's time to try skyr. The traditional Icelandic yogurt is thicker and less tangy than Greek yogurt and Icelandic Provisions has brought it to the U.S. market. Launched a year ago with partners in Iceland and now producing in upstate New York, Icelandic Provisions skyr is made from New York dairy and 200-year old Icelandic cultures. You can find it in stores including Whole Foods, Wegmans, ShopRite and more. Eat it plain or add it to your next brunch by adding it to pancakes, shakshuka and cocktail recipes.
Skyr with Roasted Pears
Makes 4 servings
4 pieces of multigrain or rye bread, toasted
5.3oz cup of Icelandic Provisions Plain Skyr
1 Anjou or Bosc pear, sliced thinly
1 Tbsp olive oil
1 Tbsp pure maple syrup
2 tbsp chopped hazelnuts or almonds
Honey
Salt
Pepper
Preheat oven to 350 degrees. Place sliced pears on a parchment paper-lined baking tray. Whisk olive oil and maple syrup together briskly, then brush liberally onto the pear slices. Bake for 15 minutes or until the pears are lightly browned. Spread a thick layer of skyr onto the toast, then place the roasted pears on top. Twist the pepper mill one more time, top with chopped hazelnuts, almonds, a small pinch of salt and a drizzle of honey and enjoy.
Pönnukökur – Icelandic Pancakes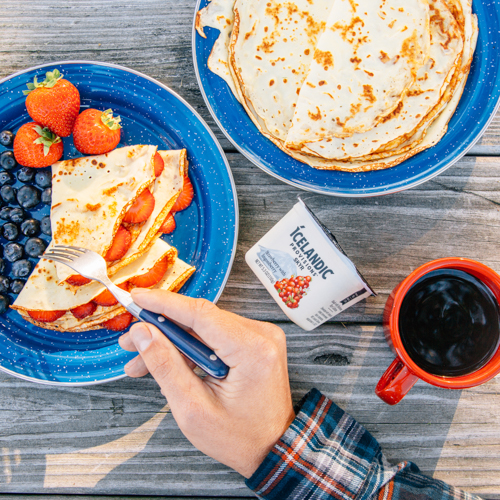 Makes 14 in a 10" skillet
5 eggs
1 ¼ cups flour
1 teaspoon salt
2 ½ cups milk
Butter, ghee, or coconut oil
Skyr
Beat the eggs, milk and salt together in a bowl until frothy. Slowly add the flour, whisking to incorporate until a smooth batter forms. Set aside.
Heat a nonstick or well-seasoned cast iron skillet over medium heat. Once the pan is hot, add a little butter to coat the bottom of the pan. Pour in just enough batter to coat the pan (about 1/3 cup if using a 10" skillet) and pick up the pan, tilting it to all sides so that the batter evenly coats the bottom of the pan in a thin layer.
Once the pancake has set and the bottom is golden brown (30 seconds to a minute), use a spatula or knife to carefully flip the pancake. Cook the other side for an additional 30 seconds to brown, then tilt the pancake out of the pan and onto a plate.
Repeat, using more butter as needed, with the remaining batter.
To serve, spread a heaping spoonful of Icelandic Provisions skyr on one half of the pancake. Fold the pancake in half over the filling, and then in half again. Enjoy!
Veggie Shakshuka with Skyr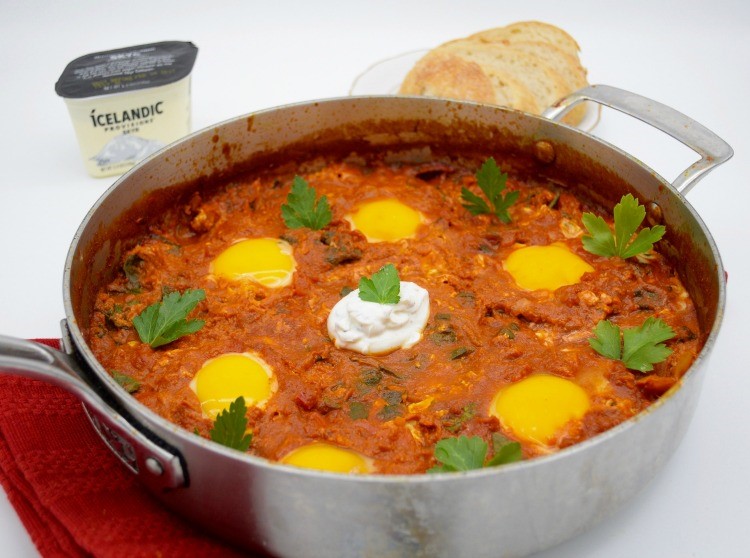 Makes 2 servings
2 tablespoons olive oil
1 onion, diced
2 garlic cloves, minced
1 red bell pepper, diced
1 teaspoon ground cumin
1 teaspoon paprika
1/2 teaspoon turmeric
1/2 teaspoon red pepper flakes
1 (26 ounce) jar strained tomatoes
2 tablespoons tomato paste
1 teaspoon honey
1 teaspoon red wine vinegar
5 ounces baby spinach
4 large eggs, organic, cage free
1 (5.3 ounce) container of Icelandic Provisions plain skyr
Heat olive oil in a medium large sauté pan over medium heat. Add onion and sauté for 3-4 minutes until soft.
Add garlic and bell pepper, and cook until soft. Mix in cumin, paprika, turmeric, and red pepper flakes, and stir until fragrant.
Add the strained tomatoes, tomato paste, honey, red wine vinegar, and spinach. Partially cover with a lid, reduce heat, and simmer until the sauce is thickened and slightly reduced, about 10 minutes.
Spoon out 1/3 of the tomato mixture into a medium size bowl. Add 1/2 container of Icelandic Provisions skyr. Mix well, and then add back to pan, stirring well.
Use a large spoon to impress four indentations in the sauce, carefully crack each egg into the
indentations. Cover and cook for another 2-5 minutes, or until the egg whites are just set but yolks remain jiggly.
Remove from heat and serve immediately. Add a dollop of Icelandic Provisions plain Skyr to each serving.
Clarified Skyr Punch by Charlotte Voisey, William Grant & Sons USA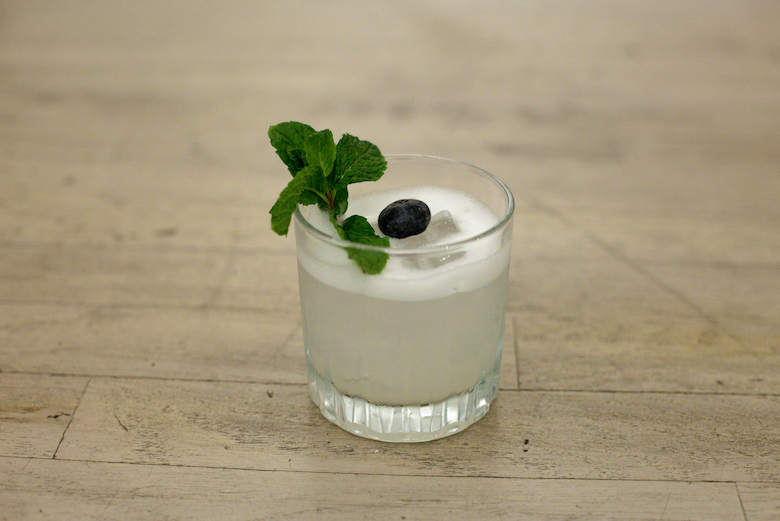 Makes 1 punch
3 parts Reyka
1 part skyr
1 part Lemon juice
1 part Blueberry & thyme simple syrup
Clarify lemon juice and yoghurt through filtration bag (24 hours)*
Combine other ingredients and chill
Stir over ice to serve
Strain into a cocktail glass
Garnish with a skewered blueberry & mint garnish
*Clarification process:
Pass Icelandic Provisions skyr through a filter bag – can use a coffee filter. This will take about 24 hours for 1-2 quarts of skyr. Keep bag inside the refrigerator for the duration of the process. Then pass lemon juice through a filter bag which should only take a few minutes.
5kg of Icelandic Provisions skyr yields approx. 28oz of the clarified mix. This is a punch so it can be scaled according to the number of guests being served.
Feature photo courtesy of Icelandic Provisions.