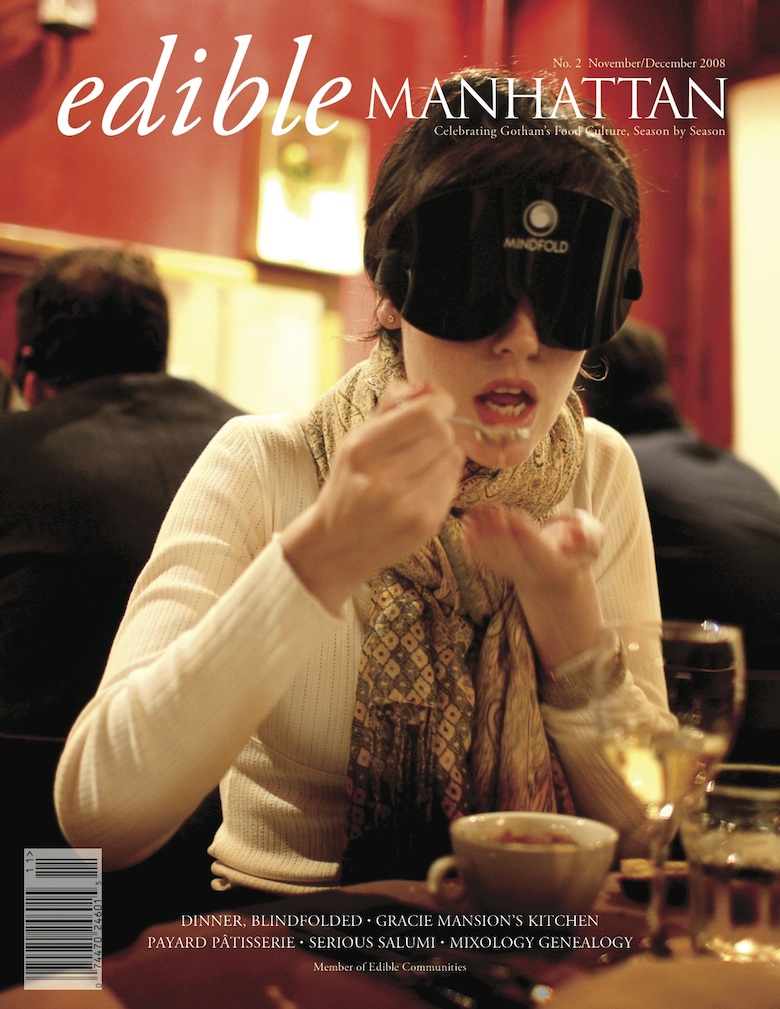 Everybody's talking about the economic downturn, but market indicators show Manhattan's edible index is downright bullish. And we don't just mean the run on our first issue, though the overwhelming response to our launch has been very exciting for our staff, who hold rich stock options (chicken stock, that is).
No, we're talking about the gangbusters grub all around town, just a few examples of which we serve up piping hot in these pages. From markets to restaurants to home kitchens, it would seem Manhattan is just getting cooking.
The rise is heady, but it's healthy, too. Unlike those bubble trends of haute cuisine and extreme verticality, these days food is grounded- literally. Everywhere we turn, eaters are tasting the earth. A chef is cooking up cocoa infused with herbs. Local food dials help New Yorkers tune into what's in season. A duo of fundraiser calendars offer pinup portraits of the people who feed us. A Greenwich Village author leads America on a literary ride to steakland. A meat brokering business considers biodiversitiy its bottom line. Supermarkets switch to sustainable sprout sources. Even the mayor has a backyard garden. And just a few blocks from Wall Street, a winter CSA courts a very different kind of shareholder.
Such recent developments exist alongside culinary classics. New York Cake & Baking Distributors is as comprehensive- and as crusty- as ever. Payard Patisserie upholds its peerless pastry. Many beloved restaurants were just as popular in 1959. Potato pancakes and bratwurst stoke our inner stoves all winter. And at Salumeria Biellese, heroes are still made every day.
Still, if financial jitters leave you in need of a drink, you're in luck. Local wines have never been as fine, Belgian beers never so abundant. And the cocktail renaissance is enjoying its third generation.
Analysts are threatening a depression, but dark days seem more likely to take the form of a good blindfold than the fluorescent=lit alienation of Hopper's famous 1940's diner.
Nevermind those dire forecasts. We predict dinner.
Dinner in the dark at Camaje Bistro and Lounge, MacDougal Street. Photo credit: Melissa Horn