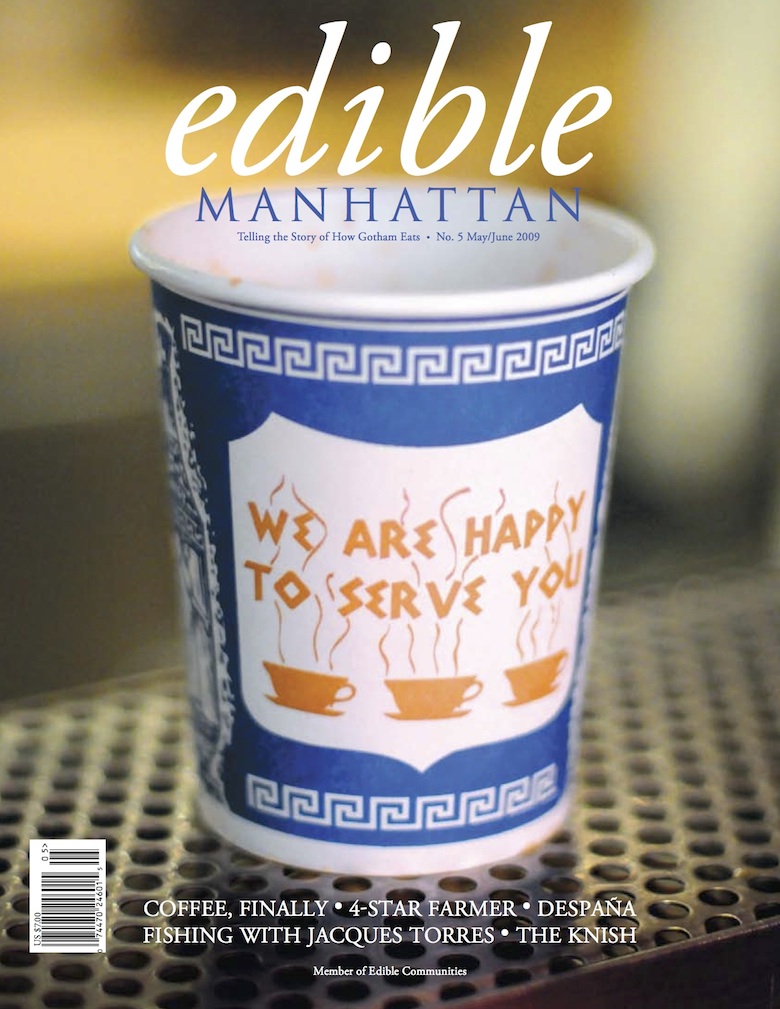 Polls report that Americans are more cautious than they've been in decades, but this issue is dedicated to leaps of faith. Its pages are full of New Yorkers who took a risk and, by doing so, have made us all richer.
We snack with a whole harvest of entrepreneurs who have established eateries we can't get enough of: a longtime locavore whose lively little catering business has spawned a bountiful breakfast nook called tbsp; a chocolatier who painstakingly crafts confections that taste as though they were made at your personal behest; a new restaurant that draws inspiration- and pickley, puckery sustenance- from each season's bounty; and a husband-and-wife duo who serve a slice of Spain to Soho, complete with chorizo that brings chefs running.
Speaking of chefs, we meet one who literally bought the farm, back before it was fashionable. Weary of jetting in produce from Europe and California, Eberhard Müller decided that if you want something good you've got to grow it yourself: He and now-wife Paulette Satur have been growing some of America's most beautiful produce ever since. Their greens entwine the tines of New York's finest forks- the kind lauded by Times restaurant reviewers.
On page 23 we sit down with Mimi Sheraton, who herself wielded that pen from 1975 to 1983 and dared dethrone Le Cirque. Her undaunted demotion of snooty French fare helped make way for groundbreaking new restaurants like Gotham Bar and Grill– whose 25th birthday we celebrate on page 29. I loved reading about the days when tuna tartar and flourless chocolate cake were newfangled and novel.
These days coffee- that long-lowly commodity- sends gutsy gastronomes' hearts to thumping. On page 35 we look in cutting-edge mugs and learn what took New York so long to start drinking the good stuff. (Hint: It took a few risk-taking roasters to pry the cup on our cover from our caffeinated grip.)
Looking to take a leap-of-faith taste yourself? Eat a knish. A real one, the kind examined in our "iconic foods" section (page 53). You'll discover it was well worth the risk. Enjoy.
Abraco Espresso, an espresso-and-brew-to-order boite in the East Village founded by expat West Coasters. Photograph by Michael Harlan Turkell.