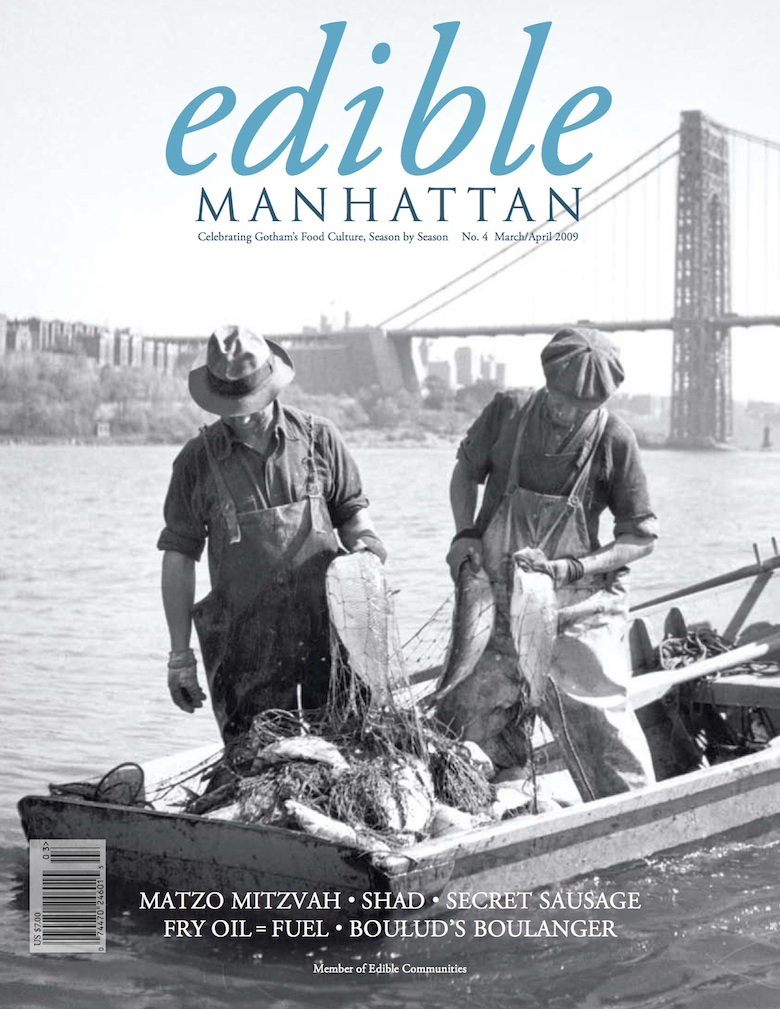 Right as we were finalizing the stories for this issue, Gabrielle- our truly amazing Edible Manhattan editor- gave birth to a baby girl named Bess. And for those of you who've met Gabrielle, you won't be surprised to know she was immersed in covering Manhattan food culture right up until delivery: Think e-mails full of last-minute ideas for captions about the Hudson's depleting shad stocks or one of the city's best and most venerable bartenders arriving with the caveat, "I am literally IN LABOR."
And bless you, Gabrielle, for your timing (and not just for giving birth just one day after your due date), since Bess- beautiful and now no doubt slightly larger than her original eight-pound arrival weight- is of course an almost too-perfect way to kick off our first spring Edible Manhattan. Early, early spring after all, is about tiny new things, growth and hope and the beginning of all that stuff that's so good we've been waiting patiently for all these long cold months.
In fact, if I were a more skilled guest deputy editor, I'd probably be able to tie a little Bess into every aspect of food and folk and culture we touch on in this issue- figuratively speaking of course. The company that collects spent kitchen oil to be used as automobile fuel (the growth of a new energy paradigm, natch). The artisanal bread still baked (and raised!) in the kitchens of chef Daniel Boulud. There's the happy delivery of Mary Cleaver's revolutionary idea to run a farm-friendly catering company to a concept that's more accepted around the city; and the battle between the city health department and restaurant-made charcuterie, currently in the natal stages of legality.
There's also Aron Streit, Inc., the 84-year-old company that still makes matzo for Passover, the ultimate Jewish symbol of rebirth; and how some of those who've ridden out decades in the city's food world are dealing with the economic downturn. (There's good news, says Greenmarket farmer Fred Wilklow, and that's that more people are settling in at home with their families to cook.)
True, it'd be harder to work Bess into something about a famous painting of McSorley's Bar– though the dim light in the city's oldest saloon might be soothing for a babe- but there's probably something there, if only to say that I'd like to raise a toast not just to the first skinny Kermit-green tendrils of spring, due any day now, but to Gabrielle and to Bess, too.
Shad fisherman along the Hudson River near the George Washington Bridge, mid-century. Photograph by Luis Marden.