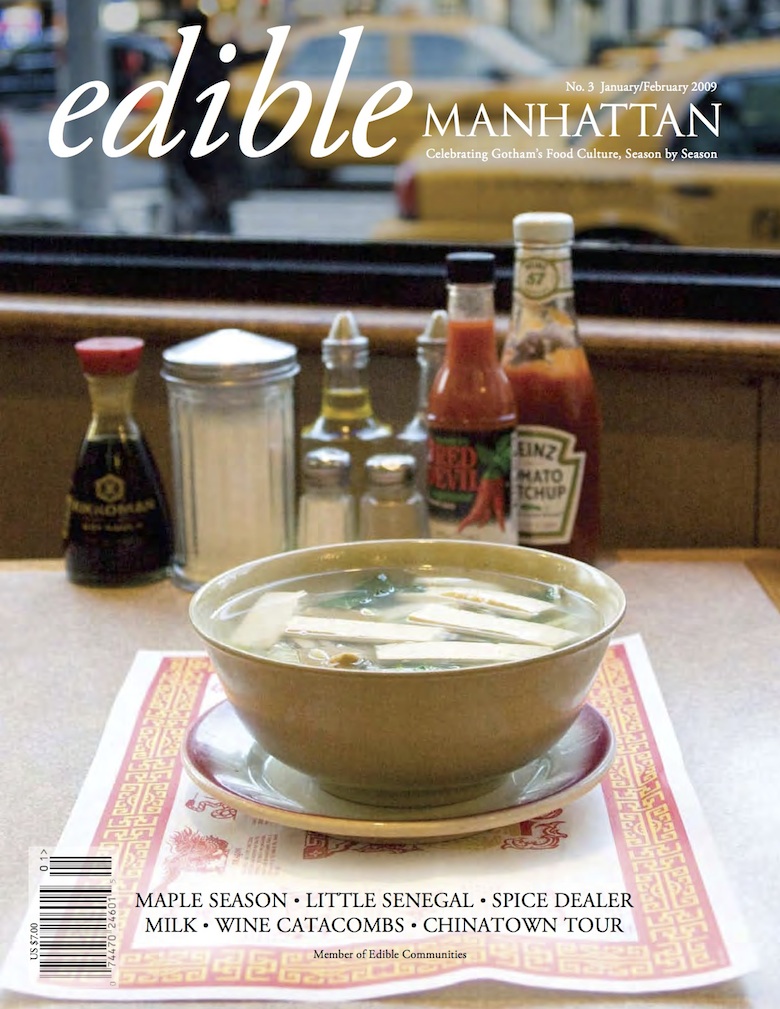 Maybe this will be the year I make up for the tomato sandwich I didn't eat in 1993.
'Tis the resolution season and while it's common to vow temperance, pledging to forgo favorite foods in favor of physical and financial health, I've had a different perspective since 11th grade, when my Upper East Side high school took a spring break trip to Italy. Outside the Vatican my classmates lined up for gorgeous tomato sandwiches, gooey with golden olive oil on thirsty focaccia, that cost about $7. Planning to save my lire for a gondola ride, I skipped the splurge but begged my friend for a bite. "If you want a sandwich," she asked, mouth wisely full, "why don't you buy one?"
I went without and I've never forgotten it. My Moby Dick, my albatross, my one-that-got-away, it's haunted me ever since, and in honor of the Thing I Should Have Tasted, I'm still in hungry pursuit of meaningfully edible experiences.
So are a lot of people in this issue.
Some operate eateries dedicated to serving you their epitome of ideal eats, be that Chanterelle's foie gras on white tablecloths or Casellula's cheese-and-housemade-corn-nuts pairing.
Some search the world over to stock our city's market places. The Zabars, New York's first family of food, spent decades building two epicurean empires that have forever changed the way Manhattan eats. But modern mongers are joining the sourcing fray, too. We follow Aaron Isaacson, aka the Spice Man, as he plays Marco Polo to the city's most elite chefs, importing the likes of 80 different dried chilies and over 800 volatile oils. (He dresses the part, too.) And we get to know a Chelsea-based bean-to-bar company that makes chocolate so healthful and green it's embraced by diabetics and ecologists alike.
Not that one needs connections abroad to savor far-flung flavor. On a trip to the Upper West Side's Little Senegal we discover the marvels of millet, ginger-garlic paste and that most elusive of global ingredients: peanut butter. Meanwhile, downtown, Chef King of Kuma Inn reveals his favorite Chinatown sources and gives us a soup dumpling primer.
But like that tomato sandwich taught me, even everyday eats merit serious study. Brownies can be habit-forming. Milk holds many mysteries. And upstate, the winter call of maple syrup has brought "sugarmakers" out into the snowy woods for centuries.
Wine inspires the corkscrewy to pursue enophile adventures: Orwasher's coaxes sourdough starter from Long Island grapes; Rkatsiteli vines voyaged from the Black Sea to the Finger Lakes; and the search for cask-storage nirvana drove Manhattan's bottle barons to dig deep- into the subterranean warrens beneath Chelsea Market.
But for me, this issue's more exciting quest is that of two 11-year-olds' search for reel food. Advised by the likes of Michael Pollan and Dan Barber, a pair of seventh graders have just completed a film that poses a most elemental question: What's on your plate? Looks like they've learned the meaning of life much earlier than I did.
Melting pot at La Caridad, Upper West Side. Photo credit: Erin Gleeson.