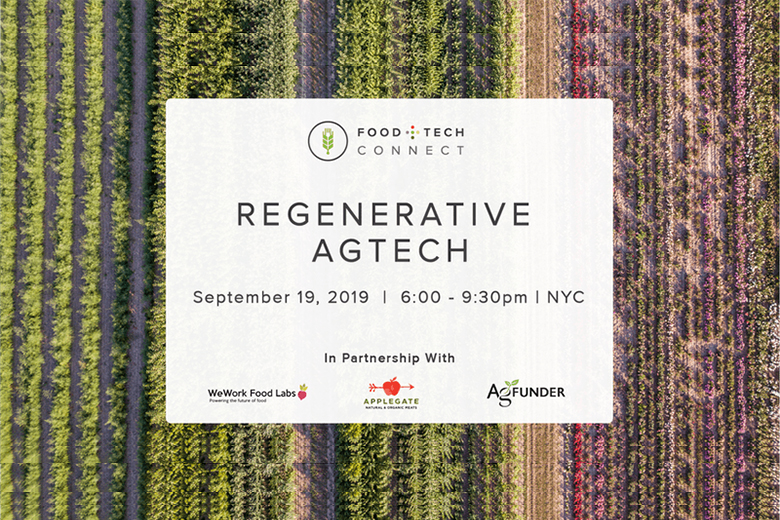 Our soil is in crisis. Nearly a third of our soil has already been degraded, and the UN estimates we only have 60 years left of topsoil left if we continue with current farming practices. With 95 percent of our food grown in soil, it's clear that we need a radical change.
Enter Regenerative Agriculture, a farming approach aiming to rebuild soil health and farming communities, while also supporting carbon sequestration and reversing climate change. There is a lot of excitement about the potential for regenerative agriculture to transform our food system, with major industry players like General Mills, Applegate and Patagonia all investing in regenerative agriculture. Yet it is still very much the wild west.
Join Food+Tech Connect at Regenerative AgTech, in partnership with Applegate's THE NEW FOOD COLLECTIVE, WeWork Food Labs and AgFunder, to learn about what regenerative agriculture is and how technology and new business models are helping farmers regenerate their soil. The Rodale Institute, Savory Institute, Indigo Ag, PastureMap, OpenTEAM and Applegate will give a deep dive into their business models, technologies and certifications.
PastureMap will share how their cattle analytics software can help reward ranchers who are raising beef more regeneratively, OpenTEAM will explain how their open data platform arms farmers with the best possible knowledge to improve soil health and Indigo Ag will show how they are working to improve grower profitability, environmental sustainability and consumer health through the use of natural microbiology and digital technologies.
You'll also sample innovative food & beverages from YOLÉLÉ FOODS, Plovgh, Ark Foods, Wonderlab's Doozy Pots, Shaka Tea, Union Snacks and more.
Food+Tech Connect's Regenerative AgTech
Sept. 19, 2019, 6:00–9:30 p.m.
[Networking, tech demos, food + beverage sampling, presentations, Q&A]
PRESENTERS: Alison Etheridge, Manager, Systems Innovation, Indigo Ag; Christine Su, CEO & Co-Founder, PastureMap; Dorn Cox PhD, Research Director, Wolfe's Neck Center for Agriculture & the Environment and Director of OpenTEAM; Jeff Tkach, Chief Growth Officer, Rodale Institute; Gina Asoudegan, VP of Mission and Innovation Strategy at Applegate
Enter for a Chance to Win Tickets to This Event