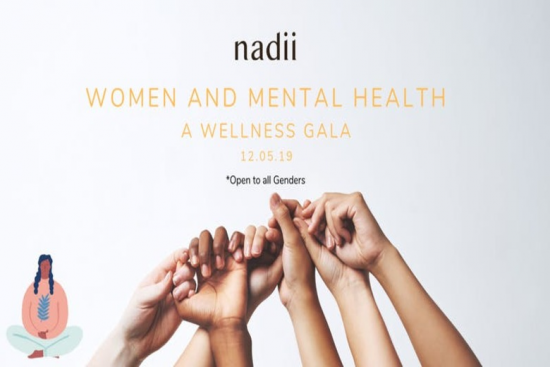 From the organizers: 
Welcome to Nadii, a community supporting women's mental health through meditation and mindfulness services.
Enjoy an evening of conversation, lite bites, drinks and woo woo. Sit with a community of Mental Health experts and experts and Holistic practitioners from meditation, astrology, human design, yoga and other self-care, self-love practices in between.  Most importantly, you'll find a community just like you. We'll make it fun, so let's ride this journey together.
Open to ALL genders.
We're moving the conversation forward: Depression, Infertility, PostPartum, Anxiety, Miscarriage and other causes of mental health issues.  Leave the evening grounded.
Donations from the evening will also go towards supporting participating non-profits PERIOD and Exhale to Inhale.
Bites + Drinks provided by:BAAR BAAR , a Indian Gastro Restaurant
See more details on Gala at our website here.
SPEAKERS INCLUDE
DR. SASAN, Co-Founder of KINDBODY
SARAH FINGER, Co-Founder of ISHTA YOGA and private Yoga Instructor to DEEPAK CHOPRA
BRUJAS OF BROOKLYN, Sisters and Drs. Rodriguez specializing in womb spirituality
LIZ BEECROFT, Psychotherapist and Mental Health Advocate
PALAK VANI, Mental Health Author