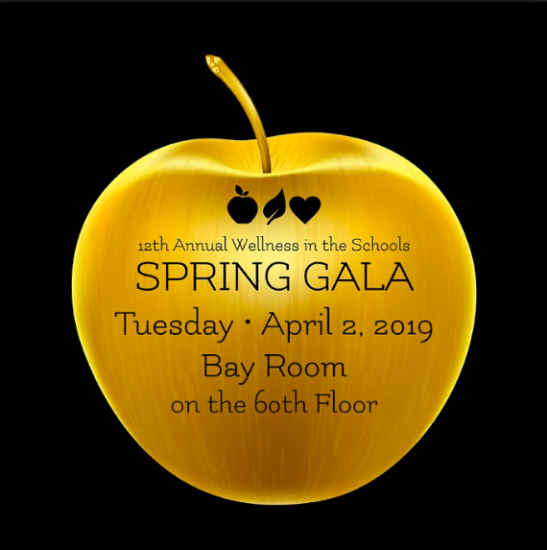 From our organizers:
Please join us for our 12th Annual Gala to support food and fitness programming in public schools.
The Wellness in the Schools 2019 Gala features tastings from top NYC restaurants, chefs, and beverage providers including Michael Anthony of Gramercy Tavern, Bill Telepan of Oceana, George Mendes of Aldea, Jason Pfiefer of Manhatta, and world renowned mixologist and co-founder of NY Distilling Co., Allen Katz.
This year's event will take place at Bay Room, Union Square Hospitality Group's first-ever dedicated event space featuring panoramic views of Manhattan and its surrounding waterways. You will enjoy spectacular views while dining on delicious food prepared by over 30 top chefs.
Restaurant list (to date):
Aldea George Mendes • Aquavit Emma Beggston • Aureole Charlie Palmer • Butter Alex Guarnaschelli • Candle Cafe Angel Ramos • Cape May Salt Oysters • Caputo Brothers • Chop't Creative Salad Company • Caputo Brothers Creamery • Casa Enrique Cosme Aguilar • Craft Tom Colicchio • Du's Donuts Wylie Dufresne • Egg Evan Hanczor • Frankies 457 Sputino Frank Castronovo • Gramercy Tavern Mike Anthony • Jacques Torres • Lure Fishbar Josh Capon • Lafayette Brian Nasworthy • Levain Bakery Pamela Weekes and Connie McDonald • Leonelli Taberna Jonathon Benno • Magnolia Christina D'Allesandro • Manhatta Jason Pfeiffer • Mah-Ze-Dahr Bakery  Umber Ahmad • Murray's Cheese Bethann Coulton • New England Charcuterie •  Oceana Bill Telepan • Paramount Caviar • Print. Gary King •  Riss' Knishes Larissa Raphael • Rosemary's Carlos Suarez • Sugar Hill Creamery Nick Larson • Sweet Basil Amy Aversa • Sullivan Street Bakery Jim Lahey • UntitledSuzanne Cupps • west~bourne Camilla Marcus
See website for ticket info and prices.