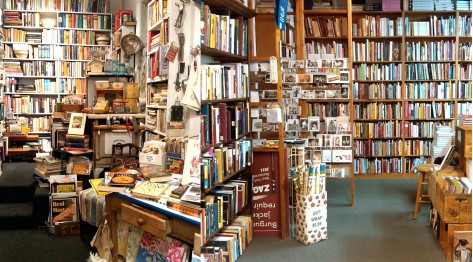 According to the event organizers:
"Join us for a cook-off celebration to benefit Slow Food NYC as we welcome a new neighbor, Bonnie Slotnick Cookbooks! From 1-3 p.m. we will be featuring dishes made from "vintage" recipes (books that are older than 30!). We're looking for professional and amateur cooks to serve up dishes from recipes found in vintage cookbooks (for our purposes, we're looking at recipes prior to 1985, so not the typical stuff you can Google)! It's in part to welcome Bonnie Slotnick Cookbooks to the neighborhood and also to continue our #EastVillageLoves campaign that we launched after the explosion in March.
Bonnie Slotnick opened her first cookbook shop in the West Village in 1997 and recently moved the business to East Second Street. Her stock in trade is out-of-print cookbooks, mainly 20th-century titles at affordable prices. Culinary ephemera–especially advertising bookletsfrom food companies and vintage menus–is a specialty. Linens, tabletop items, and old kitchenware and gadgets round out the selection.
Her customers range from top chefs and mixologists to schoolkids, historians, designers, and anyone who (like Bonnie) just loves to read cookbooks.
Co-hosting (and judging) the cook-off will be a slew of Heritage Radio Network personalities, including:
Emily Peterson, host of Sharp & Hot
Cathy Erway, host of Eat Your Words
Leiti Hsu, host of Word of Mouth
and, of course, Jimmy Carbone, host of Beer Sessions Radio.
We're still seeking both professional and amateur chefs (they should email foodkarma@gmail.com to enter), and those who want to attend and taste without entering can join us with a $10 donation at the door to benefit Slow Food NYC."