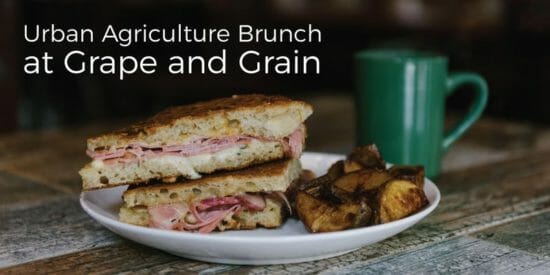 From our organizers:
Rooftop Reds is in the process of launching Village Vines, our new, nonprofit branch. Our goal is to provide a new source of funding to benefit local communities throughout the five boroughs of New York City by doing what we do best – growing grapes and making wine. To learn more about village vines, please visit: www.rooftopreds.com/villagevines
This brunch event is for the Urban Agriculture enthusiast who are interested in learning more about our non-profit, Village Vines!
Brunch Details: Hosted at Grape and Grain, an American wine bar and restaurant providing delicious domestic wines from small batch producers and a food menu from Executive Chef Adam Rule serving refined yet rustic dishes made entirely from scratch. Visit www.grapeandgrainnyc.com to learn more!
WHEN: December 1st and 2nd 12-2pm
1st Course: Family style – Ceasar salad, Fava Puree, and Apple Parfait with Vanilla yogurt and drizzled in honey.
2nd Course: Please Choose between
1) Grilled Ham and Cheese- prosciutto cotto, herb butter, swiss, cheddar, pickled red onions, dijon, and aioli on focaccia served with roasted potatoes.
-OR-
2) Scrambled Eggs- with ricotta and parmesan, house-made focaccia, green salad, and toasted sesame seeds.
Coffee and tea will be provided as well.
Drinks specials available via a la carte, including Rooftop Reds' Mulled Wine!
Tickets: $30 (which includes gratuity!)