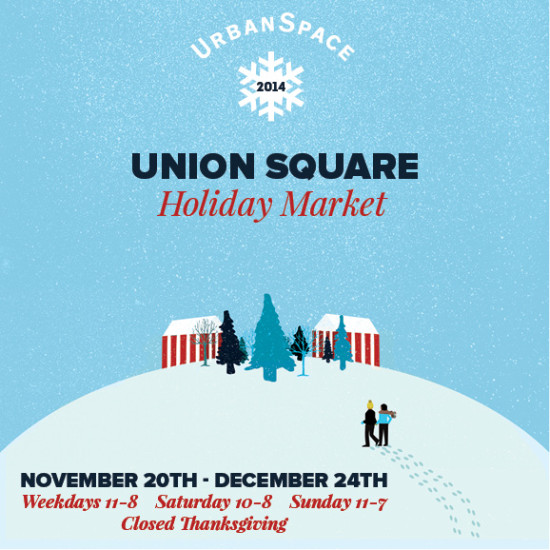 UrbanSpace and the Union Square Partnership are thrilled to welcome back more than 150 small businesses to the Union Square Holiday Market. A New York institution for over two decades, the market attracts more than one million visitors from the United States and abroad each year. Famous for its distinctive red and white tents and joyful atmosphere, shoppers flock to Union Square in search of superior products, unparalleled local cuisine and a quintessential New York experience.
The 2014 installment of the Union Square Holiday Market features talented merchants that sell everything from artisanal food products to holiday ornaments, from handmade jewelry to children's toys. The Union Square Holiday Market is a wonderful place to spend time with family and friends, support local craftspeople and artisans and be swept up in New York City's holiday merriment. The market is located in Union Square Park, bordered by Park Avenue South,
Broadway and 14th Street.
Each year, savvy shoppers return to the Union Square Holiday Market for a perfectly curated blend of old favorites and new innovators; some of the 2014
newcomers include Beam, Cork Buds, Pook, New York Puzzle Company and Leckerlee. For consumers that want to support local artisans, UrbanSpace has expanded the "Little Brooklyn" section of the market, which spotlights all local goods from across the Brooklyn Bridge. Notable "Little Brooklyn" vendors include Pepper Press, Brooklyn Brew Shop, Brooklyn Charm, Rockstar Revolution and many more.
UrbanSpace has also designed a new interactive art installation specifically for the 2014 market, called Hope Notes Fountain. Located on the west side of the market, the installation will be a vessel for market visitors to display positive messages of holiday cheer and make donations to Just Food, an organization that empowers and supports community-led efforts to increase access to locally grown food.