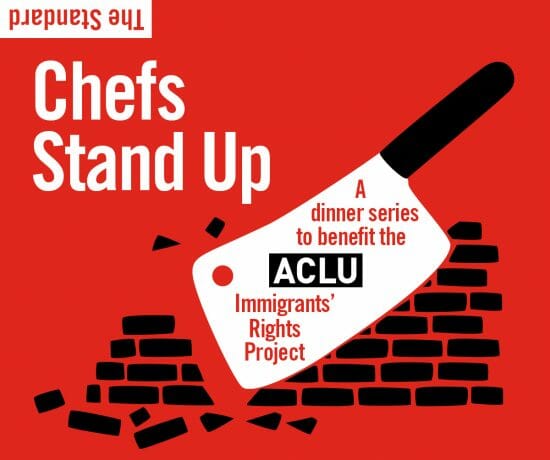 From our organizers:
A dinner series to benefit the ACLU Immigrants' Rights Project.
THURSDAY, OCTOBER 18: NAOMI POMEROY, Chef – Beast (Portland)
Naomi Pomeroy is the James Beard award winning chef and owner of Beast, Expatriate, and the flower studio Colibri in Portland, Oregon. Born and raised in Corvallis, Oregon, she spent her childhood hanging around the stove and in backyard gardens with her mother and grandmother Vivian, who hailed from New Orleans. Naomi is a proud working mother who has served as an industry pioneer and culinary ambassador for the past two decades.
MONDAY, NOVEMBER 5: KRISTEN KISH, Chef – Arlo Grey (Austin)
Kristen Kish was born in South Korea and adopted into a family in Kentwood, MI. Her mother suggested she go to culinary school and since attending Le Cordon Bleu in Chicago, Kish has never looked back. After moving to Boston, Kish worked in many high-profile restaurants including Michelin-star Chef Guy Martin's Sensing and Barbara Lynch's Stir. Kish competed on Bravo's Top Chef Season 10 where she won the coveted title, becoming the second female chef to win the prestigious competition. She went on to become Chef de Cuisine of Menton, Barbara Lynch's fine dining restaurant until 2014, when she left to travel the world and write a cookbook. Formerly the co-host of "36 Hours," a Travel Channel show, Kishrecently went on tour with her first cookbook – Kristen Kish Cooking – which launched October 31, 2017. Currently, Kish has partnered with Sydell group to launch her first restaurant, Arlo Grey.
TUESDAY, DECEMBER 4, LEE DESROSIERS: Chef – Scribe Winery (Sonoma)
Born in Massachusetts, Lee Desrosiers spent summers on Cape Cod, developing an appreciation for farming, life outdoors, and passion for food. He worked in Andrew Tarlow's restaurants Diner, Marlow and Sons, Romans and Reynard in the Wythe Hotel — kitchens that pride themselves on sustainably raised meats, vegetables sourced direct from organic farmers and operating a whole-animal butcher program. In 2013, after working at Beetlebung Farm, Lee returned to Brooklyn to lead the kitchen at Achilles Heel, where his signature dish Hell Chicken, was born. He is now the "Chef at Large" at Scribe Winery in Sonoma, where he trades his skills cooking vintner's dinners for the opportunity to travel, hosting outdoor animal roasts around the country and beyond its borders.
Cocktails begin at 7 pm, dinner at 7:30 pm.