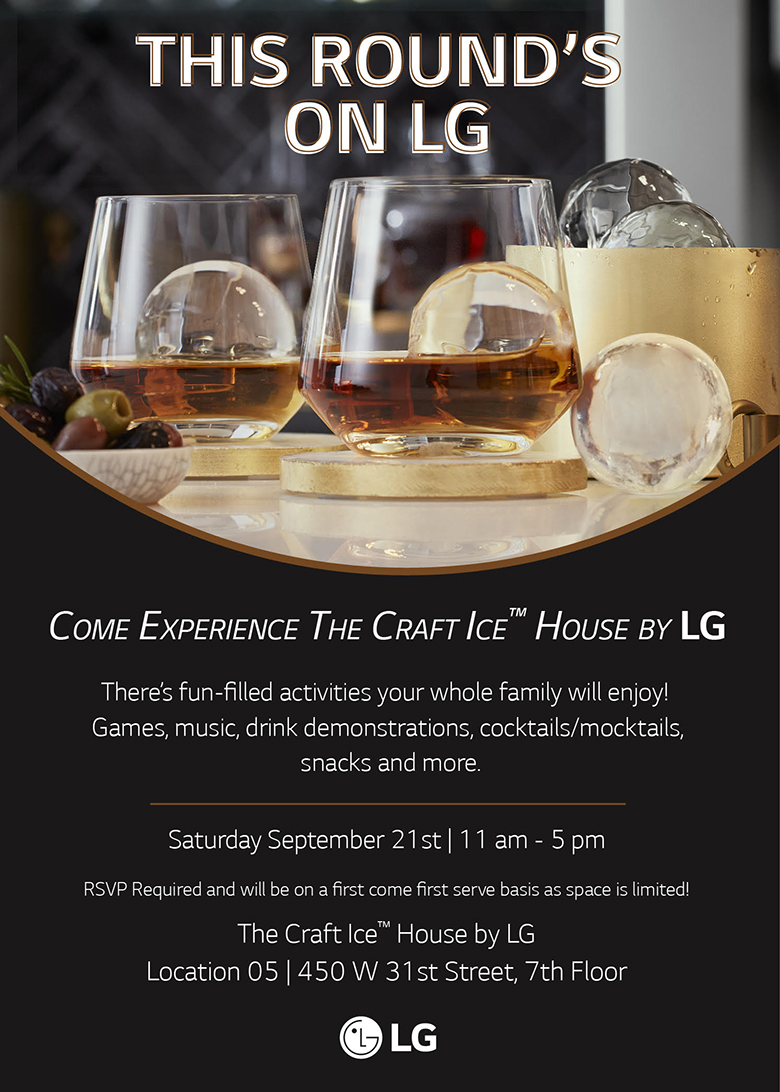 From the organizers:
The Craft Ice House Family Party by LG (9/21)
LG has just launched an extension of its popular InstaView Door-in-Door refrigerators, the ultimate in-home entertaining, that automatically creates LG's exclusive "Craft Ice"—LG's slow-melting round ice made on demand (and without the hassle of molds!).
You're invited to attend The Craft Ice House by LG on Saturday, September 21. The Craft Ice House by LG is an immersive, multi-room pop-up experience, celebrating the launch of LG's new InstaView Door-in-Door refrigerator with Craft Ice.
The space is fully open to the public starting at 11 a.m., with fun activities for families during the day. Guests can participate in a variety of experiences, including a DIY terrarium bar and spin art cookie decorating. Starting at 1 p.m. ET, former NFL starting tight-end, Martellus Bennett will lead a children's story time session, as he reads from his popular Hey A.J. series.
Additionally, "Garden Cocktail" blogger, Stacie Grissom will lead a hands-on session where she'll teach guests how to perfectly garnish cocktails and mocktails alike, from 2–5 p.m. For happy hour, Rael Petit, food & beverage manager, The Tribeca Grand Hotel, will lead a lesson about how to use bitters to top off any signature cocktail from 4–6 p.m.
Date: Saturday, September 21
Time: 11 a.m.–5 p.m.
Location: Location 05 (450 W 31st Street, 7th Floor)
RSVP: lcane at autumncommunications dot com + online submission: https://www.lg.com/us/craft-ice-house