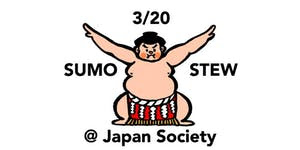 From our organizers:
Inspired by a trip to Japan, photographer Michael Harlan Turkell (harlanturk.com) returned to New York City with aspirations of importing this ancient sport and teamed up with Harry Rosenblum, founder of The Brooklyn Kitchen (thebrooklynkitchen.com), a center for culinary education. The two created a series based around plentiful bowls of chankonabe, the "sumo stew" wrestlers prepare and eat before matches. The hearty broth is loaded with fortifying protein and vegetables. This, paired with the live streamed bimonthly grand tournaments, makes for a lively event, bringing hungry first time and long-standing sumo fans ringside.
FOOD:
This round of SUMO STEW will feature a seasonal chankonabe (the sumo stew).
Every guest will also get a special bento box, composed of Japanese-inspired dishes from top local chefs, including Noodles, Tofu, Beef, Turkey, Mushrooms and more from some of our favorite purveyors (see list below).
Restaurants and list of dishes to be announced shortly …
DESSERT:
DRINKS:
Asahi beer, asahibeerusa.com
Sake by Skurnik Wines, skurnik.com
Senbird Tea, senbirdtea.com
VENDORS:
Wuhao tenugui (Japanese-style multi-purpose cloths), wuhaonyc.com
Handmade Cutlery by Kikuichi, kikuichi.net
Kimono and yukata rentals and sales from Kaede, kaedenyc.com
(Must be 21+ to attend)
*The $55 ticket grants each participant a bento box, bowls of chankonabe, and an open bar of beer, sake and tea, until supplies run out – and round after round of sumo.
**A portion of the proceeds will be donated to the Japan Society. www.japansociety.org