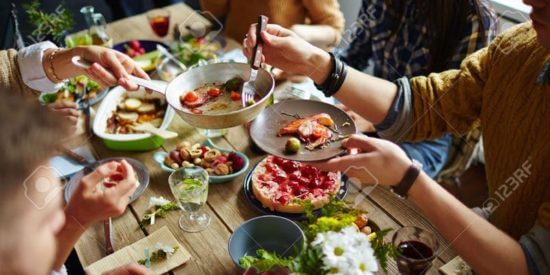 From our organizers:
On Monday August 6 and Monday August 13, some of New York City's best restaurants will be offering tables with special menus and opportunities to meet the chefs. Select a SummerDine table and enjoy an evening of easy conversation with friends and family while sharing the season's bounty paired with delightful wines.
One hundred percent of the proceeds will benefit the Les Dames d'Escoffier New York (LDNY) Scholarship Fund.
Prices include wine or fine beverages and gratuities. For August 6, choose from the tables listed below. For August 13, click here.
Please note you must buy an entire table at once.
Restaurants:
La Palapa
Enjoy a 5-course Tequila and Antojitos Tasting at this cocina that features authentic Mexican cooking.
7:00 P.M. Table for 6
77 St. Marks Place, NYC
Le Coq Rico
The 2-star "Bistro of Beautiful Birds" pays tribute to the unique terroir of the Northeastern US through the diverse flavors and varieties of wild and noble American birds. You'll sit side-by-side facing the Show Kitchen and watch the Michelin-starred Executive Chef in action.
6:00 P.M. Table for 2
30 East 20th Street, NYC
Loi Estiatorio
Chef Maria Loi, the official Ambassador of Greek Gastronomy, will offer you a 5-course "Taste of Greece".
7:30 P.M. Table for 4
132 West 58th Street, NYC
Madison & Vine at the Library Hotel
This casually elegant America bistro will treat you to a 3-course "Mid-Summer Menu".
7:00 P.M. Table for 4
299 Madison Avenue, NYC
Perrine in the Pierre Hotel
At this elegant restaurant in an iconic setting you'll get a taste of the best of New York.
6:30 P.M. Table for 2
2 East 61st Street on Central Park, NYC
Saar Indian Bistro
Michelin-starred chef Hemant Mathur and creative director Surbhi Sahni will offer a 4-course menu of unusual Indian specialities.
7:00 P.M. Table for 4
241 West 51st Street, NYC
Untitled at the Whitney Museum
6:00 P.M. Table for 4
99 Gansevoort Street
Enjoy Chef Suzanne Cupps's bright, artful cooking in a setting designed by world-renowned architect Renzo Piano.