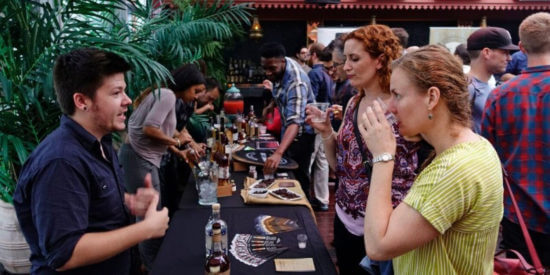 From our organizers:
Slow Food NYC and the Institute of Culinary Education are delighted to present the 6th Annual Spirits of New York Tasting and Mix-Off. Selected regional producers will serve up their spirits neat and in tantalizing, season and place-inspired cocktails for truly local libation. This is your opportunity to taste some of the best booze in the state and also meet their makers! Light bites will also be available for enjoyment to accompany the selection of splendid spirits.
This year, we are excited to introduce a Cocktail Mix-Off to add a bit of friendly competition to our tasting event! Bartenders from the Slow Food NYC network will be invited to craft a signature cocktail featuring a New York spirit, one ingredient from the ICE hydroponic farm, and one surprise "zero waste" ingredient – think citrus peels, chocolate trimmings, carrot tops…all garnered from the Institute of Culinary Education for this special occasion. Guests must select the Silver Snail or Gold Snail ticket option to join us for the mix-off portion of the evening from 6-7pm.
Local, artisanal spirits producers are at the forefront of an exciting revolution: re-invigorating small scale, regional spirits production and helping build vibrant, local farm, and food economies by supporting local farmers and creating local jobs… and doing so deliciously. Join us at Spirits of New York to celebrate their stories this holiday season.
Proceeds from this event will support Slow Food NYC Urban Harvest, our program of good food education for New York City youth at our summer, tuition-free, educational urban farm in East New York, Brooklyn and at 13 schools in the South Bronx and East Harlem, on the Lower East Side, and in Brooklyn. Urban Harvest activities include edible gardens, cooking classes, field trips, good food courses, farm-to-cafeteria days, and student run "farm stands" offering fresh, local produces. Each year, Urban Harvest programming reaches over 2,000 children.