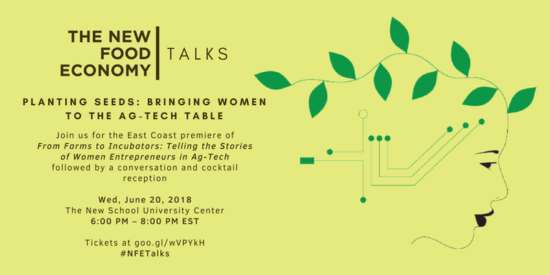 From our organizers:
Join us for Planting Seeds: Bringing Women to the Ag-Tech Table, the first installment of NFE Talks, a series of live conversations between The New Food Economy's editorial staff and the people changing how and what America eats.
We're collaborating with Karen Karp & Partners and the Food Studies Program at The New School University to host the East Coast premiere of the short documentary From Farms to Incubators: Telling the Stories of Women Entrepreneurs in Ag-Tech, followed by a conversation with filmmaker Amy Wu; Dr. Le Vuong, founder/CEO of The Redmelon Company, one of four entrepreneurs featured in the film; and Louisa Burwood-Taylor, editor of AgFunderNews. The discussion will be moderated by Karen Karp.
After the screening and discussion, guests are invited to meet the filmmaker, panelists, and other attendees at a special reception featuring complimentary wine, beer, and seasonal hors d'oeuvres provided by Chef Alexis Tanen Shaw.