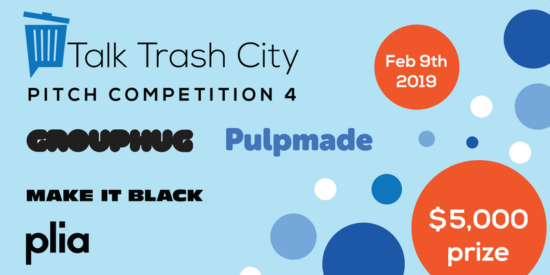 From our organizers:
Trashy start-ups pitch their business ideas and compete for a $5000 cash prize.
Attendees participate by watching pitches and voting on the startup they believe demonstrates the greatest waste diversion business opportunity. The pitch with the most votes takes home the cash.
By bringing people together to TALK TRASH, we hope to continue to build a community of individuals, organizations, and companies that are dedicated to developing environmentally responsible solutions to urban waste management.
Pitches will be made by the following orgs:
Grouphug is creating a line of solar panels that attach to your apartment's window to take your devices off the grid.
Make It Black is a luxury dye and re-design service, using color theory to solve the environmental and economic crises of the fashion industry.
Plia is the first closed loop, zero waste furniture company offering contemporary designed furniture that allows consumers to keep materials out of the waste stream.
Pulpmade's 'Posse Chair' is sustainable children's furniture that sparks imagination and creativity – made from recycled paper and cardboard, paper pulp is non-toxic, lightweight, and soft–a great match for children.
$15 Early Bird tickets till 1/31
$20 tickets after 1/31 and $20 tickets sold at the door – CASH ONLY.
Snacks, wine and beer will be available, $5 suggested donation per drink (CASH ONLY).