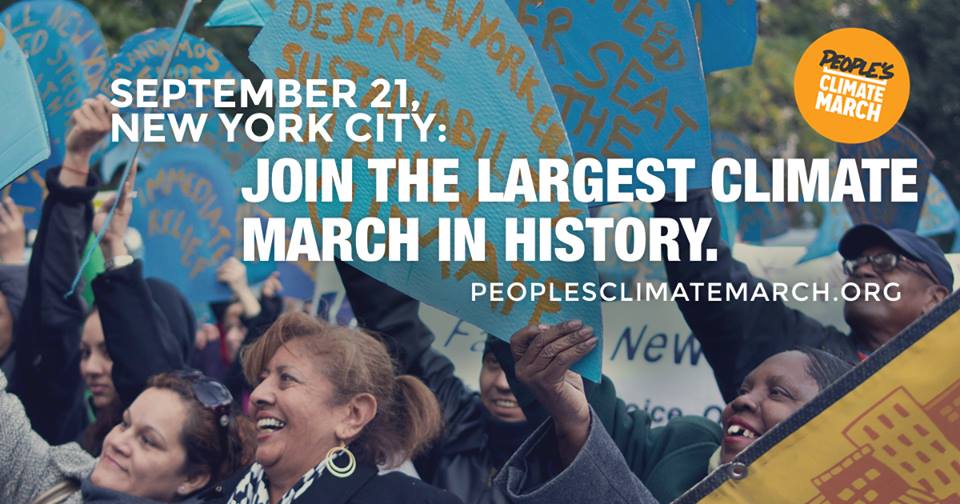 Bring your friends and family, especially those who have never marched before. This march and the U.N. summit on global climate change is coming not a minute too soon. We have the capacity to contribute to building the voice of our people to insist on a safe climate future and the food justice contingent has the capacity to show how good food policies and projects can contribute to a cooling the planet. We hope you will seize this opportunity with us and proudly march with Food and Agriculture professionals, advocates and activists. Sign up here: peoplesclimate.org/march
Also, want to join your local community in making signs and organizing for the event? You can join the food justice contingency here:
Sunday, Sept. 14, 8 am-noon: MayDay Community Artspace
214 Starr Street, Bushwick, Brooklyn
Monday, Sept 15, 6-9 pm: 410 6th Ave at 8th St, Park Slope United Methodist Church Brooklyn, NY
Wednesday, Sept 17, 2-8 pm: Brooklyn College Community Partnership Arts Lab (BCAL), 301 Roosevelt Hall, 2900 Bedford Ave. Brooklyn, NY
Andrea Reynosa (areynosa@skydogprojects.com) will be leading the Sunday and Wednesday sessions with Nancy Romer of the Brooklyn Food Coalition. Volunteers should come dressed in work clothes. Light refreshments will be served. Please contact Andrea if you have any questions.
You can also support through the following electronic platforms:
Join the meet up group: www.meetup.com/Peoples-Climate-March-Satellite-Events
Join the Facebook Group: www.facebook.com/groups/1508478076036752
Join the list serve by sending a blank email to: pcm-food-justice+subscribe@googlegroups.com We need all hands on deck to make this the most important and effective climate march in history. As they say, "The future is in our hands."