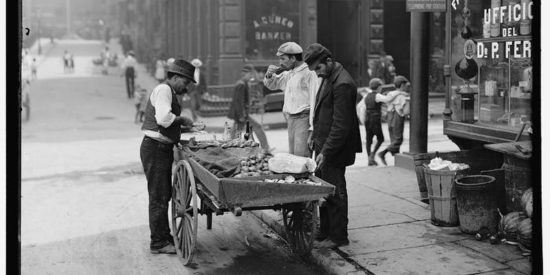 From our organizers:
The Jefferson Market Library of The New York Public Library is pleased to offer substantive college-level courses to the public for free. Taught by University academics and professors, our next course is New York City Food History.
This class is an introduction to the food history of New York City, telling the stories of the edible goods produced, consumed, and venerated in homes and restaurants within the five boroughs. We will explore the history of restaurants, the meals of the wealthy and those of the working class, and the foodstuffs on all these plates. New York City is a city of immigrants, and these diverse groups from around the globe have contributed to a constantly evolving definition of urban food culture. Italian, Jewish, and Chinese foods and recipes play critical roles in the city's culinary culture. Additionally, the historical importance of commodities such as oysters and WPA descriptions of automats, literary teas, and luncheonette slang in the 1930s, all provide nuanced stories of meals throughout the city's history. This class will explore the highs, lows, and in-betweens of New York City food history.
Class Syllabus – jmusyllabusnycfoodhistorysp19.pdf
THE PROFESSOR: Dr. Shayne Figueroa is a food historian and recently earned her PhD in Food Studies from New York University. Her dissertation examines the social history of the school lunch program in New York City during the postwar period. Shayne has taught undergraduate courses at NYU (Food Issues in Contemporary Society), The New School (Introduction to Food Studies; Kids and Food), and Sterling College (Urban Food Experience.) She has interned with the Southern Foodways Association and done contract research for the National Food Science Management Institute. In addition to teaching food studies courses, Shayne is currently the administrator for the Taub Center for Israel Studies at NYU.
Presented in the First Floor Willa Cather Community Room