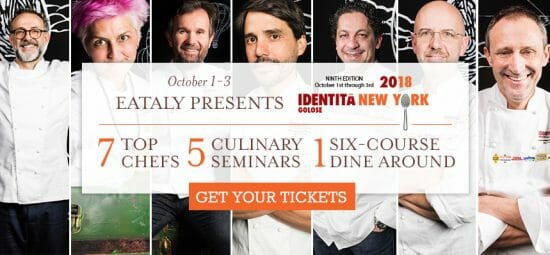 From our organizers:
From October 1 through 3, six famed chefs from across the globe will flock to Eataly NYC Flatiron for the ninth U.S. edition of Identità Golose, the acclaimed international chefs' forum. From Massimo Bottura to Franco Pepe these all-stars will compare the latest trends in a three-day convention that — get ready — is open to the public.
That's right: you can learn (and taste) from the world's best in five culinary seminars and a one-of-a-kind dine-around dinner. Plus, who knows? You might just bump into Massimo while shopping for ingredients in our marketplace during the day!
Explore the calendar below, then book your tickets — these events sell out quickly!
CULINARY SEMINARS
In each intimate seminar, two chefs will be paired in our cooking school to share their favorite new culinary techniques as they each create an innovative dish. As they work their magic, you will enjoy each dish — prepared and plated before your eyes! — served with complementary wine pairings.
Only 20 seats are available for each seminar, so sign up now!
**VISIT WEBSITE TO SIGN UP FOR INDIVIDUAL EVENTS, DINNERS, AND SEMINARS. **