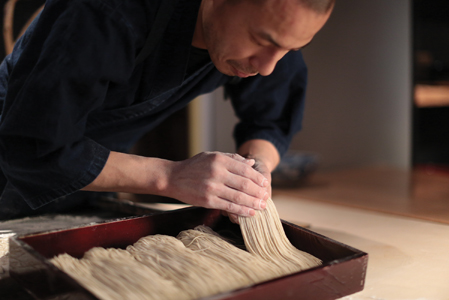 From our organizers:
The quality of fresh handmade soba is determined by several factors—elasticity, firmness, aroma, texture. Japanese chefs spend years honing this craft, which requires a highly skilled hand and an eye for detail. Factors like humidity and room temperature can affect the preparation of the buckwheat flour dough, a process that involves subjective measurements and kikuneri (chrysanthemum kneading). Rolling out the dough can require up to three rolling pins and the cuts are often executed with the extended blade of a soba-kiri knife.
At Making Soba: A Japanese Culinary Treasure, chef Shuichi Kotani, Founder & CEO of Worldwide-Soba, Inc., divulges the secrets behind this intensive process, offers tips on how best to enjoy the nutrient-dense noodle and gives an on-stage noodle-making demonstration.
About Talks+ Program
Talks + Program examines vital issues and themes in modern Japanese art, culture and design. Programming is designed to inform and to provide a gateway through which Americans can appreciate the powerful global influence of Japan's culture and its many trend-defining artisans. Programs bring together experts and practitioners for provocative discussions on diverse topics including aesthetics, consumer culture and cuisine.
About Japan Society
Founded in 1907, Japan Society in New York City presents sophisticated, topical and accessible experiences of Japanese art and culture, and facilitates the exchange of ideas, knowledge and innovation between the U.S. and Japan. More than 200 events annually encompass world-class exhibitions, dynamic classical and cutting-edge contemporary performing arts, film premieres and retrospectives, workshops and demonstrations, tastings, family activities, language classes, and a range of high-profile talks and expert panels that present open, critical dialogue on issues of vital importance to the U.S., Japan and East Asia. Japan Society is located at 333 East 47th Street between First and Second avenues (accessible by the 4/5/6 and 7 subway at Grand Central or the E and M subway at Lexington Avenue). www.japansociety.org